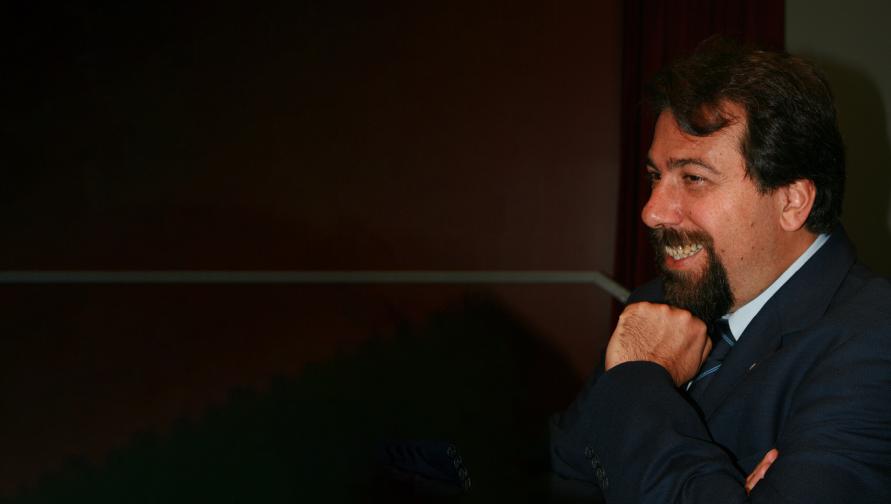 Beginning this academic year, Carlo Giovanni Cereti is joining the UCI School of Humanities as the Ferdowsi Presidential Chair in Zoroastrian Studies – the first of its kind in the United States. The Ferdowsi Chair allows Cereti to teach on Zoroastrianism and ancient Iranian languages and cultures, as well as train scholars in the field of Zoroastrian studies. 
The endowed chair is supported by the Massiah Foundation, which was founded by Fariborz Maseeh, Ph.D., an Iranian American businessman and pioneer in the field of microelectromechanical systems. In 2005, the Massiah Foundation funded the creation of UCI's Samuel Jordan Center for Persian Studies and Culture, the first independent, interdisciplinary center focused on the Iranian world within the UC system.
The new chair is named in honor of Ferdowsi, the 10th-century Persian poet who is often credited with reviving the Persian language and history by composing the Shahnameh (Book of Kings), the national epic of Greater Iran.
"Carlo Cereti's deep expertise in Zoroastrianism and Iranian culture extends from antiquity to the present day. He has the unique ability to connect multiple graduate, undergraduate and research initiatives underway in UCI's School of the Humanities across all periods," said Matthew P. Canepa, professor and Elahé Omidyar Mir-Djalali Presidential Chair in Art History and Archaeology of Ancient Iran. "We are overjoyed to welcome him as a colleague."
Cereti's research has mainly centered on the Zoroastrian religion; his first book was on a Zoroastrian Middle Persian apocalyptic text composed in late antiquity. He is also working on an archaeological project in Iraqi Kurdistan where he has collected the missing stone blocks of an important Sasanian rock relief at Paikuli, which belonged to King Narseh of the third and early-fourth century CE. Before coming to UCI, he was a professor of Iranian studies at La Sapienze, Rome.  
"Professor Carlo Cereti is one of the best-known scholars of Zoroastrianism and ancient Iranian studies," said Touraj Daryaee, director of UCI's Samuel M. Jordan Center for Persian Studies & Culture and the holder of the Maseeh Endowed Chair in Persian Studies & Culture. "He brings several decades of experience in teaching and research. It is a great honor to be his colleague and work with him."


Persian Studies
Religious Studies
Samuel Jordan Center for Persian Studies