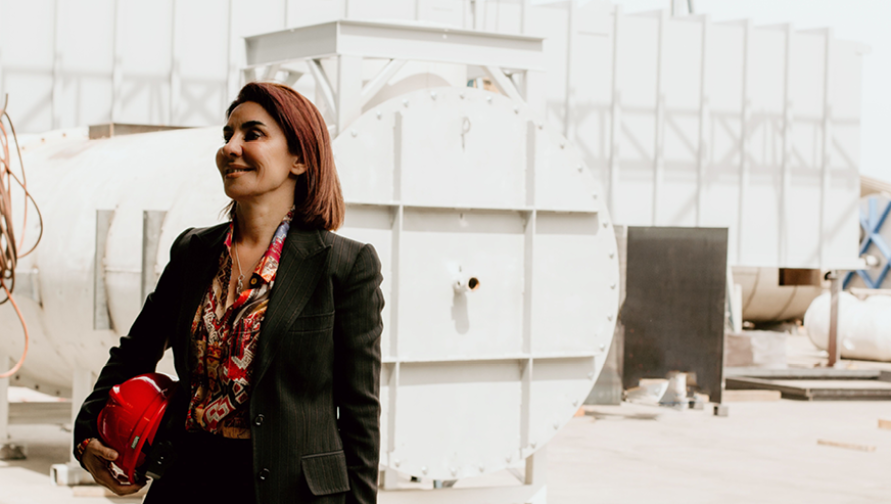 By Lilibeth Garcia
Entrepreneur Anoosheh Oskouian is one of the most successful women in business in Southern California, but even amid the stream of her busy days, she makes time to pay homage to her cultural roots. On March 20, you will find her setting the table in celebration of Nowruz ("new day" in Farsi). Also known as Persian New Year, Nowruz takes place on the first day of spring.
As president and CEO of Ship and Shore Environmental, a multi-million dollar clean-air technology business based in Signal Hill, Calif., Oskouian is one of the few Iranian American female CEOs in the engineering and manufacturing of environmental technology. Her journey to this point began at a young age, with a dream of being educated in America.
With the support of her family, she moved from Iran to the U.S. alone at the age of 14. Yet, despite being oceans away from home in the state of Colorado, she never forgot to celebrate Nowruz.
To partake in the holiday, Iranians follow a set of traditions imbued with symbolism, one of them being the gathering of hyacinths and tulip bouquets, which embody the burst of color and life that comes after a long, dark winter. When the frozen early spring of Denver did not produce the traditional Nowruz flowers, Oskouian made sure to find any single bloom to remind her of the newness and rebirth that the spring equinox represents.
"I'm happy to say I have never, ever missed celebrating Nowruz all these years that I've been in America," she says, "whether it was by myself or with family, in any way I could."
Now, Oskouian connects to her Persian roots not only by celebrating the springtime event, but also by ensuring newer generations have a space to learn about their ancestral home. She recently donated $25,000 to UCI's Samuel Jordan Center for Persian Studies and Culture, the largest center for the study of Iran in the U.S. by number of endowed faculty chairs.
Clean tech may be her professional passion, but keeping Persian culture alive in the U.S. is her personal joy. 
A longtime collaborator with UCI – which she refers to as a "gem" in Orange County – she is a member of the university's Chief Executive Roundtable, an alliance of business and university leaders that support the development and well-being of UCI and area businesses. In addition to being active in the School of Humanities, Oskouian is also part of the advisory board for the School of Physical Sciences, engaging at times as a guest lecturer.
Persian studies blossoms at UCI
Situated in Irvine, home to the second largest Iranian population in Southern California, UCI fulfills a vital role within the Persian diaspora.
Founded in 2009, UCI's Jordan Center is both UCI's dedicated hub for Persian studies and a global destination for Persian scholars. Since its inception, the center has hosted international conferences about the Iranian world and created clusters uniting researchers from a multitude of disciplines across the UCI campus. They have also established an online, peer-reviewed journal called the Digital Archive of Brief Notes & Iran Review.
UCI students can minor in Persian studies, take courses about ancient and modern Iran, and learn the Persian language. Graduate students can pursue a specialization in ancient Iran and the premodern Persianate world.
For Oskouian, the Jordan Center fills the gap in her life that was left in Iran after emigrating at an early age.
"I have been here for many years," she says. "And I always felt that I did not get an opportunity to fulfill one part of what I would have hoped to be, which is to be more knowledgeable about our literature, our culture and all that goes on behind this great rich array of Persian studies."
Oskouian thinks of her son and his generation. Although her son can understand Farsi, he cannot read or write the language. UCI offers a venue for American-born Iranians coming of age like him to engage with the culture and language.
"For a community as rich as I mentioned to be out there and not know anything about their history is almost like a beautiful tree that is cut from its roots and expected to flourish," she says, "so my hope and goal has always been to stay connected to my roots and live the best of both worlds, have the cultural background yet have it be in a wonderful American ground for it to come to full fruition."
Oskouian's gift to UCI's Jordan Center in effect rebuilds those very roots. Her gift is earmarked for conferences, cultural events, guest lectures and publications.
"We are incredibly grateful to Anoosheh Oskouian for her generous support of the Jordan Center," says UCI history professor Touraj Daryaee, the Maseeh Chair in Persian Studies and Culture and director of the Jordan Center. "This gift will help ensure the center continues to engage the Iranian and broader community in the study and celebration of Iranian history and culture."
"I believe all of the people that left Iran with the hope of coming here for education and never went back like myself – Iranian Americans – love to preserve the arts and the culture as much as possible," Oskouian says. "And I am so thrilled to see that the Jordan Center has embraced bringing on more lecture series: from ancient studies to language to cinema to the history of food. I truly wish sometimes I had nothing to do but to just attend every single one of them."
New beginnings
Every year on the first day of spring, Oskouian and her family gather around the ceremonial table known as the haft-sin (seven "s"). They join millions of Iranian families who also engage in the practice. The table is set with many essential items – including the seven traditional objects that begin with the Farsi "s" – each holding significance in Persian culture. The display typically includes:
Seeb (apple), representing beauty
Seer (garlic), representing good health
Serkeh (vinegar), representing patience
Sonbol (hyacinth), representing spring
Samanu (sweet pudding), representing fertility
Sabzeh (sprouts), representing rebirth
Sekeh (coins), representing prosperity
Haft-sin tables can also feature a book of poetry, a mirror and candles (reflecting into the future), a goldfish swimming in a bowl (representing life), painted eggs (representing fertility) and all kinds of sweets and fruits.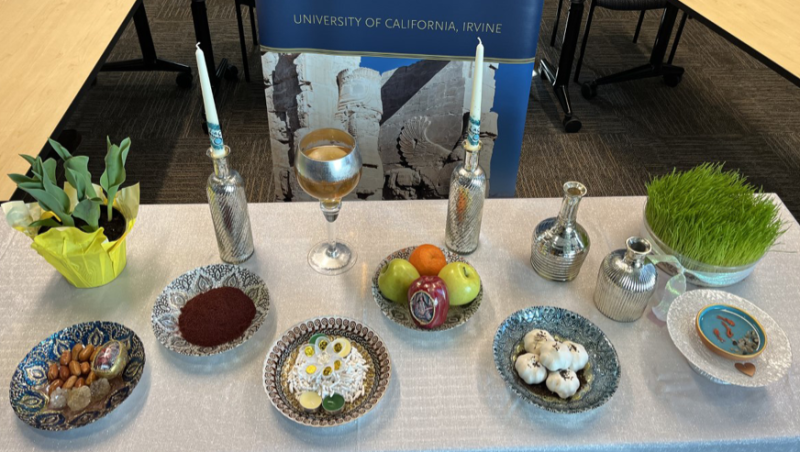 Nowruz has been honored for over 3,000 years by Persians of all religious and economic backgrounds. The holiday has its roots in Zoroastrianism, one of the world's oldest practiced religions in the world. In 2020, UCI established the Ferdowsi Presidential Chair in Zoroastrian Studies – the first of its kind in the United States. The endowed chair is currently under recruitment.
Despite its deep origins in Iran, Oskouian says that Nowruz – a tradition that is now celebrated by many ethnicities – is for everyone.
"I don't think I have ever come across anyone that has been exposed to the true cultural side of the Persians – whether it is their food, music, poetry, literature or history – that hasn't been fascinated by it," says Oskouian.
About the UCI's Brilliant Future campaign: Publicly launched on October 4, 2019, the Brilliant Future campaign aims to raise awareness and support for UCI. By engaging 75,000 alumni and garnering $2 billion in philanthropic investment, UCI seeks to reach new heights of excellence in student success, health and wellness, research and more. The School of Humanities plays a vital role in the success of the campaign. Learn more by visiting: https://brilliantfuture.uci.edu/uci-school-of-humanities/.
Gifts & Grants
Persian Studies
Samuel Jordan Center for Persian Studies