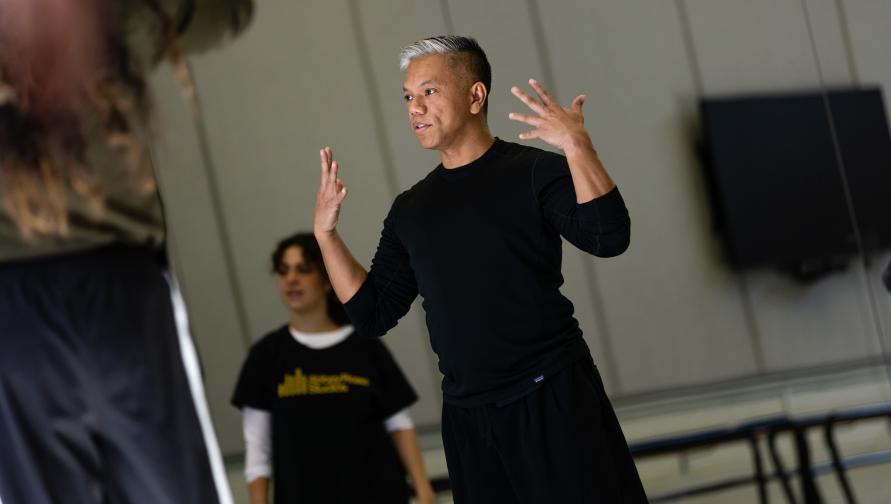 Interview by Jazmin Alejandra Serrano Martinez
Photographs taken by Skye Schmidt
Gerald Casel is an award-winning dancer, choreographer, artistic director and educator who is carrying out research on the racial dynamics present in the field of dance. In the fall, I had the opportunity to sit down with Gerald and get to know more about their research conducted through their community engagement project titled Dancing Around Race.
Somatics for Survival 
Gerald: "As a dancer I am very aware of how my body feels when I acknowledge the systems of cis hetero normativity. How sometimes I feel unsafe in spaces as a queer body. How you have to hold your spine a little taller and notice when I do that. I teach this to students. We talked about the white hetero patriarchal gaze which is the foundation of racial capitalism. Who is casting it and how it transforms how I feel and orient myself in spaces. Asking them when do you have to do that to survive and also what if we just changed the whole system so no one has to do that."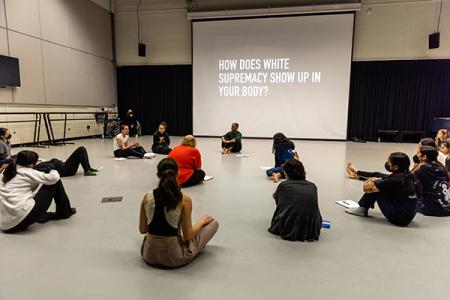 Q: What have you learned thus far in your community engagement workshop Dancing Around Race in the Bay Area? 
Gerald: "In Dancing Around Race, we bring a community together that never gets the chance to talk to each other. I use a framework of Systems Thinking from buddhist philosophy to identify the interdependent nature of the elements that form the ecosystem of dance in the bay area.
The way a dance critic will write about your work has direct implications on how you would get a grant. How a curator of a theater will affect the life of an artist by making decisions on how funds are allocated. How an educator can affect what kinds of dancers are being trained. 
All of these people I wanted to get together in a room and talk about race. It is the leading indicator of inequity. If we look at our intersectional identities, race is the thing that clearly affects life outcomes. What we are learning is that in order for people to feel like they belong in the ecosystem they need to have a voice they need to be represented in every level: performance, curriculum, articles, social media. There has to be a recentering of classically white dance. We need to make the field more horizontal than vertical."
Q: How can we encourage our communities to explore a liberating embodiment in the spaces we inhabit?
Gerald: "Using the framework of somatics, the reuniting of the mind and body, you become aware of the intention behind your movement and you become more aware of your body in spaces. You can take this practice into the community. In our Dancing Around Race gathering we always have a moment of meditation where we stop and feel our breath and become still and notice how our bodies are being settled or unsettled in discussing race. And also tracking our emotions filtered through the body. This is a powerful thing to teach to kids and community members. We can't heal systems or fix them until we heal ourselves. I think that's the embodiment piece. You can really feel shifts in your body and those embodied indicators can tell you this is the right or wrong direction based on that fight or flight. We use that as a gauge in sensing and feeling our bodies to create the change we wanna see in the world."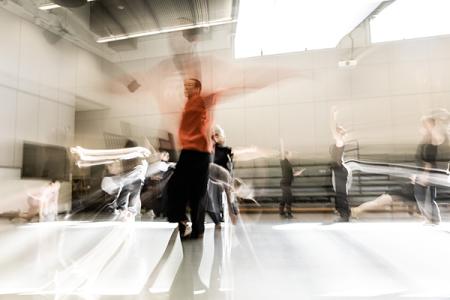 Q: In theorizing what comes after postmodernism, do you feel that it is fair to say your choreographic work, which is critical of the White imagination, can be interpreted as what comes after?
Gerald: "I think the acknowledgement of race within the postmodern movement is in itself a move away from postmodernism. When we identify that it is majority white, by simply asking the question of why that is, I'm already in post-postmodernism. Often when I bring it [race] up, they are very quiet. What I'm seeing now is that these older white artists in postmodern movements are waking up. Yvonne Rainer and Neil Greenberg both just made work contending with their whiteness, talking about their privilege and race. Why weren't you talking about it 20 years ago? It's as if they are just realizing their privilege for the first time. It's interesting that they are asking that question, what so many of us have been asking for years."