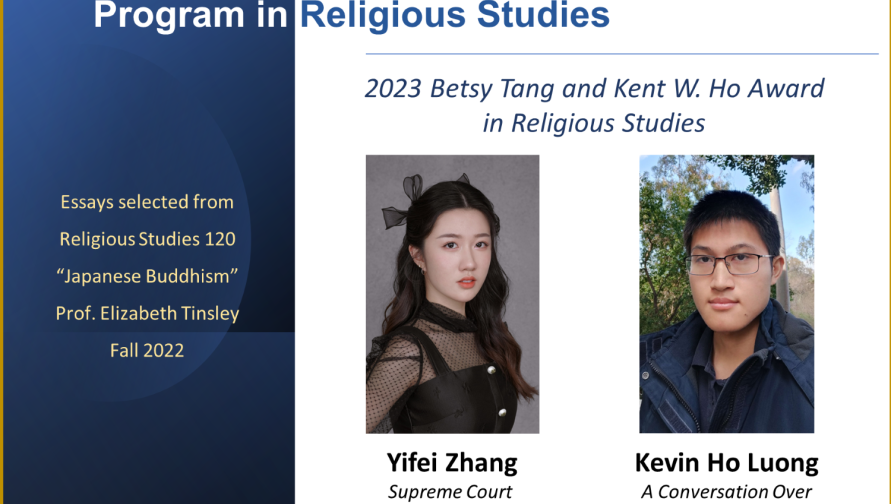 It is an honour to announce Kevin Ho Luong and Yifei Zhang as this year's winners of the prestigious award for essays in Buddhist Studies, the 2023 Betsy Tang and Kent W. Ho Award in Religious Studies. Zhang and Luong took up with intellectual finesse (and some humour) the unusual prompt for the final assignment of the UCI course "Japanese Buddhism": "Compose a debate between two or more Buddhist figures from Japanese history".
Luong's essay is well-situated historically and displays understanding of the differences between two major schools of Buddhism in Japan via the amusing and clever framing of a game of scrabble between two famous leaders, the priests Kukai and Shinran. Luong deftly incorporates quotes from and references to actual works by the two priests as well as incidents that affected their lives, such as the exile of Shinran.
Zhang's essay presents the same two characters (a popular pair in the class because of their very distinct differences) as vying for the position of Supreme Court Justice. Her work is erudite, elegantly written, and replete with historical knowledge, and ties in her expertise in Criminology (one of her three majors), making for an intriguing and absorbing scene of contest between historical figures in a present-day and legal context.
Buddhist history and doctrine can seem distant and alien to many of us, especially to students who are encountering it for the first time, and this is the demographic that populates much of the Japanese Buddhism class at UCI. Over a ten-week period, we run through the main schools of Buddhism developed in Japan, examining their founders and doctrines in the context of the societies and cultures of the times. As the class progresses, a number of doctrines attract particular attention, and among these are: the equality (or not) of Buddha nature; authenticity in Buddhism; enlightenment and practices deemed to help cultivate it; views on karma; the concept and nature of evil; rebirth; sex and gender; and the after-life. As a final assignment for the class, students select a number of doctrinal points that interest them most and set some of the most renowned Buddhist figures in Japanese history in conversation with each other to debate them. They are encouraged to develop the characters of these historical figures based on what we know of them from our studies, which include primary sources such as personal letters and commentaries, and often these make for a peppering of period-specific idioms and cultural references.
Please enjoy reading the award-winning essays below, and join me in congratulating Yifei Zhang and Kevin Ho Luong on their exceptional work.
"A Conversation Over a Game of Scrabble" by Kevin Ho Luong
"Supreme Court Chief Justices of Japan: A Debate between Shinran & Kukai" by Yifei Zhang
Elizabeth Tinsley (Buddhist Studies, Department of East Asian Studies & Program in Religious Studies)