A unique combination of beautiful natural surroundings and thriving cultural life makes of Irvine an ideal place to undertake graduate studies. Our program enables students to develop their own path of research in an environment that is diverse and conducive to intellectual enrichment. Spanish graduate students are encouraged to take advantage of the many interdisciplinary opportunities afforded by the School of Humanities.  All accepted students receive financial aid under the form of fellowships and TAships.
Recent Graduate Courses
In the Face of Music. Syllabus
Second Language Acquisition
Romantics Simulacra and Utopian History. Hegel, Marx, Galdós, Zola. Syllabus
Ruined Caribbean. Syllabus
Gender and Revolution in Mexico. Syllabus
Spanish in Contact
Avant Garde Narratives
21 Century Latin American Poetry
Gifts of Friendship. Syllabus
Herencia de Auschwitz. Ethics and Politics in Latin America.
Latin American Film. Syllabus
History of Spanish Language
Student Testimonials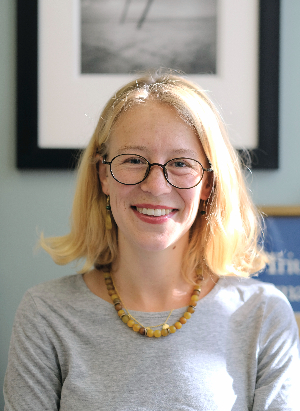 Gwendolen Pare
After studying a bachelor's and master's in Europe, I realized that if I wanted to continue studying Latin American literature and be able to afford it, I would have to leave the continent. That wasn't an easy decision personally, but one I would repeat. I came to UCI because of the congenial atmosphere at the welcome visit and because I left wanting to work with the people (professors and graduate students) I met. In the past five years, I have enjoyed taking courses in different departments; TA-ing and co-teaching in teaching practicums; taking academic courses as well as those focused on methods/practice. Prof. Torres' pedagogical training is invaluable. I took some time preparing my qualifying exams, but the Independent Studies and Directed Readings leading up to the exam and the exams themselves definitely improved my project. In my dissertation, I work on a concept of care beyond cure in literature on incurable illness. The chapters look at different figurations of incurable illness, for instance neobaroque contagion in Severo Sarduy's, Haroldo de Campos', and Nestor Perlongher's writing. Or post-dictatorship as a hereditary illness in more recent texts by Diamela Eltit, Nadia Prado, and Guadalupe Santa Cruz. In another chapter, I approach Anglophone, Afro-Caribbean poetry of the 1990s from Latin American studies while also trying to test the limits of Latin American studies.
Everyone will tell you how busy UCI's academic life is. On top of that, these are places I recommend for getting help and staying sane (ish) while jumping the hoops of PhD study: writing counseling and dissertation boot camps at the Graduate & Postdoctoral Scholar Resource Center; workshops at the Department of Teaching Innovation and Excellence; the Humanities Center for application workshops and reviews as well as grants for travel, language study and research; the UC Humanities Research Institute for fascinating research but also collaborative and/or UC-wide project funding; UCI's counseling center and CARE center for mental health resources; FRESH hub for food and emergency funding; the Derrida papers at UCI's special collections; the Académiques Latinx writing group and colloquia at our Spanish and Portuguese department; the union which organizes 48 000 academic workers at all ten UCs; the UC Natural Reserves System; the psychoanalytic consortium organized by UC faculty, the IPA and LA's New Center for Psychoanalysis. Off campus, this area is gorgeous for rest and fun. For me, that is the breathtaking nature close and far, the theaters and galleries in LA and Long Beach, and Tijuana and its airport less than two hours away. I'll leave it here but do reach out to me at gpare@uci.edu if you have any questions.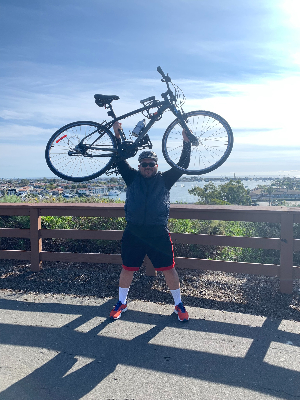 Marco Antonio Huerta Alardín
I am a Mexican international student. I was born on the northeastern gulf coast in a port town named Tampico, which means "place of water dogs or otters" in the Tének language. I received my BA in Communication from Universidad Iberoamericana in México City. Then spent a little over a decade working in both the private and public sectors as a media and public relations consultant, concurrently with a writing career as a poet. After that, I decided to continue my formal education by applying to the MFA in Cross-genre and Hybrid Writing at the University of California, San Diego. After acquiring my degree, many questions about the intersection between race, sexuality, and writing were left unanswered. This motivated me to pursue a doctoral degree. 
I decided to apply to UCI because I had heard of other students who had similar interests to me and who had successfully completed their research in the Department of Spanish & Portuguese. I realized that I had to pursue research that would be meaningful to my country and the communities I belong to as a writer and as a queer person, so I decided to focus on issues of gender and sexuality in contemporary writing by Indigenous authors from México. The Department holds one of the most prestigious and long-standing Mexican Studies academic conferences in the United States, so it was clearly a good match for finding supportive mentors aligned with my transdisciplinary interests. After living in San Diego, I wanted to stay in Southern California, so the decision to apply to UC Irvine, close to the beautiful Orange County coast, came naturally. 
I am writing my dissertation, which focuses on issues of race, gender, and sexuality in contemporary writing by women and sexually variant authors from the Binnizá Nation (Isthmus Zapotecs). When I'm not writing or researching, you can find me riding my bike across the multiple scenic trails in Irvine, Newport Beach, Laguna Beach or swimming in Crystal Cove.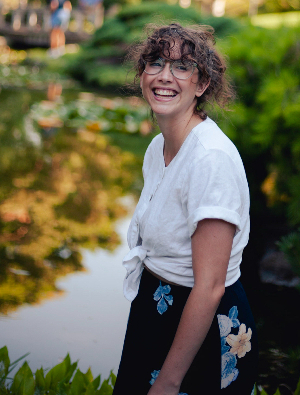 McKenna Middleton 
I am a PhD student in the Department of Spanish and Portuguese. I grew up in Glendale, California but moved to Waco, Texas to attend Baylor University with a double major in Spanish and Journalism. During my undergraduate studies, I worked as an editor and writer for the university newspaper and volunteered as an English instructor working mostly with Spanish speaking immigrants in the community. When I studied abroad during my undergrad at the Saint Louis University Madrid campus, my interest in feminism and Iberian studies collided for the first time. The emergence of feminist literature in Spain has captured my curiosity as it inherently reacts against the metanarratives of the Franco regime. More recently, this fascination has come to encompass study of memory and the passing down of knowledge between women and across matriarchal lines. 
I primarily decided to return to Southern California because the UCI Department of Spanish and Portuguese has allowed me to pursue my interdisciplinary interests. UCI offers the option of having an emphasis for graduate students in the School of Humanities. In my case, the Graduate Feminist Emphasis has given me the oppotunity to enrich my research by taking classes outside the Spanish Department and then apply it to my research. One of my favorite things about the emphasis courses is interacting with graduate students from disciplines all across campus. I also appreciate that UCI offers opportunities for professional development both for the traditional tenure track as well as alternative careers through programs such as the Division of Teaching Excellence and Innovation and Humanities Out There. At UCI, I've also been able to grow as a teacher since students take pedagogy and teaching methodology courses in preparation for being a TA in the department. When I'm not studying and teaching, I enjoy cooking, hiking around Irvine, and reading at the beach.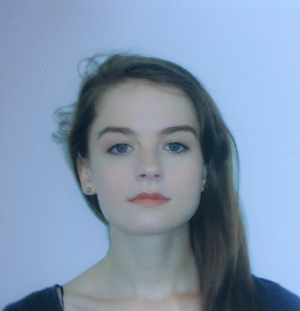 Fiona O'Connor
I am excited to be working toward my MA and PhD in Spanish and Portuguese here at UC Irvine, after having completed my BA at Fordham University in 2019. There, I studied comparative literature and international political economy, with minors in Spanish and philosophy. As such, it was important to me to continue my studies in a similarly interdisciplinary environment. One of the reasons I chose to attend UC Irvine's graduate program was that the program structure and faculty attitudes encourage interdisciplinary studies, meaning that I can take courses in any department and pursue a variety of graduate emphases.
At the moment, I am just beginning my studies at UC Irvine. The faculty here boasts diverse areas of expertise, and it is great to know that my current interests are well represented but still have room to expand. Further, attending a UC school gives me access to the course offerings and libraries of the entire UC system, providing even more potential for growth. At the moment, my research interests center on the cultural moment in Colombia and Chile following state violence in the late 20th century. I seek to investigate how oppressed groups like queer and indigenous people use narrative, visual art and film to create alternate memories and archives in the wake of the silences and erasures that constitute an inherited legacy of that violence. 
Coming from the East Coast, this was a big move to consider. The culture of the Spanish and Portuguese department was one of the biggest factors that went into my decision. The faculty are supportive and friendly, and the graduate students uplift each other. So far, I will say that the West Coast does have its perks. On top of continuing to pursue sailing and skiing I will be spending a lot of time reading on the beach, year round.