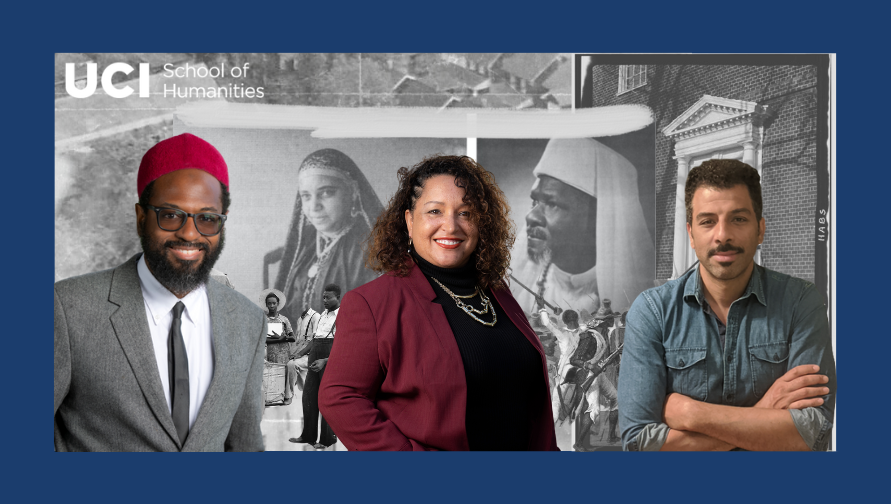 By Lilibeth Garcia
A humanities education wouldn't be complete without a basic understanding of human history. One of the hallmarks of the School of Humanities is its expertise on the vast history of people of African descent. Professors research and teach courses on everything from Haitian history, Black Muslim communities, and slave rebellions and organize lecture series on early and modern African American art, music, film, literature and more.
But in other parts of the country, even rudimentary courses in Black history are in jeopardy.
Florida's Department of Education recently rejected a pilot Advanced Placement African American history course from being offered in its public high schools. Gov. Ron DeSantis's "Stop WOKE" law limits students and teachers from learning and talking about issues related to race and gender, effectively erasing Black history from the state's cultural imagination.
This trend isn't new. For a long time, in this country and others, Africans were not seen as full human beings, but as chattel, and their stories were consequently silenced. Today, UCI scholars study the lives of those who have been omitted in the historical record.
School of Humanities Black Thriving Term Chair Jessica Millward is a scholar of early Africa America and slavery, but she focuses her research and teaching on enslaved women. The voices of Black women are often absent in traditional archives, she explains, as they were often deemed too unimportant to record in the annals of history. As an associate professor of history and African American studies, Millward looks for enslaved women and the traces she can find of their families.
In Finding Charity's Folk: Enslaved and Free Black Women in Maryland (University of Georgia Press, 2015), Millward highlighted the life of Folks, a woman who was enslaved until the age of 40 and whose freedom was tied to her reproductive capacities, with children being used to perpetuate the slave economy. Merging biography with social history, her book investigated the ways African American women moved across and beyond the boundaries between slavery and freedom – and how, through doing so, Black women shaped early American society. This past Fall, Millward convened a conference on family history at UCI where descendants of Folks met each other for the first time.
Extending her expertise on Black women's history, Millward is currently working on a book-length project that discusses African American women's experiences with sexual assault and intimate partner violence in the late 19th century, as well as a monograph about the transatlantic slave trade in Ghana. She also recently co-edited, along with Emory University Associate Professor of Women's Studies Aisha Finch and Associate Professor of African American Studies Tiffany Willoughby-Herard, a special issue on Black feminism and the politics of care in Palimpsest (Suny Press, 2022).
While Black history is marked by horrific tragedies, its study also illuminates the successes of Black people. "It is only by sitting in the silences of Black women's pain that we can understand the revolutionary nature of Black joy," says Millward. "I use my platform as a scholar and teacher of the Black women's experience to promote a reality and academic space where Black women are not forgotten. Rather they are seen as viable, critical participants in African Americans' ability to thrive."
Like Millward, Assistant Professor of History Rasul Miller is interested in underrepresented Black lives. While living in New York City, he spent time with Black Muslim mentors in mosques around the region, listening to stories that were seldom taught in classrooms in the U.S.
"I found their stories incredibly enlightening and inspiring," he says. "They were not truly represented in the literature on Islam in the U.S., so I began interviewing some of these elders to document this history. I ultimately decided to pursue a Ph.D. in history to obtain the training and the resources to explore and document histories like theirs in what I hope will be an impactful way."
Miller – whose research focuses on Black internationalism, Islam in the Atlantic world, Black social movements in the U.S. and West African Islamic intellectual history – is building on those oral tales through his scholarship. He is currently completing a book project on the history of Black Muslim communities in and around New York City over the course of the 20th century, and he is also creating and curating an archive of Black Muslim oral histories.
For Felix Jean-Louis III, assistant professor of history, keeping a historical record was part of the family tradition. Like Miller, his unique insight into Black history started in New York. Taking the stories he absorbed as the son of Haitian immigrants, Jean-Louis pursued a B.A. in history at age 30 to continue to develop his interest in the past.
"I feel like it was imposed on me," he says. "Many of the men in my family are lay Haitian historians, and when I decided to go to school, I went that route. I've always had an interest in history, thinking about the models laid before me it wasnatural."
Jean-Louis ultimately obtained a master's in African diaspora studies and a doctorate in history from Florida University. His award-winning dissertation, "Between Harlem and Paris: Haitian Internationalism in the Interwar Period, 1919-1938," explores how elite Haitian men were central actors in the major initiatives launched by people of African descent to redefine Blackness away from racist tropes and build a global community committed to abating racial and colonial subjugation. His upcoming book expands on his interest in Haiti – the first country in human history to permanently ban slavery and the first Black republic.
Studying Black history on a global scale is also part of Associate Professor of History Alex Borucki's research, whose intra-American slave trade database documents more than 27,000 trafficking voyages from one part of the Americas to another from 1550 to 1860. His project, "Routes of Enslavement in the Americas," recently received an $840,000 MRPI grant from the University of California. The new funding will enlarge the network of collaborating scholars and students, strengthen the investigation of this horrific traffic at the UC and increase the database's coverage.
As scholars unearth and teach the stories that were previously denied access to recorded history, they empower new generations of students to do the same.
"If the past years have taught the world anything, it is not only that Black lives matter but also that understanding the context of those lives is equally important," says Millward, who can relate to students who may be taking an African American studies course for the first time. "As a tenured Black woman and first-generation college student and Ph.D., I have a responsibility to promote the learning and well-being of students who do not have a blue-print for pursuing college or graduate school."
African American Studies
History