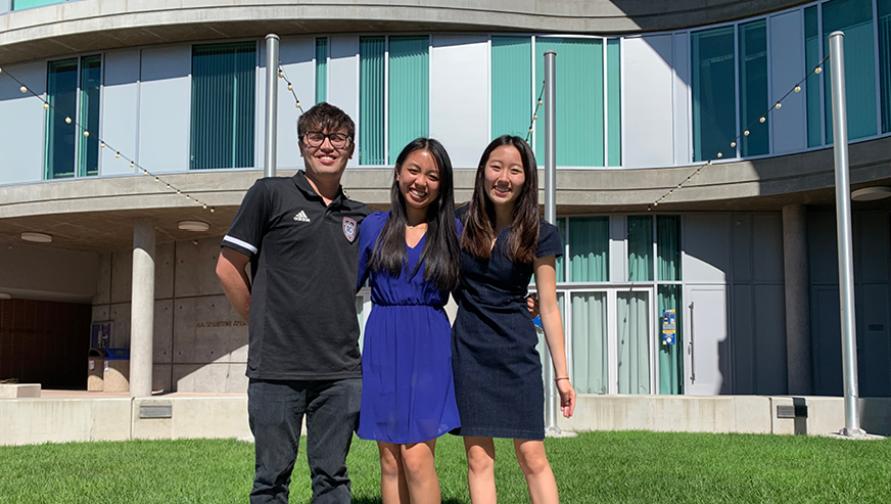 By Lilibeth Garcia
For most undergraduate students, landing a job at a Silicon Valley startup immediately post-graduation is the dream, but for alumna Sherissa Go ('21), it's reality. Employed at SkyHive, a leading software company in Silicon Valley, she currently works with engineers, sales directors and marketing managers to sell artificial-intelligence technology to Fortune 500 companies. Despite being in the tech capital of the world, Go did not major in computer science or engineering – she majored in English.
One key opportunity set her on this trajectory: a paid internship organized by UCI's Department of English.
Go is one of many English and literary journalism majors who spent their UCI years putting their writing skills to practice with projects including: investigating COVID vaccine hesitancy in the Vietnamese American community, scouring newspaper archives to learn more about a trio of California-based German spies during World War I, crafting and executing a Tik Tok strategy, and writing articles about the California prison system for a non-profit.
Students in UCI's English department, which includes majors in English and literary journalism, can take advantage of fellowships and internships that place them "in the real world" well before they graduate, allowing them to enhance their resumes and get a head start on their careers. Literary journalism majors can apply for a UCI Center for Storytelling fellowship, which positions them alongside award-winning faculty who can help them perfect their stories, and English majors can participate in the English Internship Program, which introduces them to the diverse breadth of jobs available in communications and marketing.
Experiential learning opportunities are made possible through the generosity of donors and supporters, some of whom were once UCI English students themselves.
Growth through 1:1 mentorship
The Center for Storytelling, which educates the public on narrative nonfiction writing, is the brainchild of Literary Journalism Program Director Barry Siegel, who now also serves as the center's director. UCI English alumna and longtime School of Humanities champion LaVonne Smith ('94), who completed her degree at 50 years old after a 25-year hiatus of world traveling and raising a family, provided the seed funding to launch the center.
"The experience exceeded all expectations. The level of discourse, quality of staff and personal attention made for the perfect learning environment for me. I wrote my story," she says. "To support the School of Humanities so that other students could have the opportunity to write their stories and experience the personal growth I did became my charitable focus."
In the spring of 2019, the Literary Journalism Program secured a $10,000 donation from Smith to fund a Storytelling Lab, where anyone with something to say can find help saying it.
Smith, along with UCI Board of Trustees member Marilyn Sutton, funded the Student Storytellers Fellowship, a hallmark of the center. Last summer, the fellowship paired five outstanding undergraduate writers with faculty mentors to work through the process of researching, reporting and writing a unique story together. An accompanying $2,000 stipend enabled students to fully immerse themselves in their work during the duration of the fellowship.
Katlin Aquino ('21), a literary journalism alumna who graduated this past winter, was on the popular Facebook group "Subtle Asian Traits" when she read a story about someone struggling to convince their Vietnamese parents to take the COVID vaccine. It was in the comments section where she found her subject: a doctor who was also confronting the same issue at home.
"I've always been really interested in misinformation, and I wanted to see how misinformation affects different communities," Aquino says. She observed how fear of communism among Vietnamese American refugees heightened their skepticism of the government. Family divisions because of vaccine hesitancy are common, and Aquino found that it was a nuanced issue among Vietnamese American youth: feelings of resentment were often mixed with and complicated by gratitude for what their parents had sacrificed.
Aquino had previously reported on QAnon for a workshop in her "Narratives off the News" course, taught by Associate Professor of Literary Journalism Erika Hayasaki. After applying for the student fellowship, she was paired with Hayasaki, whose recent writings have appeared in The New York Times Magazine, WIRED, The Atlantic, Marie Claire and MIT Technology Review and often touch on the intersection of race and technology.
"This reporting opportunity offers students like Kaitlin the chance to continue to receive mentorship beyond graduation, which helps give them more experience as they launch their own writing careers," Hayasaki says. After the fellowship ended, the professor referred Aquino to a newly opened position at the Orange County Business Journal, where Aquino now covers retail.
"Erika is a fantastic mentor. She was always suggesting different ways to approach my story, like different angles and people that I could talk to," Aquino says. "When you're working on a story alone, it's easy to get in your own head and create roadblocks for yourself, but Erika really helped me dismantle those."
While Aquino's story focused on contemporary issues like the COVID pandemic, Margaret O'Hara ('21) journeyed to the past in her fellowship project.
O'Hara chose to pursue a reconstructive story that required archival research because she reasoned it would be more feasible during the pandemic, but she was also motivated by curiosity. "I think that there's a level of investigation and intrigue that you don't get when you can just go talk to somebody," she says.
She found the idea for her story in an article for The Santa Cruz Sentinel, where she learned about a trio of German spies who operated in the west coast during World War I. The trio included a man out to seek vengeance after a superior killed his brother, a powerful woman pulling the strings and one of the first trans men in documented California history. Their story left a literary trail after one of the spies was caught, so O'Hara was able to learn about them in-depth through a California newspaper database.
Her mentor was Siegel, an expert in reconstructive storytelling and a Pulitzer Prize-winning author. His latest book on the 1932 Los Angeles Olympics, Dreamers and Schemers, was written exclusively with archival research.
"Barry was super helpful in helping me effectively manage my time, as well as make sure I knew where I was going," O'Hara says. The project let her preview what it would be like to write a book. By the time the fellowship ended, she had written over 10,000 words – about one-third of a complete manuscript. "This fellowship project really made it clear that writing a book is a possibility for me when I didn't necessarily think it was beforehand," she says. O'Hara now works full-time as a journalist for The Sheridan Press in Wyoming.
"The fellowships enabled students to prove to themselves they could report and write major long-form stories that required a sustained months-long effort involving the weaving of multiple threads. They learned they could take risks in their writing and prevail," says Siegel. "As a fellowship mentor, I found it thrilling to watch our students meet new challenges, hone their skills and evolve into better, braver writers."
"When Barry Siegel founded the Center for Storytelling, I couldn't wait to contribute," Smith says. "To give students and the community the place and assistance to write the stories that are waiting to be written, the process is empowering and product enduring."
Putting boots on the ground
For English majors, career options can seem boundless. At family gatherings, they might often hear: "What are you going to do with an English degree?"
Few people are aware that storytelling isn't just restricted to newspaper newsrooms and publishing houses. Developing a sense of plot, character, metaphor, setting, tone, context and audience can help tell the stories of brands—from top private companies to nonprofit organizations.
To create more awareness about opportunities in marketing and communications, the UCI English Internship Program places English majors in campus and community offices with stories to tell for a period of 10 weeks. The students are paid to work five to 10 hours a week, and they also earn course credit from taking "Writing 197: Writing Internship" with English Professor Julia Lupton, who founded the program.
In the fall of 2021, 25 English majors were assigned to marketing and communications internships at UCI and surrounding organizations.
One of those students was Go. As a content marketing and copywriting associate for the UCI Division of Career Pathways, she wrote podcast scripts for the hub's Spotify on how to get an internship during college, how to ace a job interview and more.
"I graduated with my English degree at the end of winter and scored a job at a leading Silicon Valley startup with no experience other than my internship work and my work for New University," Go says. "I think this serves as a testament to the program's importance."
Go wasn't the only one to land a promising role after the internship ended. Mehreen Jeddy worked as a writing and marketing intern at the Hub for Integration, Reentry & Employment, an Orange County non-profit that helps formerly incarcerated people find work. At H.I.R.E., she drafted social media posts, wrote articles about the California prison system and made edits to the company website. Jeddy now interns at the magazine 60 Seconds, where she writes about film, media and books.
There were even opportunities for students interested in bridging the gap between the humanities and the sciences. Chris Nagelvoort, who is double majoring in English and computer science, interned for UCI's Department of Ecology and Evolutionary Biology's communications office. "As an English major, you can get lost and not know where to find work, so it was an amazing opportunity," he says.
The partnership benefits both students and mentors as the interns provide valuable services for the teams they join. "I found this program so incredibly impactful in my day-to-day, because students truly are the audience for a lot of the work that I do," says Executive Director of Marketing & Communications Annabel Adams, who coached two English major interns, Clairesse Schweig and Christina Han, on crafting original social media content for the School of Humanities and English accounts. One of those projects was the launch of the UCI English Tik Tok account, which showcases a humanities-themed campus tour and a snapshot of books English majors are reading at UCI.
"Our students are eager for new experiences that expand their visions of the future. It's exciting to see them take their writing skills and retool them in these real-world settings," Lupton says. "The outcomes are tangible: some are kept on by their employers, others apply for related opportunities and all of them make new friends and contacts while building their resumes. The students grow so much over the course of 10 weeks, and they take real pride in the work they do on behalf of UCI departments and Orange County non-profits."
In their courses, English and literary journalism majors refine their abilities to read, write and communicate effectively; they learn how to craft strong arguments and think critically about a wide range of issues; and they develop a sharp eye for detail, accuracy and flair. It's no wonder, then, that specializing in the most widely spoken and written language worldwide enables them to excel in almost any field, anywhere.
Thank you to all of the donors who have made these initiatives possible: Mona Baset; Janis Carpenter; Audrey Fong; Julia Lupton; LaVonne and Brian Smith; Marilyn Sutton; and Vickie Zhang and John Wei.
You can support future English Department storytelling fellows and English major interns by donating here.
If you want to learn more about supporting other activities at UCI, please visit the Brilliant Future website at https://brilliantfuture.uci.edu. Publicly launched on Oct. 4, 2019, the Brilliant Future campaign aims to raise awareness and support for UCI. By engaging 75,000 alumni and garnering $2 billion in philanthropic investment, UCI seeks to reach new heights of excellence in student success, health and wellness, research and more. The School Humanities plays a vital role in the success of the campaign. Learn more by visiting https://brilliantfuture.uci.edu/uci-school-of-humanities/.
Community engagement
English
Internships