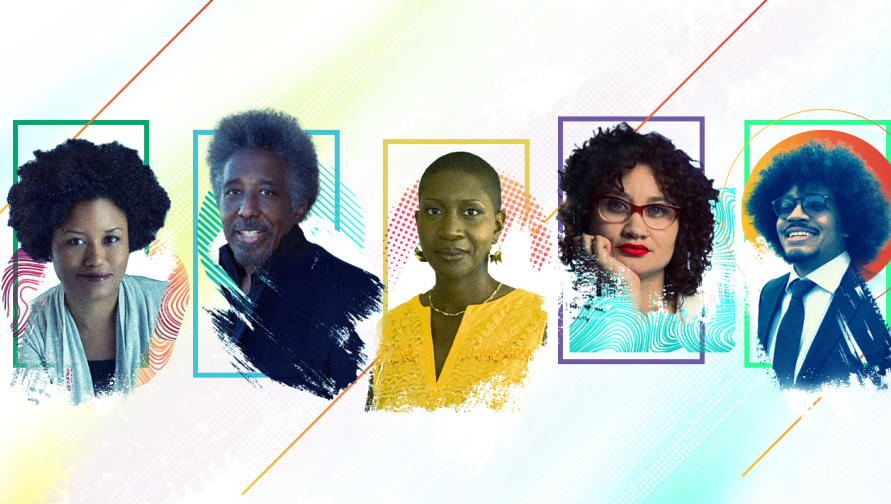 By Lilibeth Garcia
Black Anteaters pave the way
Widely influential around the world for its study of Black life, UCI's Department of African American Studies would not exist today without faculty and student activism.
In the early 1990s, a group of scholar activists envisioned an intellectual home for Black students and faculty on campus that would meaningfully tackle questions around race and racism. Among them was English Prof. Lindon Barrett, who advocated for a space to study African American literature and critical theory. In 1994, he became founding director of the newly created program.
Its succeeding chairs, Jared Sexton, who came in 2007, and Bridget R. Cooks, who led after him, were not yet tenured professors. They nevertheless put their careers on hold to run what was functionally a department, lead a graduate program, recruit faculty and set the standards for what African American studies as a field would one day become.
Fourteen years after it was established, the program hired its first full-time faculty member, Tiffany Willoughby-Herard, now an associate professor of African American studies and the School of Humanities' equity advisor. But it was UCI students whose passion took the program to the next level.
In 2014, as the Black Lives Matter movement gained momentum in the U.S., UCI Black Student Union members demanded that the African American studies program be transformed into a department, which would have more secure funding and fulltime faculty.
These student activists spent the next two years holding demonstrations on Ring Road and meeting with top administrators at UCI and the UC system.
"I do not think that we would be a department if civil disobedience on the part of Black students was not part of the equation," says Frank B. Wilderson III, Chancellor's Professor of African American studies, who joined the program in 2005.
In 2016, the student activists saw the fruits of their labor when African American studies gained department status.
Since then, the department has grown to a core of eight faculty members with full-time or joint appointments and another six affiliate faculty members from other disciplines. The department now regularly enrolls hundreds of students annually and supports several dozen majors and minors at any given time.
Today, the scholars and scholarship of UCI's Department of African American Studies are used as a source guide for knowledge of Black studies around the world. Beyond the perimeters of the Irvine campus, African American studies and Black studies departments across the world build their syllabi around the field-defining research of UCI scholars like Wilderson and Sexton, founders of Afropessimism, a discipline of critical theory; Cooks, who curates art exhibitions that challenge anti-Blackness; and Willoughby-Herard, who brings an international and feminist perspective to the field.
While most African American studies departments are situated in the social sciences with scholars engaging in empirical work, at UCI, it is housed in the School of Humanities. Its faculty members are experts in history and art history, visual studies, film and media studies, English and more. But most of them approach African American studies through the lens of critical theory.
"I think that our being in the humanities and being oriented towards theory have allowed us to write books about what it means to be Black and the challenges we face," says Wilderson. "We pose the questions that people often grapple with, and that's why it looks so impactful in ways others aren't."
Preparing next-gen scholars
Named the second director of the program in 2010, Sexton set his sights on reimagining the curriculum. With Wilderson and others in the department at that time, he overhauled the required core courses for undergraduate students and set out to intensify the program's writing courses and theoretical focus, with the goal of preparing the next generation of great thinkers.
"We wanted our students majoring in African American studies to be the most competitive in graduate school applications, especially in things like critical theory and interdisciplinary studies, and our success rate has been tremendous," Wilderson says.
The two built courses that would equip students with a theoretical vocabulary and a deep understanding of the archive of African American studies. They even revamped their upper division courses to include first-year graduate-level reading.
"Part of what makes African American studies at UCI unique is our commitment to rigorous analysis at every scale: from the local to the global, from the concrete to the abstract," says Sexton. "We each demonstrate in our own way that close and careful study of the history, culture and politics of Black people around the world does not just yield essential knowledge rarely found elsewhere, it also affords a mode or method of critical thinking and feeling otherwise unavailable or inaccessible."
The introductory courses discussed early U.S. colonial history, rebellions of enslaved persons, criminalization and policing, media representation, global Blackness, feminist approaches to slavery, the racial wealth divide, immigration and the African diaspora.
Willoughby-Herard has seen the success of the curriculum firsthand. Between 2007 and 2018, she supervised 36 undergraduate scholars embarking on independent research projects. Approximately two-thirds of them went to graduate school.
Courses in the department today prepare students well beyond graduation to navigate complex social, political and economic conditions. As a result, UCI African American studies graduates stand out in medical, law and graduate school applications, among other professional fields.
UCI alumnus Nasir Malim '13 is now an internal medicine resident physician at Montefiore Medical Center in New York City, but instead of graduating with a B.S. in biological sciences as he had originally planned, he chose to earn a B.A. in African American studies after taking courses for a minor.
"I felt an intellectual stimulation that was simultaneously more challenging than anything else I had studied, yet rewarding toward my development as a blossoming adult," he says. "Exploring racism, health disparities and structural violence via the tools I have gained in medicine and public health will continue to be a pivotal part of my career."
Department faculty also prepare students to examine social justice through the lens of political theory, which is a specialty of Sandra Harvey, assistant professor of African American studies and director of the Culture & Theory Ph.D. Program. Many students in her courses find them a step on their path to law school.
Micherlange Hemsley-Francois is one of those students. A fourth-year double major in African American studies and criminology, law & society, the Haitian-born student cultivated an interest in African American history in high school, much of which wasn't formally taught in her history classes. UCI was one of the few UC schools with a major in African American studies, and for an aspiring lawyer, it was the perfect fit.
One of her favorite courses – and her first African American studies course at UCI – was "Policing Black Lives" with Harvey. Through the major, Hemsley-Francois has gained an understanding of the weight of law on Black life not only within the U.S., but also around the world, which resonates with her Caribbean background.
Intent on becoming a human and civil rights attorney, Hemsley-Francois is also an award-winning ballet dancer and a photographer, as well as the founder of Young Artists Initiative, a project that promotes BIPOC (Black, indigenous, people of color) youth participation in the arts.
"I've taken classes where we analyze films, music, creative writing, performances and literature from scholars in different fields," she says. "It's such an interdisciplinary field that prepares you for so many different career paths."
Macala Lacy '14 carved her own career path with a minor. She earned a bachelor's degree in psychology & social behavior and minors in African American studies and French. Now, she is a wellness counselor at Marymount California University and has her own practice specializing in Black and queer mental health.
"Af-Am helped me develop a critical lens for understanding mental health," Lacy says. "It also contextualized the psychological impact of anti-Black violence. The foundational insight and critical thinking I learned from my minor classes continue to support my work to this day."
It's not just undergraduates who benefit from the department.
Through the Culture and Theory Ph.D. and other graduate programs at UCI where African American studies faculty serve in affiliated roles, grad-level Anteaters also benefit from faculty expertise and mentorship.
Department Chair Sora Han helped launch the inaugural Black Studies Cluster – an initiative to support a multidisciplinary cohort of Ph.D. students interested in Black studies. Students benefit from a quarter-long workshop where they connect with UCI faculty, guest lecturers and advanced-level UCI graduate students working on related topics, as well as four summers' worth of research funding. The success of the initiative has inspired other UCI doctoral programs to get involved, with a centralized program through UCI's Grad Division currently in the works.
Black futures
Former UCI students have found the department so foundational, they came back as faculty.  
Alumna Bridget R. Cooks '93, associate professor of art history and African American studies, majored in art history, but as an undergraduate student, she found that Black artists were rarely represented in her textbooks. She only knew of a few contemporary African American artists, some of whom taught at UCI. Her focus on Black artists led her back to UCI, where she returned as chair of the Department of African American studies from 2015-2018. Now, UCI students can take courses on a range of Black visual arts topics with Cooks.
"When I say that African American studies here at UCI is the best, it's true," Cooks says. "I don't get a commission for how many students come to UCI as majors – I mean, there's nothing in it for me to try to sell African American studies, except there's a kind of joy knowing that I have such amazing colleagues, that the way that African American studies is structured here is inherently interdisciplinary, that we have people who are into critical theory, into art history, into astrophysics, into poetry, into music, into dance. It's a place where you can really learn about, appreciate and contribute to the endless complexity and dynamism of what Blackness is, and that's what makes us the best department."
Cooks brings her expertise in Black visual arts to life in exhibitions that challenge anti-Blackness. In 2020, the Ford Foundation awarded her $47,000 to produce The Black Index, now a nationally touring exhibition that she organized and curated.
John Murillo '11, the newest faculty addition to the department, earned his B.A. in English from UCI. As an undergraduate, it was attending a lecture by Wilderson, however, that challenged his entire worldview and made him turn his attention to Afropessimism.
Murillo's inaugural book, Impossible Stories: On the Space and Time of Black Destructive Creation (Ohio State University Press, 2021), blends literature with physics, as he examines the fragmented nature of "Black time and space" and theorizes new directions for Black identity and cultural production.
"I just want to write for my mom, I want this to be food for the community, I want people to teach this in community circles and be like 'I get this, this speaks to me, this fed me,'" says Murillo, who has taught courses on Black TV comedy, fantasy literature and critical race theory. "The percentage of Black people that do 'academia' as a particular kind of discipline relative to Black people writ large is so small. I'm not trying to write for that small group of people alone; I'm trying to write for all Black folk."
Harvey, who came to UCI as a postdoctoral fellow in the Department of Criminology, Law & Society in 2017, researches state violence and surveillance technologies originating in colonialism and chattel slavery. Her book project, Passing for Free, Passing for Sovereign: Blackness and the Formation of the Nation, contextualizes accusations of race/gender passing in the U.S. as rooted in 19th-century surveillance of fugitive slaves. She writes about Indigenous studies, as well as Latin America and the Caribbean, expanding African American studies beyond the borders of the U.S.
"The UCI Department of African American Studies is a place where you can see the importance in creating and supporting those people who are at the forefront of Black thought and Black culture intellectually in the nation, that we value that and hire them back," she says.
Invested in the scholarly growth as well as personal growth of their students, Department of African American Studies faculty hope to continue to make an impact at both the individual and community level.
"Students become peer educators for years to come – a resource for family and friends and coworkers seeking to better understand, and effectively respond to, any number of pressing social issues," says Sexton. "From the quest for workplace equality to the struggle for environmental justice, from the effort to stop voter suppression to the rearguard defense of public education and the very notion of shared reality."
"There is a hope from Black students and Black faculty that the university will continue to prioritize the study of Black life," says Harvey. "Even after the Black Lives Matter signs are down."
Students interested in majoring in African American studies can watch this introductory video.
Pictured in the collage from left to right: Bridget R. Cooks, Frank B. Wilderson III, Tiffany Willoughby-Herard, Sandra Harvey and John Murillo.