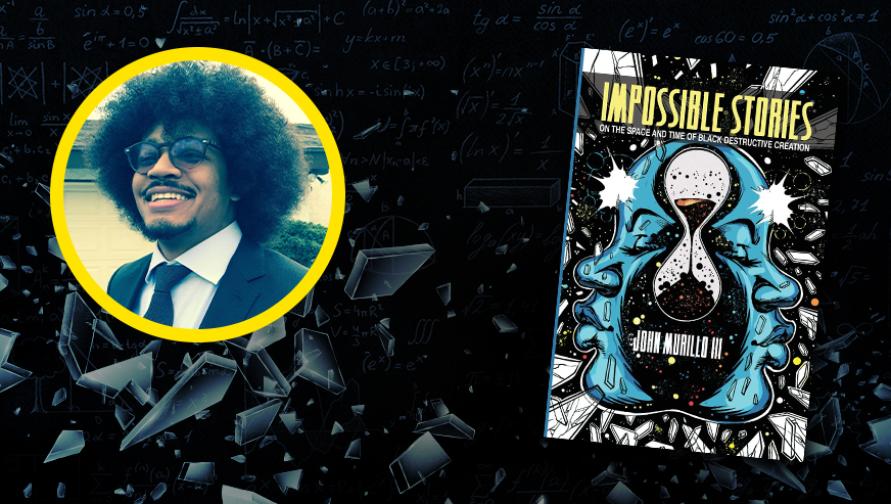 By Audrey Fong and Brittany King
What if the enslavement of Black people from the African continent caused a rift in the space-time continuum? If the terrorizing forces of anti-Black racism make it so that there isn't a space for Black folk to exist – do they exist outside of space and time?
These are the questions that keep John Murillo III up at night.
An assistant professor of African American studies at the University of California, Irvine, Murillo's research merges two seemingly disconnected fields: literature and physics. His inaugural book,
Impossible Stories: On the Space and Time of Black Destructive Creation
(Ohio State University Press, 2021), examines 20th and 21st-century Black literature alongside concepts of physics, from the blueshift phenomenon to theories about structure formation in the cosmos. The blending of these disciplines, Murillo insists, "might transform the cosmos as we know it."
Murillo's focus on Black creation marks a departure from his days as an English major at UCI over a decade ago. He admits to having been stubborn in his belief that thinking about Blackness was secondary to thinking about class, and that Marxism was the strongest analytical framework. It was a guest lecture by Frank B. Wilderson III, UCI Chancellor's Professor of African American studies, in a 2010 seminar on Marxism led by Chuck O'Connell, lecturer emeritus of sociology, that left an indelible impression and challenged his point of view.
"A lot of the things that I was super into didn't have any footing in my own Blackness at the time," Murillo explains. "Race was a feature of my analysis, but I was really into class and Marxism at the time. I was always into something, very deeply, but none of it was really inflected by Blackness until I met Frank."
In
Impossible Stories
, Murillo aligns his work heavily with Afropessimism, a critical framework that describes the ongoing and long-term effects of racism, colonialism and slavery on lived Black experiences. Wilderson is the scholar most associated with this framework. Through this lens, Murillo reexamines creative works including Toni Morrison's
Beloved
, Octavia Butler's
Kindred
and Paul Beatty's
The Sellout
, illustrating Afropessimism's applicability and utility for Black folk in and beyond the academy.
"I think when we look at literature in this way, we find new things in these works that lets us understand what's at stake in what we're doing," says Murillo. "We're not just writing a cool story that you can escape into; our core goal is to make time and space for Black people when there isn't time and space for us anywhere on earth." 
One true story the reinforces the questions of space, time and Black existence that
Impossible Stories
grapples with is that of Nephi Arreguin.
On May 7, 2015, 22-year-old Arreguin and a friend were looking for the house of a loved one in a Cerritos, California neighborhood, when they knocked on the door of a woman. She immediately closed the door, thinking they were burglars, and called the police. Moments later the police arrived and began to question Arreguin, asking him why he was in the area and whom he knew in the city. Not believing Arreguin's answers, things quickly escalated. Knowing he had done nothing wrong, Arreguin refused to show the police his driver's license when asked. Instead, he reached for the gear shift to leave - a move the police claimed made them feel threatened, resulting in them firing shots at his chest, killing him instantly.
"I never got over that. In my hometown, someone called the police on a guy that looked a lot like me," he says. "On the phone call, the witness said, 'They don't look like they belong here,' and I just don't understand. What does that mean? If we [Black people] don't' belong anywhere, what do we do with the 'Nowhere' we get to be? How have we made spaces for each other in that?"
Impossible Stories
then is a catalogue of stories that are seemingly
impossible
—created despite and in spite of the space-time constraints Black creatives face.
Murillo's courses at UCI also take Black creativity as their focus. Last quarter, he taught, "Black TV and Chill," where students studied the complex nature of Blackness and Black experiences through the dissection of Black-made television shows like "Luke Cage," "Lovecraft Country" and "The Fresh Prince of Bel-Air." In addition to studying TV shows, students read work from leading Black scholars such as Wilderson and had the opportunity to create a space for themselves, or "chill," and escape the turbulence of the news.
"Professor Murillo selected excellent television shows and readings, but the coolest part of the class had to be Murillo himself and the supportive and fun classroom environment he created," says Tatum Larsen, a literary journalism major who took "Black TV and Chill" last quarter. "He is an adept scholar with amazing teaching abilities but what truly made this class special is the sense of community you gained from it."
In addition to teaching Black television and media, Murillo also teaches critical race theory, fantasy literature, Black cooking and hip hop. He's already thinking about what he'll do next.
"The next thing I do will be much further from the academic world, I don't feel like this style of writing does the work that Black people need," he says. "I just want to write for my mom, I want this to be food for the community, I want people to teach this in community circles and be like 'I get this, this speaks to me, this fed me.' The percentage of Black people that do 'academia' as a particular kind of discipline relative to Black people writ large is so small. I'm not trying to write for that small group of people alone; I'm trying to write for all Black folk."
Officially out,
Impossible Stories: On the Space and Time of Black Destructive Creation
is available from Amazon, Barnes & Noble and Ohio State University Press.

With editing by Annabel Adams
African American Studies
English
Culture and Theory