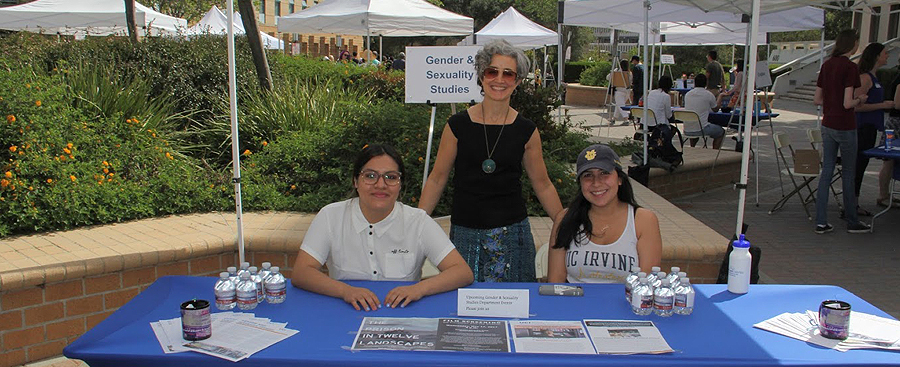 Since its inception in 1975 as the center of feminist scholarship and teaching at UC Irvine, the Department of Gender & Sexuality Studies has been dedicated to the interdisciplinary study of gender and sexuality in their complex articulations with race, ethnicity, religion, nationality, and socio-economic class. The Department draws critical attention to "gender" and "sexuality" as concept-terms that necessarily invoke multiple systems of oppression, inequality and privilege, and which engender various forms of embodiment, desire, subjectivity, knowledge and politics. We look at masculinities and femininities not as natural, pre-given facts lodged in a clear-cut binary system of biological difference, but as products of specific cultural, political and economic processes. We examine how the authority of sciences, technologies, images, narratives, laws, and religions has been formative in producing prevailing ideas about gender and sexuality. Our teaching and research agendas reflect a commitment to refining three key methods: 1) Feminist Transnational Analysis; 2) Critical Interdisciplinarity; 3) Cultural Theory.

1) Feminist Transnational Analysis has been a distinguishing feature of our department, recognized for its excellence both by external reviewers and by the feminist studies community on a national and international level.  Our groundbreaking feminist transnational analyses have focused on the networks of connections and inequalities arising from newer forms of globalization and from older histories of imperialism, colonialism and slavery. A distinctive hallmark of our department is that our research and teaching mission is not to provide broad coverage of discrete areas of the world but rather to scrutinize key discursive and institutional sites through which gendered and sexualized subjects and forms of knowledge are produced and circulated.  We believe that thinking transnationally goes against regional divisions, as constructed within traditional Area Studies or nation-based programs, and also against the chronocentrism of globalization studies because it examines the histories of gender that came about as a result of cross-cultural encounters and political-economic exigencies. As we continued to grow into the twenty-first century, our faculty have re-elaborated this feminist transnational approach to illuminate how divergent ideas of modernity frame the terms by which knowledge about different regions of the world is produced and circulated under radically new conditions. The transnational processes now studied by our faculty include war and militarization, global governance, international finance and economic crises, theater and performance circuits, migration and diasporas, new social movements and cyberactivism.

2) We use what we regard to be the best and most effective methods from traditional disciplines while also interrogating the epistemological hierarchies that have allowed certain disciplines to become so powerful in the first place. Our various research projects require us to traverse disciplinary boundaries in order to understand how the politics of knowledge are related to social inequalities. By emphasizing Critical Interdisciplinarity in the study of gender and sexuality, we call into question the boundaries of disciplinary knowledges and formulate new questions, frameworks, and methods for understanding how specific objects of analysis and specific modes of subjectivity come into being through contingent links between knowledge and power. Our faculty work within and across several key interdisciplinary fields that have transformed the intellectual terrain of the university: critical race studies, queer studies, cultural studies, visual studies, performance studies, American studies, science and technology studies, diaspora studies, and area studies. Through a studied and rigorous engagement with multiple disciplines and interdisciplines, we forge new forms of knowledge out of critiques of previously accepted beliefs and intellectual paradigms in the arts, humanities, sciences, medicine, and social sciences. This is especially important and useful for UC Irvine since its multiple School structure poses unique challenges for campus-wide interdisciplinary conversation and collaboration. As the center of feminist inquiry at UCI, we have continued to attract engaged faculty, graduate students and undergraduates from all Schools and from many different departments of our large university.  Finally, we are committed to a sustained interrogation of the conceptualization and practice of interdisciplinarity as a critical praxis that remains mindful of how certain traditional disciplines and celebrated forms of interdisciplinarity have contributed to the rationalization and mystification of institutional power and persistent conditions of inequality within the academy.

3) The Department's specialization in Cultural Theory has two implications. Firstly, through a focus on feminist cultural studies, we examine popular culture as a way to understand gender instead of looking only at elite formations. Feminist scholarship has discussed the exclusion of women from elite cultures at great length. Such matters, however, have become even more urgent with the advent of digital cultures that connect subjects in various locales, and television, cinema and radio, which reach a vast number of illiterate women around the world. Consequently, our interest encompasses visual and audio cultures in addition to the more traditional focus on written cultures characteristic of feminist cultural studies. Secondly, we believe that critical and creative theorizing should be the lifeblood of an excellent program in Gender & Sexuality Studies, and that the distinction between praxis and  theory is epistemologically untenable. Theories of agency, subjectivity, capital and governmentality are key to our teaching and research, as are studies of elites and of powerful hegemonies in a variety of areas.

In our teaching, the Department has developed a coherent undergraduate curriculum organized around a set of themes and a progressive series of requirements that prepare students for the demands of graduate and professional schools, as well as for the cultural and critical competence increasingly expected of them in the workplace. Through the Graduate Feminist Emphasis (GFE), we have designed courses and professionalization activities that provide graduate students with training in feminist epistemology and pedagogy from both a multidisciplinary and a critically interdisciplinary perspective.  Through our Assessment program, which was recognized with a campus-wide distinction of "best practices," we have tracked our students' progress in the major and after graduation. We continue to devise new strategies to increase numbers of majors and to ensure that our future graduates are as successful as our current alumnae and alumni.

In both our teaching and our research, the Department has applied three core rubrics to our scholarship on feminist transnational analysis, critical interdisciplinarity, and cultural theory. Those rubrics are :

1) INSTITUTIONS of power and control– military, medicine, the state, law, civil society, global governance, NGOs, media, and corporations and financial markets, and intertwined formations such as the prison-industrial complex, the military-industrial complex and the Wall Street-Treasury complex.
2) CIRCUITS of movement and transmission–immigration, diaspora, performance, new reproductive technologies, feminist organizing, cyberactivism, markets/finance.
3) NODES of crises and emergence- decolonization, displacement, war, trauma, redress, nationalism, humanitarianism, charity.