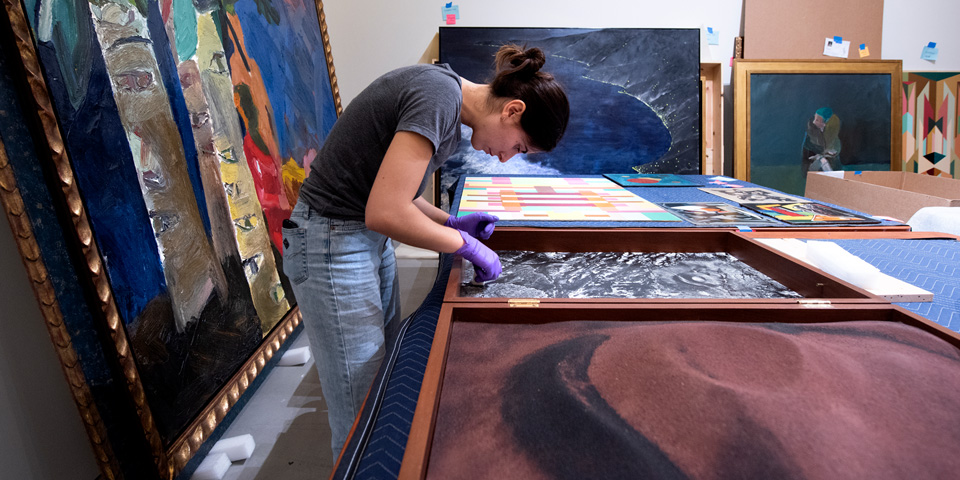 Art History majors from UC Irvine have gone on to graduate programs in art history, business, law, and economics; and careers in museums, universities, galleries, art conservation, auction houses, non-profits, education, and visual design.
Alumni Profiles
Karen Cody  (Graduated: 2014)
B.A. Art History, UCI


Karen is in her second year of law school at Loyola Marymount in Los Angeles, California. "My summer internship on campus allowed me to really become part of the Art History Department. I got to know many professors and gained valuable experience that later helped me get a job on the UC Irvine campus and skills that I use as a law student."

---
Ashley Chen
 (Graduated: 2013)
Ashley has a graphic design business serving clients in a wide variety of industries and is currently developing a new business  (details to be follow at a later date). She is an active supporter of FOAH and current students.

Ashley is also an artist who specializes in painting and photography. Her artworks are in the background of the new Art History video. See her work and/or contact her at www.ashleyjbchen.com.

Ashley was AHUA's Director of Communications as an undergraduate Art History and Studio Art Major. She was part of the team that brought AHUA back to life, engaging students with multiple events, activities and opportunities which included the Annual AHUA Art Exhibition, now approaching its fourth anniversary. Ashley was a FOAH summer intern on campus and traveled to received a FOAH Research Travel Grant that funded her senior thesis.

Ashley credits support of faculty, staff, and FOAH support with helping her expand the scope of her interest in art and accumulate skills  to pursue her entrepeneurial endeavors. She has worked in museum, gallery, and corporate settings, and continues to pursue projects in all things art-related.

Ashley quotes Edgar Degas, 'Art is not what you see, but what you make others see.' Ashley writes: "Studying art history not only grants us knowledge of the visual and historical past, but also allows others to see the value in our culturally enriched and analytically innovative perspective. I am able to do what I do because I studied art history."



---
Rebecca Westermann Hendrickson
 (Graduated: 2008)
Rebecca is a consultant for non-profit community programs, which allows her to balance career and family life after three years in program development and two years as the Executive Director for Center for Living Peace.
Rebecca traveled abroad to Thailand as an undergraduate and was awarded UCI's Dalai Lama Scholarship. She worked in the non-profit sector after graduating for the American Foundation for Tibetan Cultural Preservation in Los Angeles and the Center for Living Peace in Irvine.  Rebecca designed arts-based curriculums for peace building and curated numerous community programs with art museums, ecological institutions, social justice proponents and renowned spiritual leaders. 

Rebecca, a founding member of the Art History Undergraduate Association, recalls arriving for commencement in her cap and gown and stumbling into classmate and fellow founding-AHUA member Tim Adams and some other art history friends.  Her closest college friends had graduated ahead of her or in ceremonies for other schools/disciplines, but it felt appropriate and celebratory to enjoy the commencement experience among friends with whom she had shared so many classes, study sessions, and countless museum trips. Rebeccas was the first in my family to graduate from college, and graduation was a very special day for her. She felt immense gratitude to be attending college in a time in which it was possible to study your passion, hers being in the humanities and to feel so much support from family, colleagues and teachers.  It's fond to remember the excitement of that day, and the pride in our individual and collective accomplishments as art history majors at UCI.  

Rebecca believes art can create social change, and considered art expression and appreciation necessary elements of community building.



---
Barbara Whitney
 (Graduated: 1982)
B.A. Art History, UCI
M.B.A. Arts Management, UCLA


Barbara is Director of Finance and Operations, Crossroads School a private elementary, middle and upper college preparatory school for the arts and sciences in Santa Monica.She earned her MBA from UCLA, interned at the Fine Arts Museums of San Francisco and worked there for four years, followed by a twenty-year career at the Getty.  Barbara was part of the team that acquired its photographs collection, which contained many of the images that Victoria Kogan-Kaufman spoke of so enthusiastically years earlier.  Barbara attributes much of her career success to the great start given her in the Department of Art History at UCI.

"The faculty brought to life the ancient world, the Renaissance, the 19th century in painting and photography. And they gave us great advice. I attended UCLA, got an MBA in arts management, did an internship at the Fine Arts Museums of San Francisco, worked there for four years, and landed at the Getty. One of the great things I was involved with at the Getty was the original acquisition of its photographs collection, which contains many of the images that my professors had talked about so enthusiastically years earlier. I attribute so much of the luck of my career to that great start at UCI."

---
Esther Choi
  (UCI Graduate)
Esther Choi is working at the Broad Museum with fellow alums Alex Garcia and Chelsea Trinh.

---
Alex Garcia
  (UCI Graduate)
Alex has been working at the Broad (http://www.thebroad.org/) since shortly before it opened. She is a visitor services associate: https://thebroad.recruiterbox.com/jobs/fk0h1uj/

---
Emilie Martin
  (UCI Graduate)
Emilie is the librarian at Sonora Elementary School in Costa Mesa, California, studying interior design and working on a few residential design projects for clients.

---
Careese Quon
  (UCI Graduate)
Careese Quon graduated from UCI as a Global Cultures major in 2013, and has enjoyed every art history course that she had the opportunity to take. After graduating from UCI, she enrolled in the Digital Media and Web Design program at Irvine Valley College (IVC). This program enabled her to gain valuable technical skills while creating a diverse portfolio of work, which played a key role in helping her to land a full-time position as an in-house graphic and web designer. Taking art history courses has certainly enabled Careese to thoughtfully conceptualize and articulate her own design work in meetings with company executives and with her freelance clients. For the past three years, Careese has created content for a fashion blog called Lychee Style. As a style blogger, she photographs and edits her own images, and maintains her brand's presence across several social media platforms, including her Instagram account, @lycheestyle.

With a background in social media, Careese was able to bring these skills to her full-time job, and was promoted as the company's first social media specialist. In addition to working full-time, Careese also built a freelance business, providing clients with graphic design, web design and social media services. She also launched an Instagram consulting program, where she advises bloggers and helps them to grow their presences on Instagram. After nearly 2 years of working in-house as a graphic designer and social media specialist, Careese decided to leave her full-time job to pursue fashion blogging, Instagram consulting, and freelancing. Careese has had the opportunity to work with brands such as L'Oreal, Vanity Fair, True Religion, Forever 21, Lord & Taylor, Paper Source, Timex, Ann Taylor, and countless others as a brand ambassador for a variety of online campaigns. Studying art history courses at UCI has certainly opened new doors of opportunity for Careese by teaching her to be open to new ideas, solve problems, and think creatively while staying true to her passions.

---
Giving
To connect with art history alumni and contribute to the growth and future of the department, please visit the Friends of Art History.