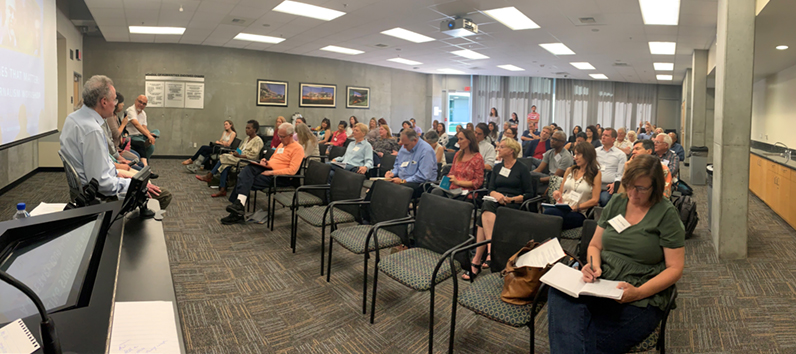 "We tell ourselves stories in order to live."—Joan Didion
Narrative is at the center of our lives, and human beings are hard-wired for stories. The telling of stories helps us to understand ourselves, connect with others, form memories, and make sense of our world. But stories can also divide us, and we are seeing this play out powerfully today in the news, in our communities, and in our social media feeds. Many are now asking:
What is a true story, really?
How do people decipher fiction from fact in this era of online propaganda and fake news?
How are the tools of storytelling manipulated to skew truth?
How can we employ narrative technique to communicate truths?
What is the role of journalistic narrative in a civil society?
The UC Irvine Literary Journalism Program is perfectly situated to engage these questions by forming a center for narrative here in Orange County. Building on the historical strengths of the School of Humanities, which is renowned for its expertise in critical theory, creative writing, and literary studies, Literary Journalism's new Center adds nonfiction storytelling to this esteemed list. The Literary Journalism Program employs some of the top nonfiction storytellers in the country. We want to better share their insights with the broader campus and public. How can a scientist convey her research to the public in a way that captures the importance of her work? How can a public health worker illuminate a local crisis in a manner that evokes empathy and urgency? How can everyday individuals—students, retirees, schoolteachers, parents—express themselves in ways that engage the public on the issues they are passionate about? And, most importantly, how can we communicate with each other in a way that contributes to a civil society? We seek to share our appreciation and excitement for true storytelling with the academy and the public. We also want to offer journalists methods for becoming better storytellers. We want to train members of the media to protect themselves against spin and disinformation campaigns by becoming more careful and thoughtful reporters and writers. We want to explore and deepen our understanding of the many ways that storytelling is at the heart of what it means to be human, and central to our recognition of human dignity in ourselves and in others.
In the spring of 2019. Literary Journalism secured a donation from UCI alumna Lavonne Smith to fund the first part of an ambitious project, aimed at recognizing the role of stories in our everyday lives. Smith's gift provides crucial funding for a planned Storytelling Lab (opening in fall 2022), which will form the core of the Center for Storytelling.