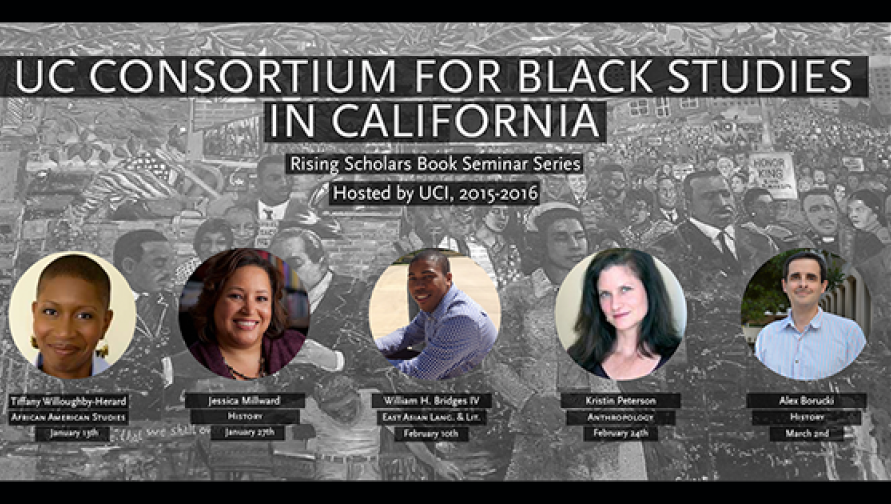 The Consortium for Black Studies in California, a system-wide collaborative project initiated by faculty from the five University of California campuses in Southern California, will bring together scholars in Black studies and the humanities through a variety of workshops, seminars and activities geared at enhancing collaborative scholarship within and across these multiple campuses.
The Consortium for Black Studies in California is funded by a multi-year, multi-campus, grant of $1,077,050 from the Office of the President of the University of California to conduct operations from 2015 through 2018. Campus-level programming, grants to faculty and doctoral students from all campuses, and support for public and curatorial work, the consortium promises to position the University of California as the premier institution for Black studies in the United States.
With Robin D. G. Kelley of UCLA serving as principal investigator, and led by its co-principal investigators – Fred Moten of UC Riverside, Stephanie Batiste of UC Santa Barbara, Dayo Gore of UC San Diego, and Nahum Dimitri Chandler of UC Irvine, along with co-investigators Erica Edwards of UC Riverside and Grace Hong of UCLA, and associate director Aisha Finch of UCLA – the consortium is focused on humanistic and arts-based studies, such as philosophy, literature, film, music, and historical and cultural studies research, notably with regard to gender and the study of women, in Black Studies. Its lead emphasis on the humanities distinguishes it historically among the major existing programs in Black studies across the nation.
For the 2015-2016 academic year, UC Irvine serves as the host campus for the programs of the consortium. Among the initiatives at UC Irvine are an innovative series of interdisciplinary and collaborative workshops for faculty and doctoral students and several seminar series, notably one on books by new and recently-tenured faculty in the field of Black studies at UC Irvine.
The consortium will cultivate new research and discussion by special attention to questions of Black studies in relation to Asia, noting both the Pacific Rim and the Indian Ocean, including Japan, China, and Korea, Taiwan, the Philippines, and Indonesia, as well as India and other parts of South and Southeast Asia. Additionally, the consortium will pay attention to new research on the African Diaspora in South America.
In support of these initiatives, and the global reference of matters of Black studies in general, the consortium is considering holding a major conference in Asia in 2018-2019.
Under the direction of co-principal investigator Nahum Dimitri Chandler, professor in the Departments of African American Studies and Comparative Literature, UC Irvine has established several distinct interdisciplinary and collaborative programming initiatives, including a series of workshops for faculty and doctoral students in four areas of concentration: feminism; critical historiography; science, technology, and race; and, Blacks in relation to Asia; and a series of public seminars on the books and research of rising and recently-tenured faculty in the field of Black studies. Additionally, they have begun a new series of scholarly occasional papers and a journal of critical theory.
"As research in African American and Black Studies in general requires the work of multiple disciplines, as well as inter-disciplinary collaboration and transdisciplinary thinking, the University of California is uniquely positioned with an overabundance of talent, especially young talent, such that by way of this new consortium, we can make the University the singular and leading place, without peer across the nation, in this field," said Chandler. "We have begun to bring that vision to reality."
In the late spring of 2016, UC Irvine will host the first spring meeting and research conference for the consortium.
All events associated with the Consortium may be found at
www.humanities.uci.edu
For more information, contact:
blackthought@uci.edu
.