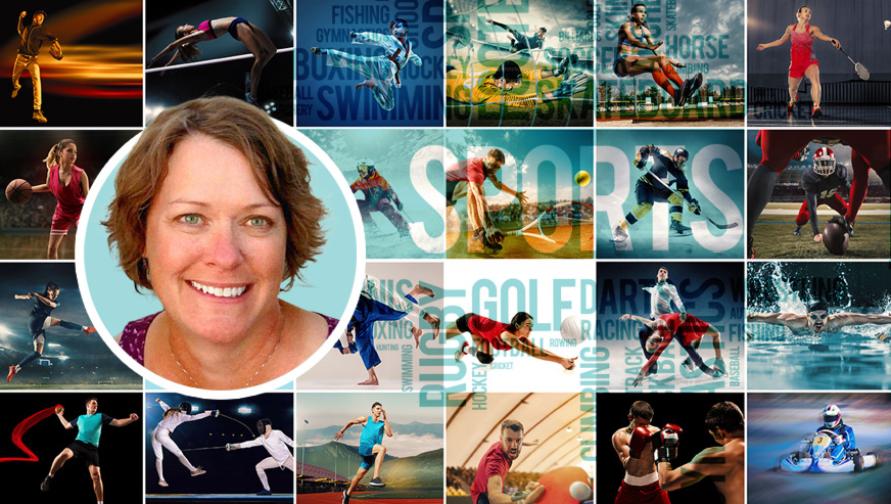 By Christine Byrd
There was a time when entire families would gather around their televisions to watch the same thing at the same time. With the rise of streaming services, on-demand content, and binge watching, hardly any program brings people simultaneously together like that anymore — with the exception of live sports broadcasts.
"Sports media taps into a regular, ritualized schedule that isn't about bingeing. You either watch the Super Bowl or you miss it," says Victoria E. Johnson, professor of film and media studies and African American studies at the University of California, Irvine, and author of the forthcoming book,
Sports TV
(Routledge, 2021).
The book looks at the genre from a distinctly humanistic perspective, exploring American history, culture, class, race and identity through the lens of broadcast sports.
"The issues in the book are timeless," Johnson says. "Conventions of the 1950s broadcast media have certainly transformed, but many also remain consistent and stable."
Through the decades, televised sports have created melodrama and community based on geography, culture and class rivalries. Yet as new technologies emerge, from smartphone apps to video games like "NBA 2K," live sporting broadcasts have quickly incorporated new elements in an effort to attract and retain a new generation of viewers.
"Even in a sport that's relatively stodgy, like the Professional Golf Association, we're seeing a real attempt to appeal to a diversified audience through video game aesthetics," says Johnson. For example, the PGA now uses video image tracing technology to show the velocity and the curve of the ball being hit off the tee, resulting in a TV image that resembles a video game.
In addition to exploring broadcast sports' evolving aesthetic, Johnson's book covers a wide range of topics, including TV policy and business practices, sports documentaries, women's voices in sports, political speeches by athletes, and fans' out-of-home viewing practices.
Johnson's interest in sports started at a young age. Raised in small Midwestern college towns where her father was a law professor, she grew up on a steady diet of sports. She rooted for her local football teams and avidly played several team sports — not because she was a gifted athlete, she explains, but because all the local kids were encouraged to participate year-round.
Growing up in the Midwest, TV portrayals of Los Angeles fascinated Johnson. When she ended up moving to L.A. as a graduate student to study cinema and television at USC, she found herself looking at rural America, similar to the towns of her childhood, from a different perspective, both literally and figuratively. This new outlook sparked her interest in cultural geography and the role of class, race and gender in how film and television imagine the Midwest as the country's "heartland." 
Johnson explored this interest in her first book,
Heartland TV: Prime Time Television and the Struggle for U.S. Identity
(New York University Press, 2008), which earned the 2009 Society for Cinema and Media Studies
Katherine Singer Kovacs Book Award
, honoring outstanding scholarship in the field. Notably, this February Johnson was voted president-elect by SCMS's membership. Her term begins July 1, 2021, with her becoming the organization's president in 2023.
Johnson notes that "there's a long tradition of studying TV from a communications and social science perspective, but less so from a humanities perspective, which looks at TV as a social and cultural object always in dialogue with other institutions." With this perspective, Johnson was appointed at UCI in 2002, just as the university's film and media studies program became a full-fledged department. Since then, the
Department of Film and Media Studies
has flourished. It now boasts 17 faculty — three of whom specialize in television. As of 2018, the film and media studies major is the largest undergraduate major in the School of Humanities.
"We have tremendous, amazing faculty with research specialties from postcolonial cinema to queer video games," shares Johnson. "It's a really robust department covering international and national cinema, film history and new media."
In Johnson's classes at UCI, she covers the history of broadcasting, contemporary TV and industry practices, critical theory of TV, and a course on sports media and race. The breadth and engaging nature of her classes are just a couple of reasons she won the School of Humanities Award for Excellence in Undergraduate Education in 2012.
Over the years, in addition to gaining recognition for her work as a professor, Johnson has increasingly earned a reputation as an expert in broadcast sport scholarship, leading the publisher Routledge to ask her to write
Sports TV
as part of a series that includes volumes on reality TV, sitcoms, lifestyle shows and more. While her book examines only mainstream U.S. sports, Johnson hopes it provides a framework for UCI students and others to evaluate and explore how other sports — such as mixed martial arts or international soccer — borrow from decades-old broadcast traditions while also incorporating modern digital extensions to attract new audiences.
In the final chapter of
Sports TV
, Johnson discusses Rust Belt cities like Cleveland and St. Louis, that have staked their economic resurgence on sports tourism by investing in state-of-the-art sports venues. What guides this chapter is her interest in how these towns fare as athletic events gradually invite fans back into the stands in the wake of the pandemic.
Now one year into quarantine, during which time Johnson both finished the book and adopted a "pandemic puppy," she is closely watching how sports will adapt to the new economic reality and make up for lost profits at the gates. She is also closely watching how quickly leagues integrate betting apps into professional sports TV, especially as gambling becomes increasingly legalized across the country. She contends the biometrics that have helped gamify broadcast sports have laid the groundwork for incorporating betting into live broadcasts.
"That's what sports does so well: merge the older media practices with the contemporary," she says. "From the traditional, melodramatic, gorgeous cinematic effects to the most contemporary digital technologies, including second screen engagement, apps, and sports video games."
For Johnson, the question is not whether sports TV will emerge from the pandemic, but how it will change and adapt to the new reality — while continuing to grapple with the same themes it always has. For Johnson and sports fans across the country, it will be must-see TV.
Officially out March 25,
Sports TV
is available for pre-order from Amazon, Barnes & Noble, and Routledge.
Related links:
Film and Media Studies
African American Studies
Culture and Theory