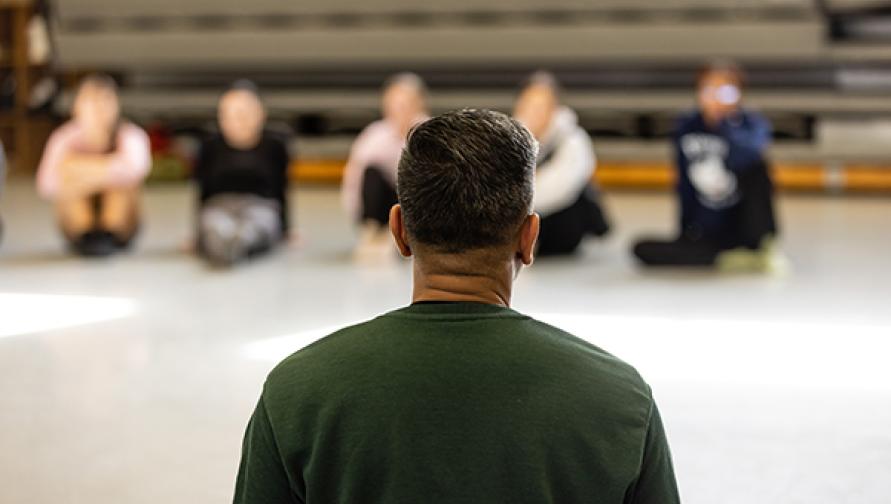 Interview by Jazmin Alejandra Serrano Martinez
Photographs taken by Skye Schmidt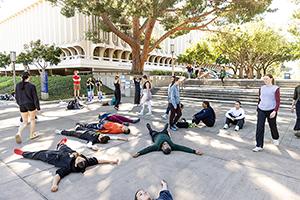 Gerald Casel is an award-winning dancer, choreographer, artistic director and educator who is carrying out research on the racial dynamics present in the field of dance. In the fall, I had the opportunity to sit down with Gerald and get to know more about their research conducted  through their community engagement project titled Dancing Around Race.
In the Spring , Gerald Casel will be in conversation with Dorothy Fujita-Rony, Professor of Asian American Studies at UCI in an online event titled Dancing on the (Bamboo) Ceiling: Performing While Asian in U.S. Postmodern Dance. This event will explore topics of the model minority myth, the performance of whiteness, and racial melancholia.
In our interview, Gerald shared their thoughts and experiences with racial melancholia and cultural erasure. This conversation was in relation to Gerald's performance piece titled "Cover Your Mouth When You Smile," which examines the embodied experiences of Filipino overseas workers who provide essential labor yet remain invisible across the diaspora. 
I shared with Gerald my thoughts on my own embodied experience as an undocumented immigrant. I shared with Gerald that the manner in which I carry myself is informed by my need to hide this identity for survival. I expressed this as being a shared sentiment among the undocumented community at large. I was met with the following response.
Gerald: "And yet you [undocumented community] are so essential to our survival. I made a piece "Cover Your Mouth When You Smile" and I talk about the overseas Filipino workers in Hong Kong and when I see them and how I felt how they would gather on overpasses away from the culture yet their labor is so essential for the survival of the culture.  How are you invisible yet so essential at the same time?"
Q: You mentioned that "in postmodernity there is an assumption that bodies and objects can be devoid of  their spirit," what was the process like of choreographing pieces that subvert this universality imposed onto postmodern dance?
Gerald: "I can start to answer that by my experience as an immigrant in terms of assimilation to this white culture. How much I've had to erase my accent and use of vocab in order to sound read and smart by white people. In terms of queerness, how to sound more butch so I don't get beat up. In terms of colorism how my mother told me to stay out of the sun to stay whiter. All these things are so embedded in who I've been socialized to be. So now I'm trying to do the opposite. Mark my browness in spaces and speak forcibly against whiteness and white supremacy whenever possible. I don't want to make work devoid of my spirit. I don't want to show up, not as I am. I want people to show up as they are, including all their imperfections and under-resourced bodies so that the resources get reallocated where they need to go and not always to the top."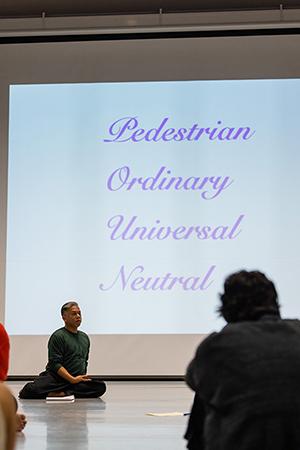 Q: Do you have anything to say about an art movement that wants to see things devoid of their spirit? 
Gerald: "I think about K-POP, an export of US pop music that gets carried over to a predominantly homogenous culture that then adapts it beautifully and reperforms it. I think that's an export function of capitalism that they can profit off of. By doing that they are erasing their Koreaness. There's a cultural erasure happening to perform a proximity to whiteness and or blackness so they can profit off of it in the realm of capitalist structures. They all look the same, a lot of plastic surgery to look a certain way. Breaking the jaw and resetting it to not look Korean. Control of how they look. On the outside it looks great but what is being damaged inside those artists. They are very young. To me it's a kind of violence and self erasure."
On Dismantling White Supremacy 
Gerald: "The work a lot of academics including myself are trying to do is to make it institutionally so that resources get redirected more equitably because that's really what it's about. Capitalism has given more to certain groups of people. There's inherited wealth, real estate from settler colonialism in this country and other countries that some bodies such as immigrants will never benefit from. There's a lot of internal work that needs to be done, there's a lot of work white people need to do to dismantle white supremacy, and I don't want to have to tell them what that work looks like. You can't sit there and go 'I don't know what to do' because so many people of color and queer and disabled people have had to figure it out. I think for the first time I'm seeing the question posed on white bodies: what are you going to do in the face of inequity? I think it creates a lot of fear for white people, because they do benefit from whiteness. They are feeling a sense of irrelevance: 'Oh so if you take these Eurocentric art forms, what am I going to do? I can't teach my five days a week ballet class.' There's a crisis of imagination around that. The power they have is to step back and make space for others."