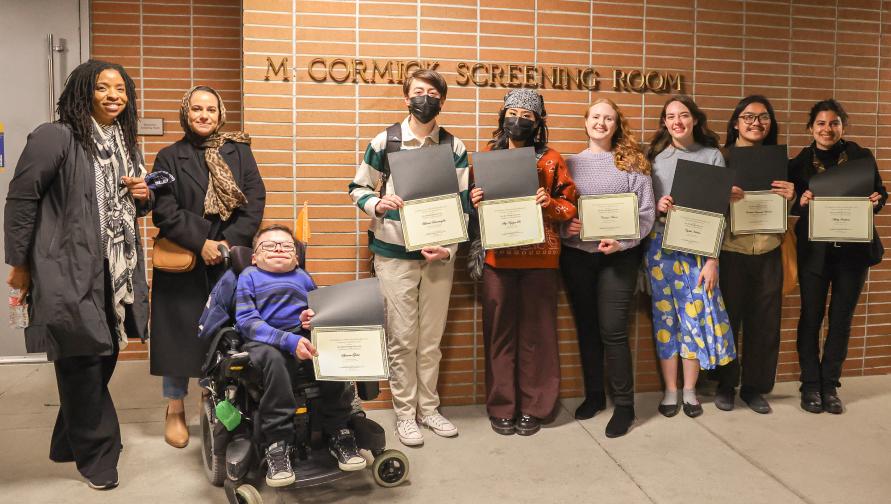 The Department of Film and Media Studies hosted the 5th annual Spotlight Showcase, celebrating the recent films made in our production courses. The diverse talents of our students were on full display in these deeply personal and unique films, ranging in genre from thriller to documentary, to psychological drama. Congratulations to the following filmmakers for having their work screened at the event: 
Michael Hermenegildo - You Belong to Me: One sentence description of your film: After moving into their new apartment, two roommates discover an old record left behind by the previous tenants that traps them in a loop of the same, never-ending song. 
Ashley Orellana - Chained: As a contemporary dancer returns from a major injury, she manifests a metaphorical dancer as a reflection of her fears and must confront them to be absolved from the lingering anxieties of reinjury.
Christopher Hernandez Villanueva - Thank You Skateboarding: A documentary about a student's love for skateboarding.
Sky Nguyen Do - Senses: Senses is the story of a blind girl being deceived and wrongfully guided by her caretaker.
Monica Guo - Overwinter: A lonely suicidal college student, Rose, imagines her best friend, Lily,  who already committed suicide, comes back in full flesh and becomes part of her life again. 
Cybelle Kaehler - Tombé: After a young woman is sexually assaulted by her ballet teacher, she must find the strength to continue her art.
Spencer Gates - Pain: A remarkable, brave film that presents an intimate portrait of the incredible struggles faced by one who is physically disabled.
Additionally, the department honored alumnus Sahar Jahani, class of 2013. Sahar showcased several pieces of work, shared her experience, and answered our student's questions about working in the film industry. Sahar Jahani is a first-generation, Iranian-American writer/director raised in Los Angeles. She earned a BA in Film & Media Studies and Literary Journalism from UC Irvine in 2013 and received an MFA in Film and Television Screenwriting from Stephens College. Sahar worked in scripted development at YouTube Originals before transitioning to the writers' room on the Emmy-nominated Hulu series Ramy, where she wrote her first television episode. Since then, Sahar has written on several shows including 13 Reasons Why, The Bold Type, and the limited series, Echoes, and most recently worked as a consulting producer on Amy Schumer's Hulu show, Life & Beth. On the film side, Sahar previously adapted Ayesha At Last for Pascal Pictures/Columbia Studios and is currently adapting a You've Got Mail-inspired rom-com titled, Hana Khan Carries On for Amazon Studios and Executive Producer Mindy Kaling. She is also in the development of her own series of shows at Netflix.