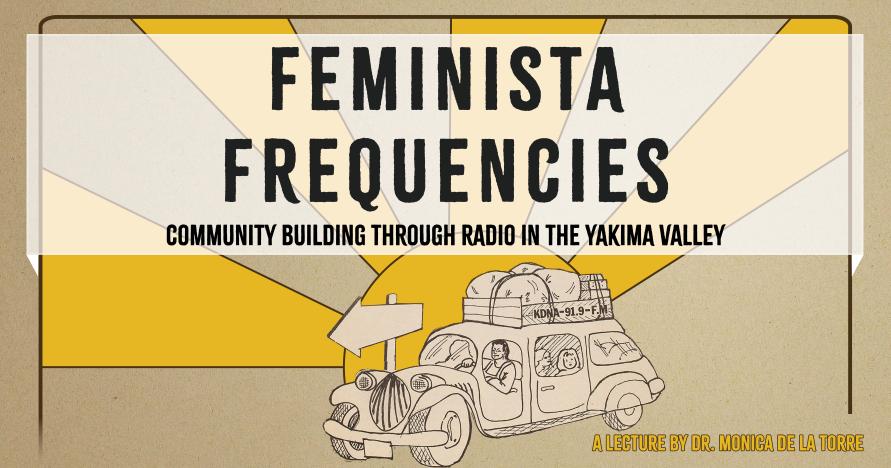 Dr. Monica De La Torre will present her new book, "Feminista Frequencies: Community Building Through Radio in the Yakima Valley." A Q&A session will follow the presentation.
Beginning in the 1970s Chicana/o organizers turned to community radio broadcasting to educate, entertain, and uplift Mexican American listeners across the United States. In rural areas, radio emerged as the most effective medium for reaching relatively isolated communities such as migrant farmworkers. In Washington's Yakima Valley, where the media landscape was dominated by perspectives favorable to agribusiness, community radio for and about farmworkers became a life-sustaining tool. Monica De La Torre shows how KDNA revolutionized community radio programming, adding new depth to the history of the Chicano movement, women's activism, and media histories.
Monica De La Torre is an assistant professor in the School of Transborder Studies at Arizona State University. De La Torre's interdisciplinary research and teaching practices bridge Chicana feminist theory, Latinx feminist media studies, radio and sound studies, and women's and gender studies. A former community radio producer and member of the Los Angeles-based radio collective Soul Rebel Radio, De La Torre's book, "Feminista Frequencies: Community Building through Radio in the Yakima Valley," (University of Washington Press) details the powerful story of Chicana farm workers and activists turned community radio broadcasters beginning in the 1970s. 
This event is sponsored by Illuminations: The Chancellor's Arts and Culture Initiative and the Department of Film & Media Studies.