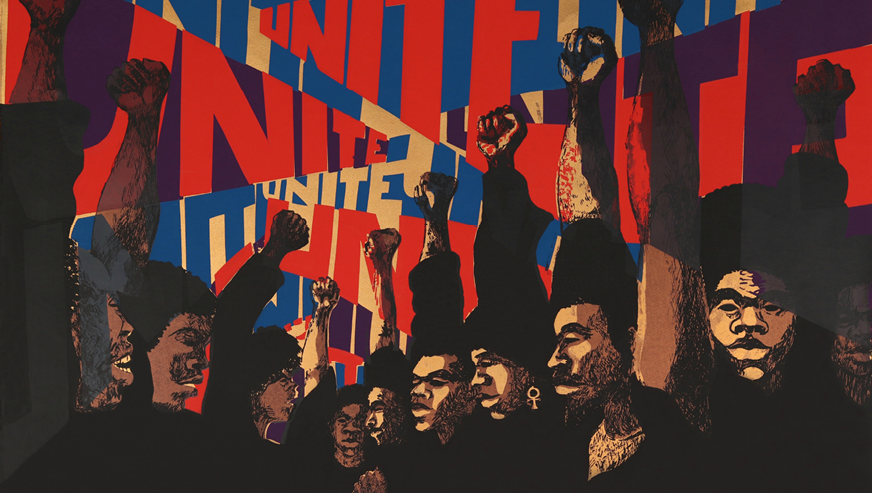 Curating the past & future
UCI professors organize daylong symposium on art during the age of Black power
On March 23, University of California, Irvine professors Bridget R. Cooks and Frank B. Wilderson III organized "Art and Politics: Soul of a Nation Symposium," which kicked off the exhibition, "Soul of a Nation: Art in the Age of Black Power," at The Broad in Los Angeles—its first and only West Coast stop through September 1. The exhibition showcases many important contributions Black artists made over two revolutionary decades in American history, beginning in 1963 at the height of the civil rights movement. Cooks, associate professor of African American studies and art history, and Wilderson chair and professor of African American studies, organized a day of enriching conversations featuring scholars, artists, curators, and more. Here, Cooks and Wilderson discuss the symposium and the exhibition.

Q. How did your role in organizing this symposium come about and how did you approach such an important project?
BC:
The Broad wanted to host a public program to engage with many of the issues of revolution, aesthetics, power, politics, and survival that are evident in the art and ephemera in the exhibition. They contacted Frank, Ulysses Jenkins, and me about creating a program, particularly because of our work and our relationship to students at UCI.
Q. You both had the opportunity to moderate panels with your mentors. What was that experience like?
BC:
It was an honor. Kellie Jones was a mentor to me through her curatorial projects and published scholarship already before I had the opportunity to meet her. She is a model for how to conduct informed research and make art accessible to the public.
FW:
I was 14 in 1970, when Phyllis Young was a 20-year-old Black Panther in the East Bay (Oakland and Berkeley). I was educated by Phyllis and her comrades in the Black Panther Party. Even though I don't know if I did or did not meet Phyllis herself, forty-nine years ago, in those teach-ins that they conducted for young teenage boys and girls like myself—they were all my collective mentors. It was thrilling to be on stage with her! The Panthers freed my mind, you might say: they taught me that I could challenge the ethical basis of a country's existence; as opposed to simply languishing in a discussion of its racist practices. They suffered heavily for this. For example, over 90% of COINTELPRO's covert activities were directed against them. I was sharing the stage with Phyllis Jackson: a former Panther and current art historian at Pomona College: a woman who not only taught me but survived COINTELPRO. She is a true educator and a true revolutionary. That's why, at the end of our panel, I told her, "thank you for your service." I felt as if my life had come full circle when I was with her.
Q. For those unable to attend the symposium, what do you think the key take-aways and themes were?
BC:
One take away is that there is a diverse community of thought about the history, current state, and future of Black politics and aesthetics. The past is rich for study and the discourse is lively around these issues.
Q. How has any of the art included in the exhibition, or the artists themselves, played a role in your own developments as scholars and activists?
FW:
The art on exhibition at the Broad in "Soul of a Nation" is wide and varied in its genre (whether abstract or figurative) and mediums (from sculpture to collage to paintings and photographs), but the one thing all the works share is the fact that they are resonant with a revolutionary zeitgeist. This is profound because there are very few social and political moments in Black history which provide a context for the mode of expression that I think almost all of the works of art share. For example, the police have been wantonly killing Black people since they emerged as the slave patrols in the late 1600s. But not until the art work of Emory Douglass (whose drawings from the
Black Panther Newspaper
were on display) did artwork which illustrated the nature of our relationship to the police actually capture the imagination of Black people without worrying about whether or not non-Black people would consider that artwork too incendiary or hyperbolic. This is not just academic analysis of policing, but an interpretation of it that speaks to the imagination and suffering of the people who are on the receiving end of those bullets. That artwork continues to inform and liberate me as a scholar and activist.
BC:
I agree with Frank. The art in the exhibition has been an important part of my development as a scholar inside and outside of the classroom. This particular exhibition presents a spectrum of possibilities and visions that moves beyond what many people may expect, in a limiting way, of what Black artists do.
Q. If you could organize another event together, what would it look like?
BC:

It would bring together artists, curators, activists, and scholars from different generations in focused conversations. It would be free to the public!

--

"Soul of a Nation: Art in the Age of Black Power" is organized by Tate Modern, London in collaboration with The Broad, Los Angeles, Crystal Bridges Museum of American Art, Bentonville, Arkansas and Brooklyn Museum, New York. Curated by Mark Godfrey, Senior Curator, International Art and Zoé Whitley, Curator, International Art, Tate Modern. The Broad presentation is curated by Sarah Loyer, Associate Curator and Exhibitions Manager. The Broad is offering free admission to "Soul of a Nation" every Thursday from 5-8 p.m. (last entry at 7 p.m.) during the exhibition's run through September 1.

Cooks is the award-winning author of

Exhibiting Blackness: African Americans and the American Art Museum

(University of Massachusetts Press, 2011). She is currently working on a book project titled,

A Dream Deferred: Art of the Civil Rights Movement and the Limits of Liberalism

. Wilderson III is the award-winning author of

Incognegro: A Memoir of Exile and Apartheid

(South End Press, 2008; Duke University Press, 2015),

Red, White, & Black: Cinema and the Structure of U.S. Antagonisms

(Duke University Press, 2010) and

Afropessimism and the Ruse of Analogy: Violence, Freedom Struggles, and the Death of Black Desire

(forthcoming from Liveright/W. W. Norton).

Image Credit: Barbara Jones-Hogu, Unite (First State), 1971. Screenprint. © Barbara Jones-Hogu

============================================