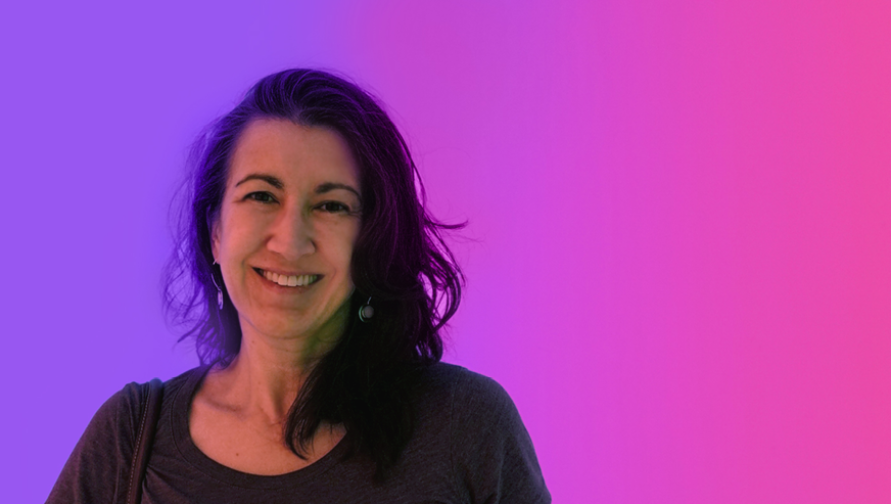 When alumna Lindsey Westbrook (B.A. art history '97) began her undergraduate career at UCI, she had no idea what her major would ultimately be. Then, by chance, she enrolled in an installment of the introductory art history series, and the path forward was suddenly clear. Supportive faculty made her feel at home, like (now emeriti) professors of art history Linda Bauer and Dickran Tashjian.

UCI art history faculty and courses introduced Westbrook to the exciting world of art and its many possibilities. In her spare time, she hosted an alt-country music show on the college radio station KUCI and made valuable lifelong connections in the Orange County and Los Angeles music scenes. After earning an M.A. at UC Berkeley and stints at the San Francisco Museum of Modern Art and California College of the Arts, she now works as a freelance editor and proofreader in the fields of art and design, with clients including University of California Press, the Hammer Museum, and the Museum of Contemporary Art Detroit.

Tell us about your career path since graduating from UCI.

I graduated from UCI and immediately entered the art history Ph.D. program at UC Berkeley. While at Berkeley, I simultaneously interned at HighTone Records, the de Young Museum and the SF Bay Guardian. One of my favorite memories is sitting in a San Francisco café and overhearing people discuss a fabulous-sounding exhibit they planned to attend because they had read my review of it in the SF Bay Guardian! I realized then that I wanted to make art more accessible to real people and support actual living artists and musicians, not develop art theory understood by only a few.

I left UC Berkeley with an M.A., then briefly worked for Snap.com as a copy editor. HighTone ended up luring me away with the opportunity to support the musicians I loved. I worked there for a few years, but with the rise of iTunes came the death knell for many indie labels like HighTone.

However, I'd been writing weekly art reviews for the Bay Guardian and East Bay Express, so my name was already known locally. The public relations department at the San Francisco Museum of Modern Art offered me a position filling in for a woman about to go on maternity leave. She didn't come back and they offered me the job; however, I decided to take one in SFMOMA's publications department since it felt like a better match for my skillset.

For four years, I learned everything I could about editing signage, brochures and books as well as about working with designers, photographers, images and curators. We were making things that hundreds of thousands of people would see, and they had to be perfect.

After SFMOMA, I got the managing editor job at California College of the Arts in San Francisco. I applied everything I'd absorbed at SFMOMA, but now it was all happening faster. I made numerous connections with local artists and started freelancing more.

Then, after seven years, I needed a change and decided to become a full-time freelancer. Through word of mouth only, I've had more work than I could handle starting from day one.

How did your UCI experience shape your life?

Art history is the perfect applied humanities degree. We live in an increasingly visual world, and being able to speak and write coherently about images and their messages are invaluable skills. Museums, art fairs and art magazines are expanding left and right, producing ever more content, all of which needs copy editing. I acquired my particular specialization well after leaving UCI, but my framework for thinking, work ethic and savvy for making and working connections all accelerated there.

What skills do you think are the most important to do your job?

I spend all day helping people with their writing. I might be perfecting a text written by an ESL writer, clarifying jumbled ideas in an interview, or simply cutting something to fit a fixed space. But I need to channel each writer. I don't want them all to sound like me; I want them to sound like their best selves.

What do you love the most about your work?

I love helping people sound as articulate as they possibly can. One favorite compliment came from a client comparing my editing to getting a slightly painful spa treatment: it might sting a little while it's happening, but wow do you look amazing at the end!

Also, now that I'm freelance, I work only with people who want my help. All my clients approach me, which changes the game.

When did you acquire proficiency in German and Spanish, and how did that impact your career?

I learned German at UCI. At the time, pretty much any graduate-level art history program required proficiency in at least German and likely also one other language of the student's choosing. So, I took the German courses at UCI anticipating that I would seek admission to a master's program. I've lost a lot of it, unfortunately, but I still have a decent sense of when, for instance, a German word is likely misspelled or missing a diacritic, or a translation is way off.

I had begun my study of Spanish before UCI but did continue my advanced study there. I even used it for my thesis research, which was on a Latin American topic. I've kept up my skills since then with travel and telenovelas.

As for how this impacts my career, I do a tremendous amount of work on texts that will be presented bilingually and texts that have been translated or will be translated. Having a working knowledge of foreign languages is invaluable. On several occasions I've beaten others for jobs originating from Latin America. The contemporary art scene down there is exciting, and the art world is paying attention. And they are producing bilingual publications that need copy editing!

What advice would you give current UCI Humanities students to best prepare them for entering the job market?

Meet people and keep in touch with them. Treat every interaction with a new person with enthusiasm and diligence. Work hard. Figure out what you like and what you can't stand. Don't listen when someone tells you it's not worth your time to explore seemingly extraneous avenues of interest that catch your eye. Write, write, write—do it for free at first if you must, but get it out there and work to improve it. Go to gallery openings, go to museums, pound the pavement in whatever way makes sense to you. Make sure your résumé is perfect and spread it around, even to places that seem like a long shot. And a last one, courtesy of Linda Bauer: Even if you came to your field via a seemingly circuitous route—in my case one that involved science aspirations, radio and too many nights at rock shows—devise a way to tell your story to others so that it coheres into a trajectory, and eventually, when you've told it enough times, it will even make sense to you.

You can follow Westbrook via her LinkedIn page here.