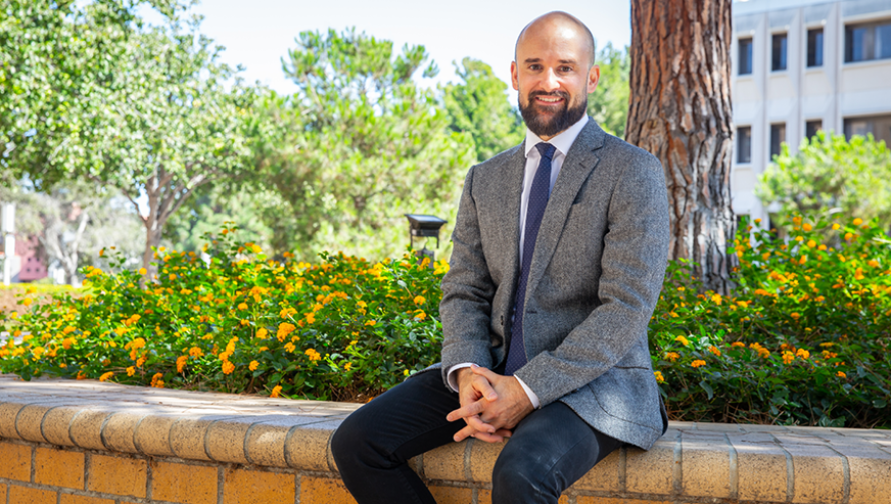 By Annabel Adams

Following a worldwide search, Matthew P. Canepa, an award-winning historian of art, archaeology and religions of Persia and wider Iranian world, has joined the faculty of the University of California, Irvine as the Elahé Omidyar Mir-Djalali Presidential Chair in Art History & Archaeology of Ancient Iran. Canepa's appointment is within the UCI School of Humanities' Department of Art History and Ph.D. Program in Visual Studies, and affiliated with the UCI Samuel Jordan Center for Persian Studies. Roshan Cultural Heritage Institute, a private foundation that supports the active preservation, transmission, and instruction of Persian language, history, culture and heritage, funded the $2 million chair in the spring of 2017 with additional funding provided by the UC Presidential Match for Endowed Chairs program.

Canepa has received numerous research fellowships and awards, including the John Simon Guggenheim Memorial Foundation Fellowship and membership in the Institute for Advanced Study. In addition, he is an Elected Fellow of the Society of Antiquaries of London, the U.K's leading learned society for the recognition of significant achievement in the fields of archaeology, antiquities, history and heritage. Canepa comes to UCI from the University of Minnesota where he was a professor and director of graduate studies in the department of Art History and affiliated faculty in Classical Near Eastern Studies. He has held visiting positions at Merton College, Oxford, where he was senior research fellow, and L'École Pratique des Hautes Études, Paris, where he served as directeur d'études invité.

"We are thrilled to welcome Matthew Canepa to the UCI School of Humanities as the Elahé Omidyar Mir-Djalali Presidential Chair in Art History & Archaeology of Ancient Iran," said Tyrus Miller, dean of the UCI School of Humanities. "Professor Canepa's rich interdisciplinary expertise in the Persianate world takes UCI's already remarkable strengths in Persian studies to a new height. We are grateful to Elahé Omidyar Mir-Djalali and Roshan Cultural Heritage Institute for the gift that made this endowed chair possible."

Founded by Elahé Omidyar Mir-Djalali in 2000, Roshan Cultural Heritage Institute has provided over 350 endowments and grants in support of Persian-related academic activities in the U.S. and abroad. "We would like to extend our warm welcome to Professor Canepa as our new chair," said Mir-Djalali, "and we look forward to his wonderful contributions in support of Persian art history and archaeology of ancient Iran at UCI."

Canepa is the author of two books, an edited volume, and several book chapters and articles. His most recent book, The Iranian Expanse (University of California Press, 2018), is a large-scale study of the transformation of Iranian cosmologies, landscapes and architecture from the height of the Achaemenids to the coming of Islam. His first book, entitled The Two Eyes of the Earth (University of California Press, 2009; paperback edition, 2017), is an award-winning and pioneering comprehensive study of the artistic, ritual and ideological interactions between the late Roman and Sasanian empires. It was awarded the 2010 James Henry Breasted Prize from the American Historical Association for best book in English on any field of history prior to the year 1000 CE and the Archaeological Institute of America's von Bothmer Publication Fund.

"I was drawn to UCI because of its unique combination of excellence and innovation in art history and leadership in Iranian studies, not to mention its institutional status as one of the United States' very best public research universities," said Canepa. "In the last ten years, UCI's Jordan Center for Persian Studies has established itself as one of the world's leading centers for research and teaching in Iranian studies with a unique complement of faculty strengths. The Elahé Omidyar Mir-Djalali Presidential Chair has provided an incredible opportunity to expand the center's impressive tradition of scholarly programming and public engagement as well as train the next generation of historians of art and archaeology of Persia and the ancient Iranian world in an exceptionally vibrant interdisciplinary environment."

Founded in 2009, UCI's Samuel M. Jordan Center for Persian Studies & Culture is the first interdisciplinary center for the study of Iran in the University of California system. It is dedicated to preserving, understanding and promoting the history, culture, and languages of the Persianate world.

At UCI, Canepa will teach both undergraduate and graduate courses, and direct doctoral dissertations in Iranian art and archaeology; in addition he will organize conferences and symposia in ancient Iranian art and archaeology. This fall, Canepa will teach a course entitled "Iran and Imperial Exchanges in Eurasian Late Antiquity," which explores the role of Iran in the visual, material and intellectual exchanges among the great settled, nomadic and mercantile empires of late antiquity (ca. 200-700 CE), a pivotal period of transformation in Eurasian history. In the winter, he will be in residence at the Getty Villa as a fellow of the Getty Research Institute to continue work on his next book and organize a research symposium to be held jointly with UCI. In the spring, he will teach a course on the art and archaeology of the Sasanian Dynasty of Iran and lead a graduate seminar in the Ph.D. Program in Visual Studies.

About the University of California, Irvine: Founded in 1965, UCI is the youngest member of the prestigious Association of American Universities. The campus has produced three Nobel laureates and is known for its academic achievement, premier research, innovation and anteater mascot. Led by Chancellor Howard Gillman, UCI has more than 30,000 students and offers 192 degree programs. It's located in one of the world's safest and most economically vibrant communities and is Orange County's second-largest employer, contributing $5 billion annually to the local economy. For more on UCI, visit www.uci.edu.

Media access: Radio programs/stations may, for a fee, use an on-campus ISDN line to interview UCI faculty and experts, subject to availability and university approval. For more UCI news, visit news.uci.edu. Additional resources for journalists may be found at communications.uci.edu/for-journalists.
Archaeology
Art History
Persian Studies