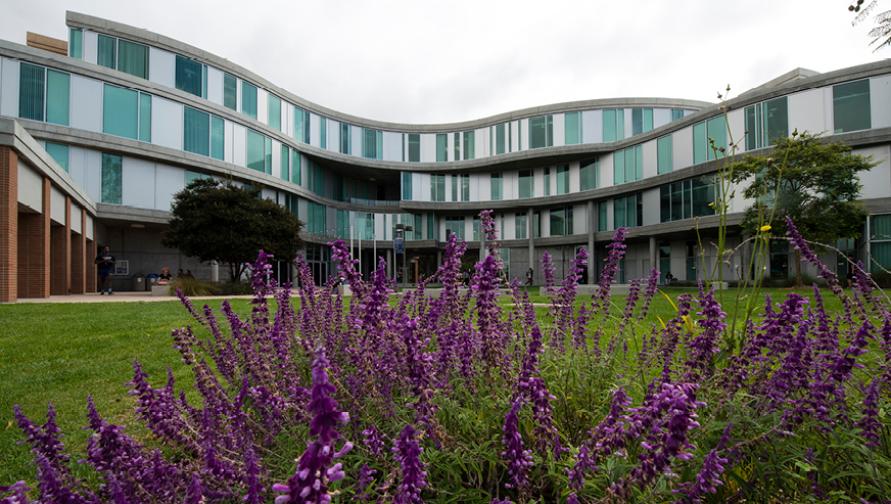 In March, the UCI School of Humanities received a four-year, $1.5 million grant for "Cross-disciplinary Engagement and Career Pathways for 21st-Century Humanities Doctoral Education" from the Andrew W. Mellon Foundation. The grant encourages interdisciplinary fluency in humanities scholars and introduces Ph.D. students to a broad range of career possibilities that employ their humanities expertise.
At UCI, the grant has funded 19 School of Humanities Ph.D. students' community-based summer internships, called Humanities Out There (HOT) Public Fellowships, and three Ph.D. students as Graduate Student Researchers (GSRs) in collaboration with a UCI STEM faculty member over the 2020-2021 academic year. A Mellon-funded program director has been hired to oversee these summer and academic-year positions as well as to provide year-round programming on graduate professional development. SueJeanne Koh, who most recently was a postdoctoral scholar and lecturer in the UCI Department of Asian American Studies and Program in Religious Studies, begins this fall.
"We are grateful to the Mellon Foundation for providing this extraordinary opportunity for our Ph.D. students to gain work experience in a variety of interdisciplinary fields," said Tyrus Miller, dean of the UCI School of Humanities. "Humanities students have versatile and in-demand skillsets that benefit institutions and employers in a wide range of fields. This grant is a vital opportunity to deepen the contribution of our graduate students' expertise to interdisciplinary research and public initiatives. I'm heartened that we've built partnerships across a spectrum of disciplines, academic units, and organizations and look forward to seeing the impact of these unique collaborations."
Summer internships help humanities doctoral students gain experience "out there"
This past summer's 19 Humanities Out There Public Fellows engaged as paid interns in public institutions across Orange and Los Angeles counties. Organized through the UCI Humanities Center, the interns lent their humanistic expertise to an array of projects while gaining non-traditional professional experience at external placements, including PBS SoCal, the Vietnamese American Arts & Letters Association and OC Parks, as well as placements at UCI.
Ella Turenne, a doctoral student in
UCI's Ph.D. Program in Visual Studies
who focuses her research on Black feminist theory, film and television, spent the summer as the Humanities and Entrepreneurship Dialogue Intern for the Wayfinder Incubator at UCI's Beall Applied Innovation. Turenne worked with the center to plan events, gather resources, collaborate with faculty across campus, and even produce a limited-series podcast — all projects that have utilized her general humanistic strengths as well as her specialized research on Black media entrepreneurs. 
"I was really interested in taking on this internship because my experience as an entrepreneur lends itself to thinking about how to bridge the humanities and entrepreneurship," said Turenne. "Creatives in film and TV are inherently entrepreneurs, and my interrogation of how Black women move through these spaces involves understanding how they have leveraged the principles of entrepreneurship to advance their creative content. The opportunity to bring together two areas of campus which, on the surface, may not seem to have much to do with each other was really appealing to me, and since I have experience working in both areas, I was confident that I could be a bridge."
For Karem Delgado, a Ph.D. student in the
Department of Spanish and Portuguese
, who interned at OC Environmental Justice (OCEJ) as a community liaison, such public-facing and interdisciplinary opportunities are crucial for scholarship in the humanities.
"Sometimes, we humanities students get so caught up in our literature and historical texts that we forget to engage in public social matters that affect our communities, our counties, our state, our country and our world," said Delgado. "This fellowship has taught me that I can use my Spanish and Portuguese literary and language skills to communicate, educate and advocate for the Latino community of which I am a part. As a first-generation immigrant to the U.S., it is important for me to help my community to live better, healthier lives in this country, [and since] OCEJ is helping the Hispanic community to do just that, I am proud to have served as an OCEJ fellow this summer." 
Inaugural GSR positions bridge STEM and humanities at UCI
This academic year, three School of Humanities Ph.D. students will have the opportunity to engage in cross-disciplinary conversations and even cross-disciplinary work in STEM research units or teams. The GSRs will gain experience in collaborative research and in communicating across disciplines, as well as specific knowledge and training that will benefit their own dissertation project. These research experiences have the potential to change the nature of intellectual inquiry for humanities and non-humanities scholars engaged in the collaboration.
Rena Goldstein is a philosophy Ph.D. student who will work with Mu-Chun Chen, professor of physics and astronomy in UCI's School of Physical Sciences, this academic year as an Inequalities in STEM GSR. Goldstein said that her research, which focuses on how biases and prejudices affect our ability to communicate, will aid her in the task of examining and alleviating inequalities in STEM education.
"Through this grant enabling my collaboration with the physical sciences, I hope to continue breaking down the structural barriers built into the field, and to work on bringing more women and underrepresented voices into the physical sciences and in that way, creating a better social, political and academic environment for everyone," said Goldstein. "As a humanist, I have the theoretical background that will help transform the current structures in place."
Chen agrees. "Rena Goldstein is very dedicated in promoting inclusive excellence both at the
Department of Philosophy
and on the UCI campus, and she is knowledgeable about the current status of inequalities in STEM," said Chen. "Rena's expertise and perspectives as a humanist are extremely valuable for the project, where we will examine the disparity in the representation and experience in STEM, through the lens of history, race and gender. The project's goals are to help develop a roadmap for removing such inequalities through policy and education, and the active intellectual exchanges between humanities and physical sciences are necessary for such pursuits."
Gifts & Grants
Graduate Students
Internships