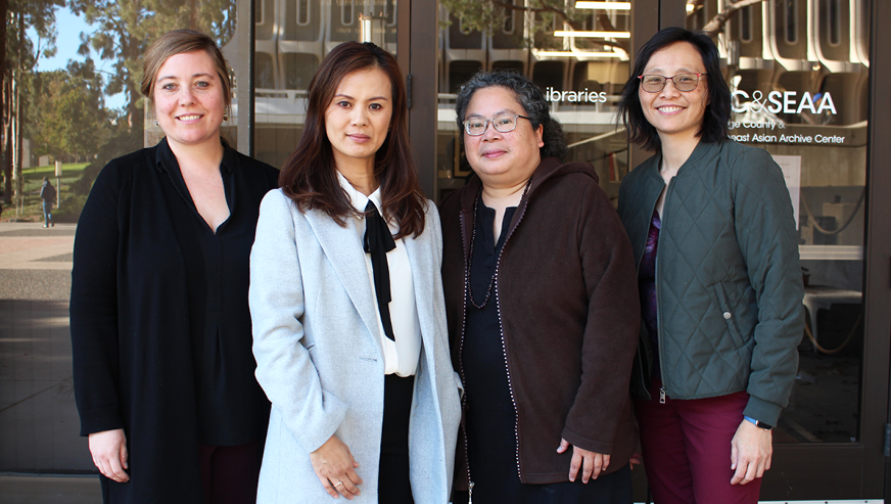 A team of humanities faculty and librarians at the University of California, Irvine has received a $20,000 Humanities for All Project Grant from the California Humanities for its project, "Sharing Comfort and Care: Intergenerational Story-Mapping in the Cambodian, Native Hawaiian, and Pacific Islander Communities of Orange County." The Humanities for All Project Grant is a competitive grant program of California Humanities supporting locally-developed projects that respond to the needs and concerns of Californians, provide accessible learning experiences for the public, and promote understanding among our state's diverse population.

Led by Judy Tzu-Chun Wu, professor of Asian American studies and director of the UCI Humanities Center, "Sharing Comfort and Care" seeks to promote intergenerational and intercultural sharing of stories related to migration, healthcare and food for some of the most underrepresented groups within Orange County, namely Cambodians, Native Hawaiians and Pacific Islanders. The project team, based at UCI, will partner with Irvine Valley College, Coastline Community College, Empowering Pacific Islander Communities and The Cambodian Family to train underrepresented college students to conduct oral histories, create digital exhibits and publish cookbooks. The results will be featured in a series of public events beginning in January 2021 that will illustrate migration routes, explain health challenges and demonstrate cultural foodways as practices of resilience within these communities.

"I'm thrilled to have this opportunity to collaborate with colleagues and students at UCI, with AANAPISI (Asian American and Native American Pacific Islander-Serving Institutions) partners in Orange County, and with community organizations and members," said Wu. "Together, we can do something exciting and transformative by promoting inter-generational dialogue, university-community collaboration, oral history and digital humanities research."
"These projects will bring the complexity and diversity of California to light in new ways that will engage Californians from every part of our state, and will help us all understand each other better," said Julie Fry, president & CEO of California Humanities. "We congratulate these grantees whose projects will promote understanding and provide insight into a wide range of topics, issues and experiences."

Additional project leaders at UCI include Thuy Vo Dang, curator of the UCI Southeast Asian Archive; Dorothy Fujita-Rony, associate professor of Asian American studies; and Madelynn Dickerson, research librarian for digital humanities and history at UCI Libraries.
Asian American Studies
Humanities Center