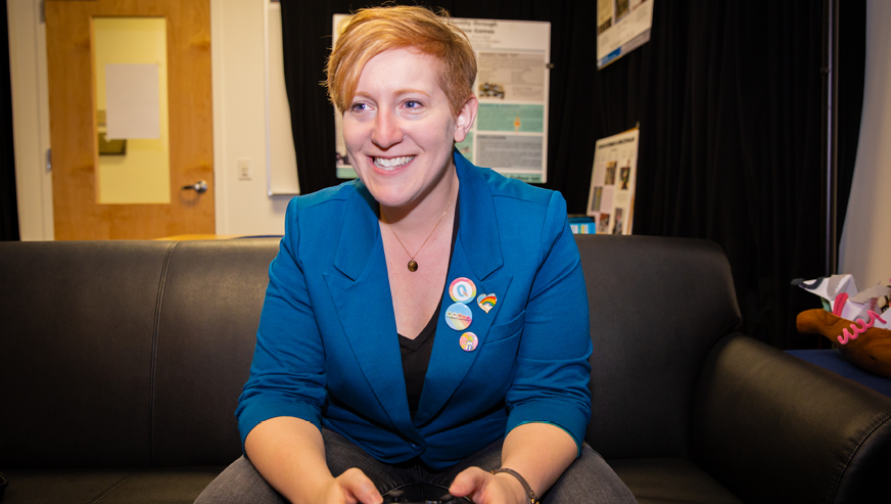 Bo Ruberg, assistant professor of film and media studies, has won the 2021 Stonewall Book Award-Israel Fishman Non-Fiction Award for their book
The Queer Games Avant-Garde: How LGBTQ Game Makers Are Reimagining the Medium of Video Games (Duke University Press, 2020)
. The award is administered by the American Library Association.
In
The Queer Games Avant-Garde
, Ruberg interviews 22 queer video game developers whose work represents a growing network of queer indie games. Offering insights beyond typical conversations about LGBTQ+ representation in video games, the interviews explore queer game-making practices, the politics of queer independent video games, how queerness can be expressed as an aesthetic practice, the influence of feminist art, and the future of queer video games and technology.
"I'm so honored that my project has been recognized by the American Library Association," Ruberg said. "So many amazing books have received this award and it's wonderful to join that group. I'm especially thrilled to see the book reaching an audience beyond academia. It's not a traditional academic book; it's all about centering the voices of queer and trans game designers, so it's especially valuable that it reaches a wide range of readers. Really, the honor goes to the game makers whose work is featured in the book!"
Ruberg is an expert on gender and sexuality in digital media and digital cultures and on queerness and video games. In addition to
The Queer Games Avant-Garde
, they are the author of
Video Games Have Always Been Queer (New York University Press, 2019)
. They are also the co-founder and co-organizer of the annual
Queerness and Games Conference
.
The Stonewall Book Awards of the American Library Association gives the Israel Fishman Non-Fiction Award to one nonfiction, English-language book of exceptional merit relating to the gay, lesbian, bisexual and transgender experience each year.
Film and Media Studies
LGBTQ