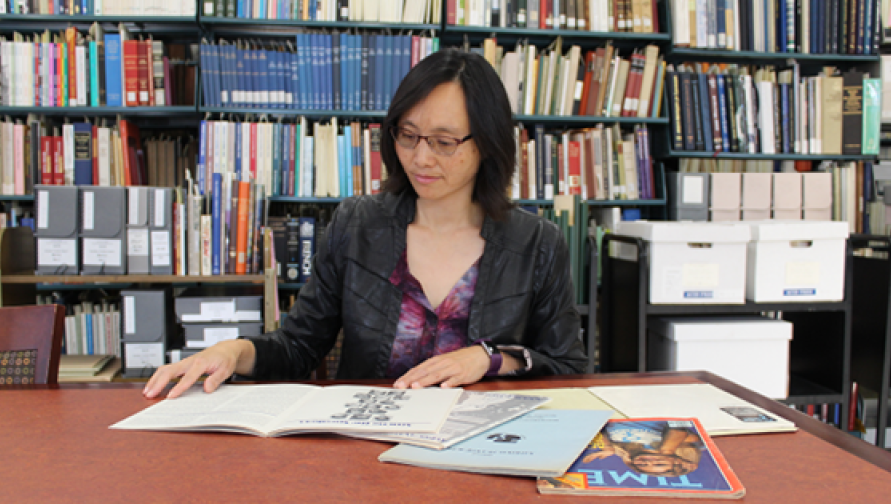 By Danielle McElroy
She could scarcely believe her ears. Forty years since attending the first National Women's Conference (NWC) in 1977, feminist Gregoria Smith was in Houston last November to celebrate the anniversary of that landmark event. As she began listening to a panel on Asian American and Pacific Islander women, she realized the story being told was her own. To the presenter recounting Smith's background—Sophaline Chuong, a fourth-year undergraduate student majoring in psychology and minoring in Asian American Studies at the University of California, Irvine—it was an inspiring piece of history. But Chuong and her University of California peers—all members of a research team called "AAPI (Asian American and Pacific Islander) Women on the Move"—almost didn't get to tell it. When planning their project on the women who attended the 1977 NWC and then organized the first AAPI women's conference in 1980, they found out that current state guidelines restrict the use of public funds to travel to Texas. This passionate group of UC students would have to find an innovative way to finance their trip to the conference.
But first—a little backstory. The inaugural National Women's Conference began when 20,000 plus attendees gathered to create a national women's agenda to be presented to the president and Congress. The event kicked off with runners carrying a torch, the symbol of the women's rights movement, 2,610 miles from Seneca Falls, New York, to Houston, Texas. This assembly was the first federally funded convention on women's rights, with 2,000 delegates from 50 states and 6 territories to debate the Equal Rights Amendment, welfare, abortion and other topics still relevant today. The launch of the NWC inspired Asian American and Pacific Islander women to organize the first nationwide AAPI Women's Conference in Washington D.C in 1980. On conference materials, the members stated their goal to "further education and employment opportunities for all Asian/Pacific women."
After learning about this history from their mentor Professor Judy Tzu-Chun Wu, chair of UCI's Department of Asian American Studies, UCI undergraduates Chuong, Maribel Comparan and Pauline Nguyen and graduate student Justine Trinh along with UC Santa Barbara undergraduate Malire Lozada were inspired to embark together on a research project that told the story of the women behind the first AAPI conference. Their goal: to present their research on the contemporary significance of these pathbreaking Asian American and Pacific Islander activists at the 40th anniversary of the NWC.
Exercising the kind of grassroots activism found at the heart of the NWC, Chuong, Comparan, Nguyen, Lozada and Trinh decided to create a crowdfunding campaign to raise the $1,800 needed to cover their travel expenses. The students used Zotfunder, UCI's online crowdfunding platform, to garner support for their project, which they titled "
AAPI Women on the Move
."
The result is the fastest-funded campaign in Zotfunder history. Within six days, the campaign had been fully funded. When the campaign closed, they had raised $2,524 from 68 donors—many of whom are scholars and activists. "The generous donors who supported the travel of our students, all of whom are women of color and either immigrants or children of immigrants and refugees, enabled the students and me to have this incredible once-in-a-lifetime experience," said Wu.
The students' NWC presentation, titled "Invisible Minority: Asian American and Pacific Islander Women," included archival materials as well as biographies of inspiring women. Prior to the conference, the students researched the AAPI delegates who attended the 1977 NWC by examining the original conference program booklets, newspaper, and journal accounts, as well as visiting historical archives and conducting interviews with past attendees. Trinh, a graduate student in Asian American studies, spoke with Mitsuye Yamada on the lessons she's learned since attending the original conference. Yamada, a pioneering Japanese American activist and poet, also taught at UCI in Asian American Studies in the late 1990s. A collection of her papers are housed in the
UCI Langson Library's Special Collections and Archives
. "We must remember that one of the most insidious ways of keeping women and minorities powerless is to let them only talk about harmless and inconsequential subjects," Yamada wrote in one of her famous essays.
At the 2017 November conference, there were panels, roundtables, and plenaries, where participants were able to tell their stories of activism, inspiring others to follow in the footsteps of 1977 attendees, including Gloria Steinem, Maya Angelou and Coretta Scott King. AAPI member Malire Lozada, a second-year student with a double major in writing and literature with a minor in Asian American Studies, felt comfort in the large crowds. "What was most exciting for me at the conference was just seeing that the things that mattered to me mattered to other people. I think that being a feminist can be isolating at times. Attending this conference showed me that these issues are worth fighting for," said Lozada.
Empowerment is only a fraction of the conference's influence; it provides a permanent foothold to previously unknown voices and their empathetic political visions. Nguyen, a UCI senior majoring in comparative literature said, "During our own panel, it was beautiful to see the conversations that our research helped foster in regards to the place of AAPI women in the feminist movement. I was astounded to see the hundreds that returned to remember this historic event and continue to look forward toward positive change. I feel that it is now our generation's turn to receive the torch and continue the women's movement."
The ability to connect with pioneering activists has proved invaluable to the members of UCI's AAPI community. UCI was designated an Asian American and Native American Pacific Islander-Serving Institution in Winter 2016. The designation aligns with UCI's aspiration to be a national leader and global model of inclusive excellence. As a designated AANAPISI, UCI faculty, staff and students are eligible to apply for Minority-Serving Institution (MSI) grants, internships and partnerships.
"A precious moment for me was the opportunity to retell Gregoria Smith's story at the National Women's Conference in front of her. Honestly, I was nervous," said Chuong, "but looking at Ms. Smith gave me a sense of comfort. I truly became invested in retelling her history and sharing how much she advocated for her community. I wanted to share the empowerment I felt when first reading [about] Ms. Smith."
The team will visit more archives, develop biographies, and has plans to present at the Association for Asian American Studies in San Francisco in 2018.
Pictured: Judy Wu, UCI professor and chair of Asian American Studies visiting the Mitsuye Yamada collection at the UCI Langson Library. Photo credit: Audrey Fong / UCI