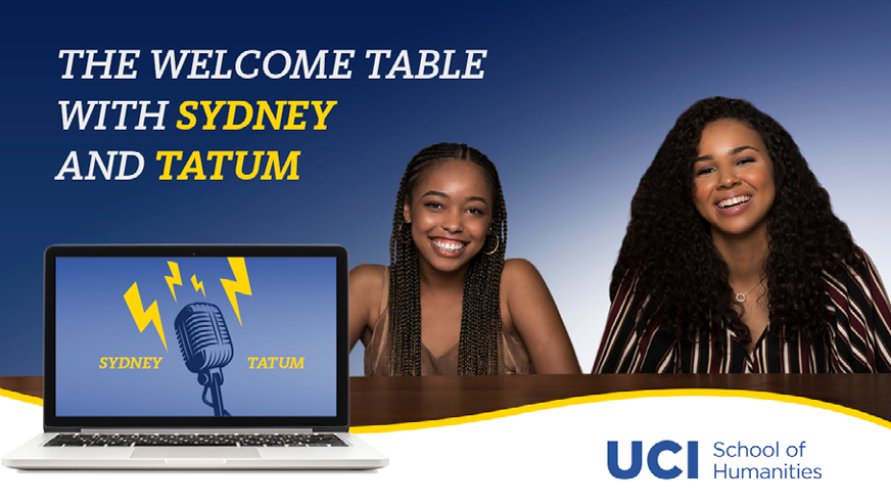 By Megan Cole

Sydney Charles and Tatum Larsen, UCI literary journalism majors and co-hosts of the "Black Fam 2.5" podcast, are, in their own words, "basically the same person." They're both up-and-coming Black journalists, passionate justice-seekers for underserved communities, and similar in their media tastes and senses of humor. Along with their acclaimed podcast, the rising seniors also share the campus news desk at the New University and an upcoming UCI School of Humanities video series spotlighting members of the Black community on campus. As a team, they're invested in enriching the Black student media presence at UCI and paving the way for Black student journalists, creators and artists yet to come.

The duo met in December, after being introduced by literary journalism lecturer Amy DePaul on the basis of their similar interests and personalities. Once they hit it off, DePaul suggested that they should try something new and start a podcast. Charles and Larsen agreed, quickly settling on a name and mission: "Black Fam 2.5" would spotlight Black academics, artists and activists at UCI and provide them a platform to discuss contemporary events from a perspective that often went under-reported.

"We wanted to highlight both the complexities and vibrancies of Black culture at UCI, because there was a real need for Black news on campus, to be frank," Charles says. "Now, in the midst of the Black Lives Matter movement, Black creative projects have been exploding, but when we started, there was still a huge need for a Black platform."

Immediately after the first episode about Black entrepreneurship debuted in February, "Black Fam 2.5" received overwhelmingly positive feedback, at which point Charles and Larsen committed to turning the podcast into a series. They've since released episodes focusing on Black mental health, the Black Lives Matter movement, Black communities during COVID-19, and Black women.

While Charles and Larsen are still relatively new to the podcasting scene, they say it's been an easy transition thanks to the skills they've learned in literary journalism classes, including interviewing, reporting ethics and narrative creation. Both have sharpened their storytelling technique over the years as news editors at the New University, and Larsen has picked up technical audio skills during her tenure as a radio news reporter at campus station KUCI 88.9 FM. Combining their talents has led to a polished podcast, which both Charles and Larsen say has some advantages over written reporting. 

"With podcasting, you can definitely add more of your personality. People can literally hear your passion, your voice, your drive," Charles says. "There will always be a place for traditional writing, but podcasts are becoming a more popular form of digital communication, so I feel like we're moving with the times a little bit."

"People want to hear their news from a voice," Larsen adds. "These days, there isn't always time to read, so it's nice to have a familiar voice to refer back to and identify with — especially when that voice comes from a credible journalist who truly knows the community they're reporting on."

The most rewarding result of their podcast, Charles and Larsen agree, has been the ability to collaborate with and inspire other members of UCI's Black community.

"There's a lot more Black visibility and Black creatives coming to the surface now and sharing their art, and it's great to be part of that resurgent celebration of Black community, Black art, Black news," says Larsen. She adds that ultimately, "Black Fam 2.5" aims to make the media field more welcoming for Black students.

"There's a huge need for more journalists and students of color, and that was a big reason why [DePaul] reached out to us in the first place. She saw the need, and we saw the need, for more representation," Larsen says. "It'd be great if 'Black Fam 2.5' could attract more Black students to pursue journalism, because there's always going to be news, and Blackness is always going to be a discussion within the university and within the world, so there's always going to be Black news. It'd be great if, through our podcast, we could pass the torch to other Black students to flex their own skills."

Charles and Larsen are taking off their headphones and gearing up to meet their audience face to face, at least virtually, in a new video series slated to debut this summer. With funding and support from the UCI School of Humanities, "The Welcome Table with Sydney and Tatum" (named after a gospel song and short story by Alice Walker) will spotlight Black UCI School of Humanities faculty, staff, students and alumni in conversation with Charles and Larsen. Each interview will begin with a show and tell in which the journalists will share an object of importance to their personal or professional lives and each interviewee will do the same.

"We wanted to do something visual, so people can see what Blackness looks like," explains Charles. "Like 'Black Fam 2.5,' we want to express the positivity behind some of the Black community's work and some of the things we're doing. Having conversations not only about Blackness — although it encompasses Blackness — but about people, about their problems and the things they're good at, their lines of work, all different conversations."

"We're creating spaces for in-depth conversations, and obviously, as the title of the series implies, we want our guests and our viewers to feel welcome," adds Larsen. "Especially now, sitting down across from someone and having a conversation, even if it's on a computer screen, is the best way to connect."

Upon graduation next spring, Charles and Larsen hope to pursue careers in either journalism or law — in either case, working to bring justice and visibility to marginalized communities. Wherever they end up, they hope to remain a team, drawing on each other's journalistic talents for connecting with people and crafting resonant stories.

"Above all, we just hope to always keep learning," says Larsen. "Sydney and I are able to speak to most of the things we talk about on our shows, but we learn a lot in the process, too. It's very cool to be learning with our audience from the really amazing people our shows give us the opportunity to talk to."

"It is truly phenomenal to be part of the history-making process — and that's what podcasting is," Charles adds. "It lets you straight-up insert yourself into a space of learning and collaborating. Tatum and I always talk about creating narratives and writing your own story, and at its core, that's what 'Black Fam 2.5' and 'The Welcome Table' are — making history by writing our own story for people who look like us."
Watch all of the episodes of "The Welcome Table with Sydney and Tatum" here and follow along on Twitter with the hashtag #WelcomeTableUCI

Photo of Charles and Larsen by Karra Ideozu & designed by 789, Inc.
Community engagement
English
Literary Journalism
Undergraduate Students