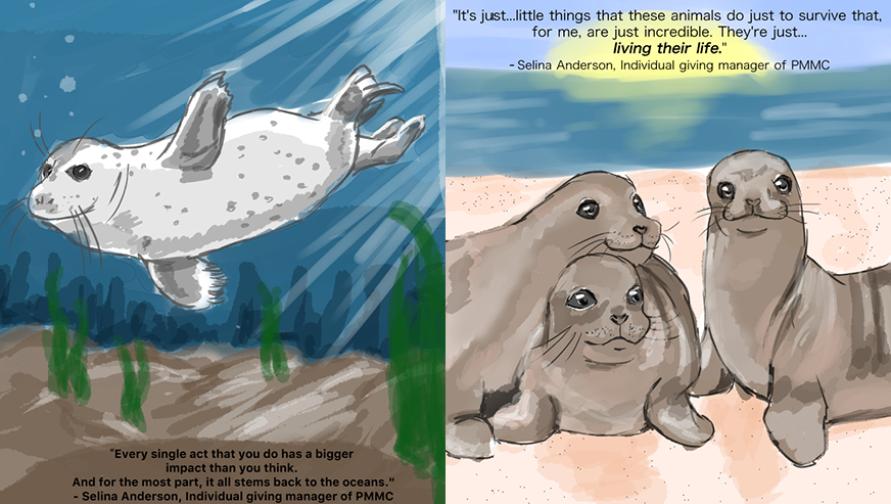 By Megan Cole

A photo essay showcasing the history of Japanese American farmers in coastal Orange County. A series of digital portraits of marine life, coupled with warnings about habitat loss. A children's book starring two coxswains on UCI's Crew team. A podcast on whales. These are just a few of the student-led creative projects resulting from Stories from the Sea: An Oral History Project, a yearlong UCI Humanities Center program designed to train students on collecting, creating and curating diverse narratives about Southern Californians' relationships with the oceans. Under the direction of UCI Humanities Center Director Judy Tzu-Chun Wu, the program launched in fall 2020 with 35 undergraduates.

"The Stories from the Sea project is inspired by the 'Oceans' theme of the Humanities Center," Wu says. "Oceans and seas evoke powerful emotional associations, and we sought to capture some of these meaningful stories. In addition, the Newport Beach Public Library Foundation was eager to collaborate with UCI, particularly with our students, to record and share stories about our local community. This was a new approach towards community collaboration."

The Newport Beach Public Library Foundation, Balboa Museum and the Sacred Places Institute for Indigenous Peoples were just a few of the program's host institutions. The Newport Beach Public Library Foundation played an especially important role in the formation of the program. Their team not only helped plan the program, but also secured two grants from California Humanities and the Isidore & Penny Meyers Foundation to support the students.

"These oral history projects are multimedia, multigenerational ways of documenting community members' firsthand accounts of local coastal areas," said Kunga Wangmo-Upshaw, director of programs at the Newport Beach Public Library Foundation, at a recent symposium celebrating the program's culmination. Wangmo-Upshaw explained that this work is crucial because "here in Southern California, oceans have always been the center of community life."

During the fall and winter, students worked closely with faculty and staff in UCI's Humanities Center, Center for Storytelling, Libraries, the Department of History and the Literary Journalism Program to hone their skills in reporting, interviewing, conducting archival research and curating their projects. Students were then paired with local institutions as intern storytellers in order to begin gathering and researching ocean-related narratives. A handful of students worked on their projects independently, without a host institution, working off of their interviews.

Paul Wormser, library director of Sherman Library and Gardens — a local research library on the history of the Pacific Southwest, and one of the program's community partners — believes that students' Stories from the Sea projects have already been instrumental to documenting and memorializing ever-shifting local histories.

"Newport Beach is such a rapidly changing area," says Wormser. "Documenting the memories of people who have lived here for decades is so crucial to capture memories and preserve the untold histories of this community before they fade away." 

To this end, UCI Research Librarian and Curator for Orange County Regional History Krystal Tribbett taught student interns the archiving, cataloguing and curating skills that would be necessary not only to share their projects with the wider community, but also to preserve them for future generations.

"Once we excavate oral histories, it's crucial to preserve them, because they provide such a wonderful opportunity to fill in historical gaps," says Tribbett, adding that UCI Libraries will be the archival home of students' Stories from the Sea projects. "These projects allow us to hear the voices of those who live, work, and interact with the sea — voices that tend to be underrepresented and marginalized in the historical records we have. There's true value in hearing their experiences firsthand."

Kaye Bilbao Regalado, a literary journalism major and Stories from the Sea intern, joined the program in hopes of amplifying underrepresented community voices while exploring her twin passions for storytelling and marine life. She interviewed the staff of the Pacific Marine Mammal Center (PMMC), a Laguna Beach nonprofit that rehabilitates marine life, and created digital portraits of their rescue seals coupled with environmentalist advice from PMMC employees (pictured above). For Regalado, the experience was as therapeutic as it was informative.

"On the level of a community, times when people are stuck at home are times when people desire most to reconnect — not just to the external world in general, but more so to nature," says Regalado. "The Stories from the Sea project is a narrative bridge back to the beautiful, vast ocean world many have missed during these isolated times."

Associate Director of the Literary Journalism Program Patricia Pierson, who both taught students reporting skills in the fall and is one of the program's leaders, appreciates that the Stories from the Sea project not only produced a trove of creative historical work, but also brought community members together during an otherwise isolating year.

"Members of the community were able to come into our classrooms and share their knowledge and expertise with our students, which I think was a really enriching experience for everyone," says Pierson. "Others formed connections with faculty and students that they might not have ever met or spoken to if this program had not existed. A real unexpected silver lining of this project for all of us was the meaningful and enriching connections we all formed as part of this diverse learning community."

In the near future, Wu looks forward to creating additional programs and internships focused on building connections, strengthening community relationships and communicating across barriers. After all, Wu adds, these experiences are critical to students' academic and professional development and to preserving the community's history.

"Through this program, students developed connections to educational and community organizations, and at least one of them received a summer internship from these connections," Wu says. "This has been such an empowering experience for the students, especially in a time of remote learning. The Stories from the Sea project allowed the students to connect to one another and to members of the community. Through these connections, the project was able to preserve and share meaningful stories from the sea."

Click here to view the stories captured by Stories from the Sea student participants.
Community engagement
English
Environmental Humanities
History
Humanities Center
Literary Journalism