By Megan Cole
Although its global community is relatively small, Jainism — a religious and philosophical worldview that originated in India over 3,000 years ago — has influenced nonviolence and civil disobedience movements worldwide. With its foundational principle of ahimsa (nonviolence), which extends not only to fellow humans but to all living beings, Jainism has inspired leaders from Gandhi to Martin Luther King Jr., and shaped discourse around bioethics, sustainability, political theory and more. 
Starting this month, UCI students interested in exploring the rich history and philosophy of the Jain tradition can earn a Certificate in Jain Studies and Nonviolence, a three-course curriculum covering the myriad applications of Jain thought to contemporary ethical issues. The Certificate in Jain Studies and Nonviolence was launched to accommodate UCI students' growing interest in non-Western worldviews such as the Jain tradition, which "offers unexpected ways to engage with less familiar cosmological, sociological and ethical ways of explaining the world and one's place in it," according to Brianne Donaldson, Shri Parshvanath Presidential Chair in Jain Studies. 
"Jain studies classes draw students across campus with the aim to investigate and shake loose long-standing ways of thinking, feeling and acting," Donaldson says. "Ideas and habits about the world did not fall from on high and they can be formed differently across all facets and disciplines of life."
Donaldson, who grew up surrounded by industrial agriculture in the rural Midwest, first encountered the Jain tradition in community college and was immediately captivated by its unique practices aimed to increase attention and decrease harm — not only against humans, but against animals, plants and all other living beings. Now an associate professor of philosophy and religious studies, Donaldson's work explores Jain studies in relation to critical animal studies, as well as the relationship between Jainism and ethical action toward plants, animals and marginalized peoples. 
Jain principles have resonated with current UCI Jain studies students and alumni, including Makayla Rabago (B.A.s philosophy and criminology, law & society, '20), who took courses with Dr. Donaldson at UCI, such as Jain studies, as well as Medical Ethics and Animal Ethics — both of which included engagement with the Jain tradition — before matriculating as a law student at Loyola Marymount University Law School. 
"After three years, I still reflect on Jain studies — for example, I often think of one Jain value, ahimsa, which holds that causing harm to others can cause harm to ourselves," says Rabago. 
School of Humanities Dean Tyrus Miller explains that Jain studies has long been "of extraordinary interest to our students, obviously because of its rich scholarly dimensions, but also because of its spiritual and existential dimensions which help our students reflect more deeply on who they are."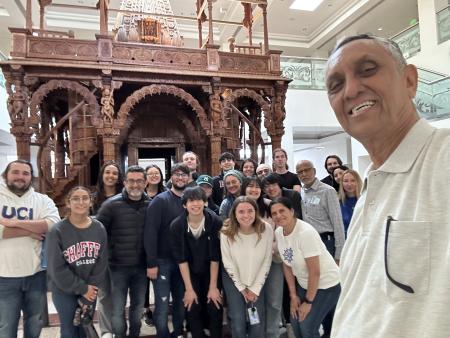 Donaldson teaches students about the Jain tradition primarily through the lens of history, philosophy and lived communities, showing the multiple dimensions and diversity among Jains beyond any simple "Jainism," and also complicating assumptions that "the Jain emphasis on nonviolence is an impractical all-or-nothing proposition."
"The vast majority of Jains in the world strive to apply Jain principles in the context of their work, family and home in many creative and celebratory ways, often by reflecting on their jobs, reducing harm in their food habits, resisting one-sided claims, assessing their participation in structural harms and many other practical modes of restraining damaging thoughts, speech and actions," Donaldson says. "Jainism is not a fixed ancient tradition but a lively, diverse and adaptive community of individual Jains around the world." 
Moreover, says Donaldson, the central Jain concept of many-sided view, or anekānta-vāda, "invites students into a logical and embodied encounter with multiple perspectives of other beings and views in order to grow one's understanding of complexity in a dynamic universe that exceeds human-only existence."
The Certificate in Jain Studies and Nonviolence is open to UCI students from every major on campus, graduate and undergraduate alike. Ideally, through the process of earning the certificate, students will learn to think critically, feel expansively and explore a worldview that may contribute something new to their own views of self and others, Donaldson says.  
"Jain studies places its philosophy in a wider telos of liberation — from self-centeredness to reality-centerednesss, in which all human life and all living beings can pursue a variety of positive ends or ultimate goods, enabling students to think critically about the ideals, goods and ends that might add value to their own actions," Donaldson explains. "Jain studies is also a way to connect with an underexplored multiplicity of our local and global communities."
To bring back ecological balance 
The Shri Parshvanath Presidential Chair in Jain Studies as well as the Certificate in Jain Studies and Nonviolence were both supported by members of the Jain community committed to sharing the principles of Jainism at UCI and beyond. Drs. Jasvant and Meera Modi, who helped open the Jain Center for Southern California in 1988, donated to bolster Jain studies at UCI because in an age of widespread environmental degradation and discord, they believe that the tenets of Jainism are indispensable. 
"By practicing the Jain philosophy of 'live and let live,' and by living minimally with kindness and compassion to all living creatures with universal friendship, we can bring back the ecological balance on this planet," Dr. Jasvant Modi says. 
The Modis are joined by fellow community supporters including the family of Harshad and Raksa Shah, as well as the family of Rajesh "Raj" and Neeta Shah who agree that Jain principles are increasingly necessary in seeking "harmony with the ecology of the planet."
"Moving forward, we would like to see the Jain studies program progress and expand, allowing students to further their studies at UCI," says Raj Shah, who notes that for now, he and Neeta are "proud to be a part of this [UCI] family and its impact on others."
Main photo: Students from the Jain History, Philosophy and Ethics course attend the Jain Center of Southern California in Buena Park, CA, May 2023.