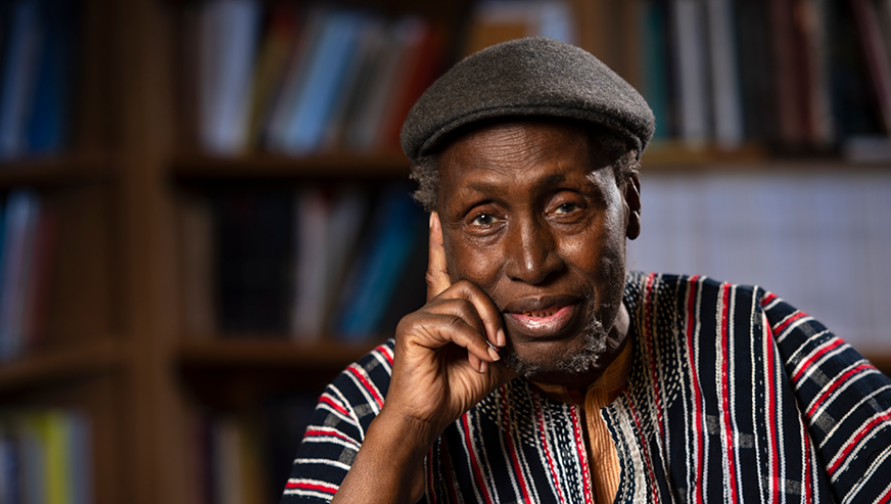 Ngũgĩ wa Thiong'o, Distinguished Professor of English and comparative literature at UCI, is the recipient of the 2022 PEN/Nabokov Award for Achievement in International Literature – the most prestigious career achievement award bestowed by the PEN America Literary Awards Program.
The award is conferred annually to a living author whose body of work represents the highest level of achievement in fiction, nonfiction, poetry and/or drama. It is named in honor of Vladimir Nabokov, one of the leading novelists of the 20th century, and is supplemented with a $50,000 stipend.
Ngũgĩ is an influential figure in African literature. For nearly sixty years, he has been committed to telling the stories of his native Kenya. Ngũgĩ is a UCI Medalist and recipient of 13 honorary doctorates from African, European, American and New Zealand universities. He is widely seen as a potential Nobel Prize winner. His more than three dozen books, plays, poetry and essays have been translated into more than 30 languages. At UCI, he served as the founding director of the International Center for Writing and Translation.
The judging committee celebrated Ngũgĩ for challenging convention and shaping culture with daring and original written works. "In novels like Weep Not Child, A Grain of Wheat, The River Between and Wizard of the Crow, he has portrayed with great honesty and sensitivity the lasting divisions that colonial rule sowed within families and cultures, the damage wrought by the dictatorships that followed independence, and the joys of finding freedom in all its forms – personal, political and linguistic," the judges cited.
In 1977, when Ngũgĩ was imprisoned by the Kenyan government for writing in his indigenous African language Kikuyu, he refused to be silenced and used the prison's rough toilet paper, the only paper available to him, to write Devil on the Cross in Gĩkũyũ. He is also honored for his 1963 play "The Black Hermit," his analysis of language and power in Decolonising the Mind (James Currey, 1986), his epic The Perfect Nine (The New Press, 2020) and his dozens of novels, short stories, plays and memoirs that weave myth and folklore, wisdom and humor and have inspired generations of writers.
A ceremony was held on Feb. 28 in New York City Town Hall. Ngũgĩ's family members, Ndũcũ wa Ngũgĩ, Mũkoma wa Ngũgĩ and Wanjikũ wa Ngũgĩ, themselves published novelists, accepted the award on their father's behalf, and a pre-recorded video of Ngũgĩ delivering his acceptance speech – first in Gĩkũyũ and then in English – was played.
"It was during my incarceration at the maximum-security prison that I decided to return to my mother Wanjiku's tongue, Gĩkũyũ," he said in the video. "I now use Gĩkũyũ for all my fiction, poetry and drama. And I always sing the same song: Let every language in the world express its unique musicality. Thank you for this Pen/Nabokov Award, for celebrating my work, most of which I now write in Gĩkũyũ."
International Center for Writing and Translation
Comparative Literature