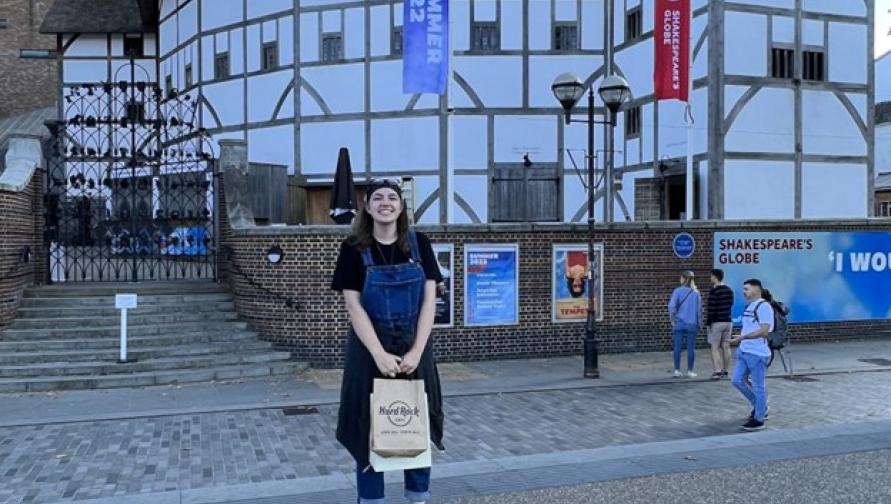 Hello, my name is Aisling! I'm a third year English major with a minor in creative writing and I'm an intern for the New Swan Shakespeare Center. I recently returned from studying abroad at Pembroke College Cambridge for six weeks, where I studied  Sir Arthur Conan Doyle, Virginia Woolf, and, of course, William Shakespeare.
"Doubt thou the stars are fire, doubt that the sun doth move. Doubt truth to be a liar, but never doubt I love" (Hamlet). Just as Hamlet loves Ophelia, my love for writing and reading are things I've carried with me my entire life. It wasn't until high school that I fell in love with Shakespeare. My ninth-grade English class wasn't exactly the extraordinary introduction to Shakespeare I'd expected. In fact, it was the opposite: students stuttering through doth's and thou's, a dour teacher correcting each slip of the tongue, and when we finally watched the 1996 film Romeo + Juliet, who could possibly forget the thirteen-year old girls giggling at Leonardo DiCaprio (never mind that I was one of them)?
Theater club, on the other hand, redeemed Shakespeare by introducing an entirely new perspective: the stage. I'd read the plays and watched the films, but I'd never seen a Shakespeare play live on stage until my freshman year's production of Titus Andronicus. Gruesome, brutal -- and absolutely captivating.
Though it was a play that probably shouldn't have been performed by a bunch of hormonal juveniles, the words on the page suddenly made sense and I formed a new relationship with Shakespeare. I joined the theater club just in time for the annual trip to Ashland for the Oregon Shakespeare Festival.  Shakespeare in a small town with a bunch of theater kids sparked a burning passion and became one of my fondest memories. The more plays I watched on those annual trips, the more my interest deepened.
I didn't anticipate studying Shakespeare once high school ended, mainly because I wasn't sure what to expect from college, but I was happily surprised to find that Shakespeare was something I could continue to learn about at UCI.
From filming a COVID-19 inspired monologue of A Midsummer Night's Dream in Humanities Core to proposing a gender-bent production of Twelfth Night in English 9, college has provided a stimulating new setting for studying Shakespeare. As a marketing and communications intern, I'm looking forward to engaging with the New Swan Shakespeare Center to continue expanding my passion. Look here for updates!
Aisling Alvarez is participating in Internships for English Majors, a donor-suppported program at UCI.
New Swan Shakespeare Center