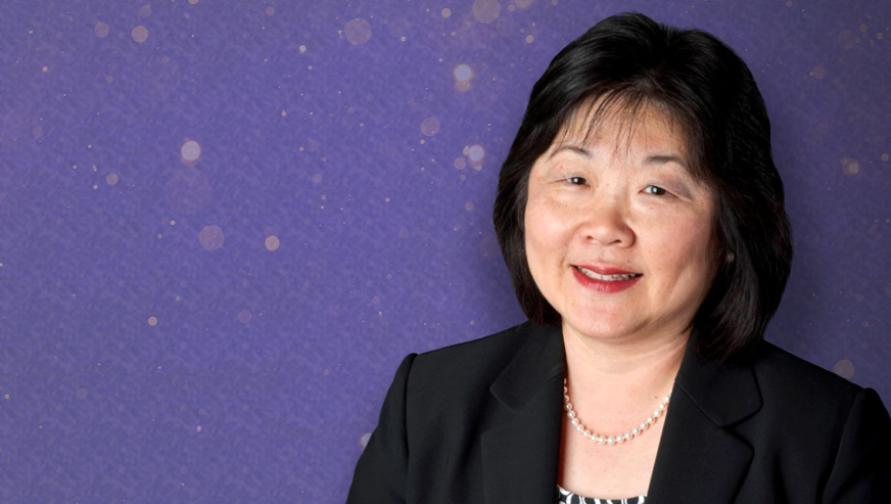 By Annabel Adams
One of the most compelling moments in University of California, Irvine's storied past might be one of its lesser known: the student-led protests in the early 1990s that established formal ethnic studies programs on the campus, including a rotational hunger strike that led to the creation of the
Department of Asian American Studies
.
Mary Ann Takemoto, Ph.D. is a key figure in this chapter of UCI history. As one of the first lecturers in Asian American studies at UCI, and a former associate director of the UCI Counseling Center, she's empowered students to advocate for the representation of their histories and stories in campus curriculum.
A formative beginning
A third-generation Japanese American, Takemoto was raised in the South Bay city of Gardena, Calif., which the U.S. census has recognized as the city with the highest percentage of Japanese Americans in California through 2014. Her upbringing in this community cemented in her mind the value of multicultural and multiethnic spaces. Yet, her experience in the classroom did not reflect the diverse population it served—not once were Asian Americans an area of study. This lack of representation continued throughout her college education.
"When I went to college, there were no classes offered in Asian American studies and when there were classes on minority issues, it was always a Black-white dichotomy," she reflects. "Some of those experiences had an impact on me in terms of my sense of identity as well as realizing how important identity is for young adults as they transition into adulthood. I think that was probably always kind of core for me, not only in my clinical work with students but also through my teaching and research."
Takemoto and her siblings were the first in their family to attend college. Sensitive to the experiences of being from an ethnic minority family, of being first generation to attend college, and of carrying the weight of generational cultural trauma, Takemoto set out to become a psychologist specializing in Asian American and minority mental health.
"I felt that there was a lack of information about mental health and yet there were a lot of specialized needs for the Japanese American community in particular, having gone through WWII and internment," she says.
Based on unfounded fears in reaction to Pearl Harbor and the ensuing war, President Franklin Delano Roosevelt signed Executive Order 9066, which established incarceration camps for people of Japanese descent. From 1942 to 1945, about 120,000 Japanese people—the majority of whom were American citizens—were forced to leave their homes and businesses to wait in assembly centers only to be later shipped to ten incarceration camps built in the remote landscapes of the interior West and Arkansas. Takemoto's parents were among the thousands of Japanese Americans to be incarcerated or forced to relocate from their homes on the West Coast.
"The racism and discrimination experienced by my parents and grandparents had a profound impact on their lives and careers. Their generation endured a great injustice, and research has confirmed the psychosocial impact of incarceration and the long-term impact of historical trauma," Takemoto says. "Sadly, the cycle is repeating itself with new immigrant groups being the target of hate and xenophobia."
Takemoto went on to earn a B.A. in psychology from Barnard College at Columbia University and a Ph.D. from Indiana University. Despite there being a dearth of scholarly research on Japanese American mental health, Takemoto forged her own path and focused her doctoral research on social support systems, coping and acculturation in Japanese Americans. 
Making history at UCI
In 1987, Takemoto arrived at UCI as a staff psychologist in the Counseling Center. She simultaneously taught courses on Asian American topics, including Asian American psychology, Asian American women, Asian American family, and multi-cultural psychology. Despite Asian American students making up nearly 43% of the undergraduate population at UCI, there was no formal Asian American studies department, no formal paths of study for students—no major or minor—and Takemoto was one of only a few lecturers teaching the subject matter.
"At the time, UCI had one of the largest Asian American Pacific Islander populations within the UC system, yet they did not have a formal Asian American studies program," she says.
What happened next is a series of events only recently added to the university's historical record through an oral history project by several UCI students, now alumni, who called their project, "
Beginnings of Activism for the Department of Asian American Studies
," or "BADAAS." Led and mentored by Judy Wu, professor of Asian American studies at UCI, and Thuy Vo Dang, curator for
UCI's Southeast Asian Archive
and research librarian for Asian American studies, the students scoured former course catalogues, records in the Cross Cultural Center, and New University archives, and captured oral histories of the former student protestors and the first lecturers in the department, including Takemoto. With this information, the student researchers created a timeline and account of this pivotal moment in UCI history.
Here's what they found: Beginning in 1991, UCI students led a series of protests to establish formal ethnic studies programs on campus, including in Asian American studies, African American studies, Chicano/Latino studies and Native American studies. That year, 200 protesters marched through Wayzgoose, a campus-wide celebratory event for new students, demanding the formal establishment of these areas of study. Protests continued for years after, including a 35-day rotational hunger strike in 1993. Finally, Asian American studies became a minor in 1996 and a major in 1997.
While students were the face of the protest, Takemoto and her colleague John M. Liu, who is now retired from his position as senior lecturer in Asian American studies, served as mentors and guides.
"I don't think that without that student advocacy we would have made as much progress as we did so quickly," says Takemoto. "We also strategically reached out to some very important Asian American community leaders who also were very vocal. It was an effort from a number of fronts from students, community members, existing staff and faculty that allowed for this to happen."
The call for ethnic studies at UCI developed from a longer history of establishing ethnic studies in the United States that originated during the social justice movements of the late 1960s. The movement for ethnic studies represented a democratization of higher education in two main ways. First, the students entering colleges and universities became more representative of the diverse communities in the country, particularly in California. Second, the students called for a "relevant" education, a curriculum that would intellectually equip them to understand pressing social issues and address inequality.
"I find that when students have the opportunity to learn more about their own communities and backgrounds it's transformative for them. It opens their eyes to looking at things in a different way and thinking about themselves and their own identities and families," Takemoto says.
Following those protests, Takemoto and Liu served on the hiring committees for the first faculty hires. Yong Chen, now the associate dean of curriculum and student services in the School of Humanities, was hired in 1993 with a joint appointment in Asian American studies and history. Later, Dorothy Fujita-Rony, professor of Asian American studies, and Claire Jean Kim, professor of Asian American studies and political science, were hired.
In 2018, Judy Wu, then the chair of the Department of Asian American Studies, convened a celebration during UCI's Homecoming, which marked the 25th anniversary of the 1993 protests that led to the formation of the department. Wu and the student researchers of BADAAS invited many of the original student protesters and faculty who made the department possible, including Takemoto.
"It was so clear that Professor Takemoto made a deep impact on the students who took her courses and received her mentorship. She was one of just two professors at UCI who taught about Asian American experiences," says Wu. "Her specializations in psychology and counseling were particularly welcome. She understood the cultural backgrounds of Asian American students and offered guidance to help them identify and address mental health challenges. These issues and experiences are frequently overlooked due to the 'model minority' representation of Asian Americans."
The event gave Takemoto a chance to reconnect with the students she mentored. Many of them, she notes, are now successful attorneys, physicians, teachers and social workers.
"I think the fact that they were already leaders of their student groups played a role and they've really taken that leadership to the next level in their own careers," she says. "I think we have a lot to be proud of when it comes to our students."
During her tenure at UCI, Takemoto went on to become the associate director and training director of the UCI Counseling Center. She worked with pioneer of Black psychology
Dr. Joseph L. White
and Dr. Thomas Parham, who was the director of the center. She credits both of these individuals for serving as mentors.
In 2005, Takemoto left UCI for California State University, Long Beach, where she currently serves as their associate vice president of student affairs and executive director of the Student Health Center.
A new legacy
Students at UCI can now major or minor in Asian American studies; they can earn a master's degree in Asian American studies through the department's
4+1 program
; and they can earn a graduate emphasis in Asian American studies. All of these pathways for students would not have been possible without leaders like Takemoto.
Through the support of alumni who remember Takemoto fondly and through her own generosity, a scholarship for UCI student researchers in Asian American Studies with an emphasis on psychology or mental health has been named after her.
While Takemoto's impact on UCI as an institution as well as on its students has already been remarkable, she continues to find new ways to help foster the growth of the department and to support students in Asian American studies. Recently, she and her husband Tony Kwan earmarked a portion of their estate to support undergraduate and graduate students who pursue Asian American studies at UCI. Upon their passing, it will establish a large endowment, the interest of which will support students in perpetuity.
"I think giving to the next generation of students is an investment in the future," she says. "I am thrilled to see how the Department of Asian American Studies has grown over the past 25 years. I hope that my gift will encourage others to consider a similar gift."
Publicly launched on Oct. 4, 2019, the Brilliant Future campaign aims to raise awareness and support for UCI. By engaging 75,000 alumni and garnering $2 billion in philanthropic investment, UCI seeks to reach new heights of excellence in student success, health and wellness, research and more. The School of Humanities plays a vital role in the success of the campaign. Learn more here.

Photo credit: CSULB
Asian American Studies
Gifts & Grants
Japanese Studies