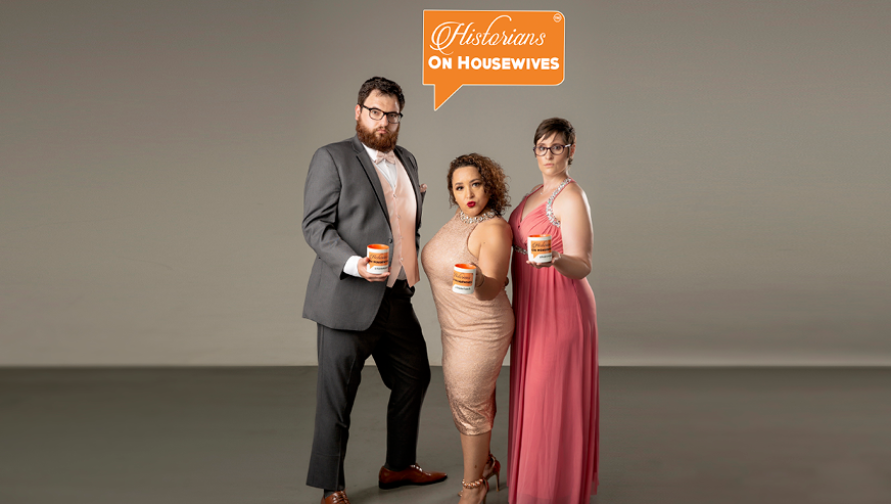 By Traci G. Lee

Those who watch "The Real Housewives" franchises and other reality TV shows might be quick to discount them as "guilty pleasures." But what if among the trademark in-fighting, galas and day-drinking, the "Real Housewives" offered something educational? Three historians at the University of California, Irvine believe there is educational merit to be found in the franchises—so much so that they've dedicated a new podcast to it.

This August, two Ph.D. candidates in the UCI Department of History—Kacey Calahane and Max Speare—and Associate Professor of History and African American Studies Jessica Millward launched "Historians on Housewives," a podcast where they and their invited guests discuss and debate the historical contexts and meanings to be found on Bravo reality televisions shows.

Spouses Calahane and Speare met at San Francisco State University in 2012 while completing their master's in history and bonded over their mutual love for the "Housewives" franchises. Since then, they have worked on creating an interdisciplinary multi-platform project that blends their background as historians with their love for reality television. When they came to UCI and met Millward, who serves as their mentor, their academic conversations quickly exposed their mutual affinity for the "Real Housewives." After urging Millward to join them in their project, Millward heard their pitch and jumped on board in the spring of 2019.

Millward describes herself as an avid viewer of various types of TV shows, including "The Real Housewives of Orange County," which she says she began watching when she moved to Irvine in 2008. A historian of early America, she focuses on the experiences of enslaved African American women. Her 2015 book, Finding Charity's Folk: Enslaved and Free Black Women in Maryland recovered the nearly lost history of Charity Folks, a woman who had been enslaved in Maryland during the late 18th century. On the surface, Millward's expertise in U.S. history and her penchant for reality TV might not seem to intersect, but they do.

"Reality TV is a reflection of popular culture and, as such, it is a perfect avenue for us to dive into issues of race, gender, class and sexuality," says Millward. She believes the timing for a podcast like theirs is fitting—scholars and scholarly organizations, including the American Historical Association, are more actively pursuing and participating in conversations beyond the perceived scope of academia.

Calahane and Speare's scholarship helps illuminate the intellectual possibilities for viewers who want to dig beyond the surface of reality TV. Calahane, for example, studies U.S. women's social movements, which she says are directly applicable to what audiences can see on Bravo.

"[The housewives] are always talking about the charity they're working on or how they want to organize to do x/y/z, and there are long histories to the activism we see portrayed on camera," she says.

It's not just the housewives' charity involvement that is ripe for historical analysis and contextualization.
Speare notes that his expertise on early U.S. history and slavery became directly applicable during "The Big Easy Show Down" (Season 4, Episode 5) of "The Real Housewives of Potomac" when the cast visited a plantation where one of the women's ancestors was enslaved.

In fact, it's not uncommon for the women on various franchises to be interested in learning more about their families' histories: in 2016, producers for The Real Housewives of Orange County's 11th season sought an "emergency genealogist" to help them in Ireland.

This quest for personal history is something the podcast tackles in its first episode, released on August 1. Calahane, Millward and Speare discuss the legacies of slavery and family histories represented on "The Real Housewives" as well as on Bravo's "Southern Charm." The theme of family histories runs throughout the first season with episodes addressing topics such as immigration, the Armenian Genocide, and racial inequality in America.

For Millward, episodes like these can help draw students into the discipline of history.

"I'm always looking for a way to make what I do translatable to students in the 21st century. 'Housewives' provides this medium where, even if they don't profess to watch it, they at least know the dialogue; they know what a 'real housewife' is, so they're conversant even if they don't watch the show," she says.

Though the podcast itself is new, its reception among scholars and the public has shown Calahane, Millward, and Speare that there is a demand for creative approaches to history like theirs. They are in the process of producing an edited volume (which includes contributions from scholars from various ranks and disciplinary backgrounds from across the country), lesson plans featuring specific "Real Housewives" episode clips and classroom readings to historicize these moments, and they will be hosting conference events in 2020-2021. 

With nearly 4,000 listeners in less than two months, the project is carrying out Calahane's hopes for networking the academy with the public. "I've envisioned this as a multi-platform interdisciplinary project to make scholars accessible to a broad public audience and to help them communicate what they work on in ways that transcend the academy, using reality TV as a means to do that," she says.

New episodes of Historians on Housewives are scheduled to be released on the first and fifteenth of the month beginning August 1, with Season 1 consisting of 20 planned episodes. Follow their work online at historiansonhousewives.com and on Twitter, Instagram and Facebook at @HistoriansH. Listen, like, and review the podcast on iTunes, Spotify and Google Play.

To download a high res version of the photo, click here.
Community engagement
Graduate Students
History