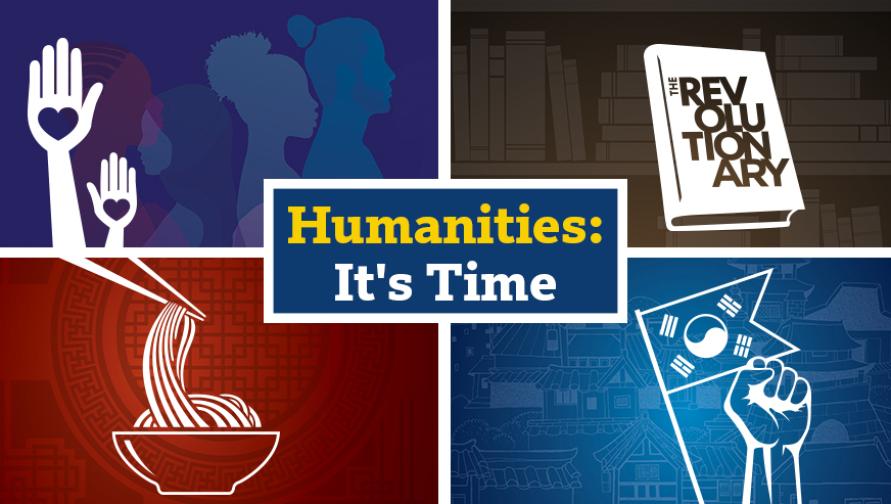 A new outdoor museum has opened this fall at the UCI School of Humanities. Students, faculty, staff and visitors walking around the perimeter of the school will encounter significant historical moments worldwide that the humanities help us understand.

From a great mosque constructed in a booming 14th-century Indian city to the first Chinese restaurant opened in the U.S. and from the inspiration behind Kafka's Metamorphosis to the first summer blockbuster that came to define the film industry—these are just a few of the defining art, literary, film, television and social history moments depicted as part of the school's new "Humanities: It's Time" outdoor museum.

Across the School of Humanities, 21 light poles are adorned with banners, each featuring a unique illustration of the pivotal moment, along with a QR code that goes to a digital companion website. Each QR code is linked to full passages where participants can learn more about each moment and the faculty member who selected it. Undergraduate students will also learn about classes where they can dig deeper in the subject.

"'Humanities: It's Time' reflects how humans across cultures, geography and time have responded to social conflict and change with innovative literature, film, architecture, social movements, and industries that influence the course of history," said Tyrus Miller, dean of the School of Humanities. "Our historical 'hot takes' are not just celebratory, though—each moment is complex and layered, and some even proved devastating in their ultimate outcome. But that too is a key point of the 'Humanities: It's Time' display. In the humanities, we bravely face what it is to be human across time; only by confronting and critically interpreting our legacies can we guide ourselves to brighter futures." 

WHEN/WHERE: September 20, 2021 – June 30, 2022 throughout the School of Humanities on the UCI campus.

INFORMATION: Free and open to the public. Visitor parking is available in the Student Center Parking Structure (grid D5 on campus map) and in the Mesa Parking Structure (grid D3 on campus map) for $13 per day or $2 per hour. Media planning to attend should contact Annabel Adams at 949-824-8925 or amadams@uci.edu. 

BACKGROUND: The UCI School of Humanities is home to 22 majors and 37 minors that span global cultural and historical studies; languages, literature and media; human dimensions of science and technology; and philosophy and critical theory. Its graduate programs in literary criticism & theory, English, and history are among the top-ranked public programs in the nation by U.S. News and World Report.

For high-resolution images of each banner, visit here.
To see the digital companion, visit here.
Community engagement
Leadership