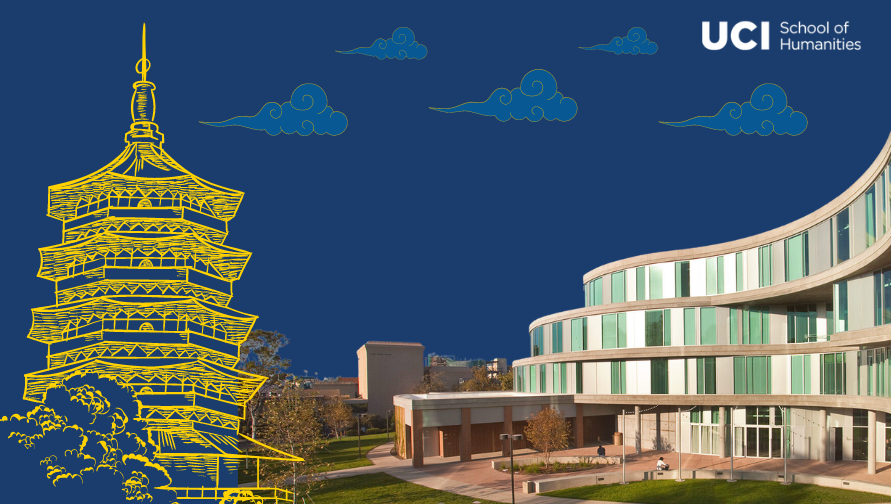 By Megan Cole
Across the world, Irvine is recognized as a vibrant center of Chinese diasporic culture. It boasts the second-largest Chinese American population in the U.S. and was recently ranked second in a list of Chinese immigrants' favorite American cities. In UCI alone, over 7,000 students are of Chinese heritage.
Within the School of Humanities, faculty members research and teach on Chinese art, history, cultures, languages and literature, making UCI a globally renowned hub for scholars of China. As Emily Baum, associate professor of modern Chinese history, puts it, "If you want to study China, Orange County is just about the best place to do it outside of Asia itself."
Exploring Chinese cultures 
In addition to Chinese language classes, the School of Humanities offers courses in Chinese literature, history, film, media, art and cultural studies across a range of disciplines. Faculty expertise ranges from Chinese political history to modern art and literature, literary translation, histories of Chinese medicine, contemporary Taiwanese cinema, Chinese food, Chinese opera and beyond. 
"UCI has an extraordinary mix of China specialists," says Chancellor's Professor of History Jeffrey Wasserstrom, who specializes in the study of modern Chinese social movements and revolutions. As a historian, Wasserstrom originally became fascinated with China for "its culture or, more properly, cultures, in the plural, as I do think of there being multiple cultural strands there rather than a single one." 
Kyle David (Ph.D. history '21), one of Wasserstrom's former doctoral students, was also drawn to the cultural expansiveness of China after living there for eight years, choosing to conduct historical research at UCI because of its "strong reputation for Asian and Chinese studies." 
David – who has worked in the U.S. Department of Energy as a presidential management fellow since receiving his doctorate degree – notes that "China is a continent-sized country with incredible geographic, linguistic and cultural diversity. The study of China helps us to understand that China and its people are not a monolith; that there is an incredible breadth of customs, foodways and personalities."
Fellow UCI doctoral alum June Ke (Ph.D. comparative literature '22) studies contemporary Chinese cinema and examines "the world's perceptions and misperceptions of China," which she has experienced firsthand, "having lived in China in the 90s and then witnessing its social changes from afar." Ke currently works as a curatorial fellow at NYU Shanghai's Institute of Contemporary Art, where she continues the research on Chinese media and culture that she began at UCI.
Other UCI scholars delving into the "geographic, linguistic and cultural diversity" of China include Elizabeth Tinsley, a specialist in Buddhism and East Asian religions; Martin Huang, a world-renowned expert on traditional Chinese literature; and Hu Ying, a celebrated feminist scholar and translator of Chinese scholarship. The East Asian studies department alone has graduated a dozen doctoral students who now hold faculty positions at the City University of New York, Whittier College, The Citadel and more – not to mention the China scholars in other departments, like David and Ke, now holding prestigious academic and government positions across the world. 
Interdisciplinary excellence
UCI's focus on intellectual collaboration has long been a major draw for China scholars working on ambitious interdisciplinary research. History Professors Yong Chen and Judy Tzu-Chen Wu, for instance, have collaborated on projects that bridge their expertise in Chinese cultures and Asian American cultures. History Professor Heidi Tinsman specializes in Latin American studies but is currently working on a book about the history of Chinese contract laborers in Peru and Chile, and on connections between Latin America and Asia more broadly. 
Another historian, Emily Baum, works at the unique intersection of medicine and Chinese history, and is currently at work on two projects: one on the history of acupuncture as it circulated from China to the United States in the early 1970s, and the other on the history of superstition in 20th-century China. 
"Although both projects have very different starting points, they're both interested in alternative ways of understanding the world beyond the framework of 'science,'" Baum says. Expanding that framework is important because "whenever we look at the world from a different cultural perspective, we have a better opportunity to see how 'Western' ways of thinking are not universal, which not only adds a dose of humility but also provides an opportunity to expand our thinking and challenge ingrained beliefs."
In addition to her research, Baum directs the Long U.S.-China Institute, an interdisciplinary campus center devoted to studying contemporary China and U.S.-China relations. Through the Long Institute, she has brought journalists, scholars, writers and politicians to campus to showcase their "cutting-edge work."
For Baum, the interdisciplinary global community that UCI has fostered around China studies led her to center her research here.
"UCI has a strong network of scholars focused on the study of China from many different angles and perspectives: medicine, protest movements, gender and feminism, demography and aging, and the rural-urban divide," she says. Between research conferences and community events, she adds, "there's always something going on both on campus and in the wider community."
Community-focused scholarship 
In addition to the Long U.S.-China Institute headed by Baum, over the past several years, the School of Humanities has launched a series of initiatives and centers dedicated to bringing UCI's cutting-edge research in Chinese studies to the public. 
The School of Humanities recently introduced the Global Asias Research Cluster, which convenes faculty and students working across Asian studies and Asian American studies to bridge the divide between these fields. The School of Humanities is also home to the larger Center for Asian Studies, which brings together scholars across campus whose research focuses on Asia. The Center also hosts the annual Kiang Endowed Lecture, a public lecture series dedicated to fostering discussion about Chinese cultures.
In addition, Wasserstrom co-founded UCI's Forum for the Academy and the Public, which hosts an annual seminar and lecture series on contemporary topics. In 2022, the Forum's topic was "Global China in An Anxious Age." The internationally acclaimed event brought together historians, journalists and policy experts to discuss the global impact of the People's Republic of China. 
Along with many of his UCI colleagues, Wasserstrom says that one of his main goals as a Chinese studies scholar is to "convey information and ideas about Chinese cultures" to the public that "goes beyond the often overly simplistic notions about them expressed through both sound bite-driven forms of American media and all sorts of official media coming out of Beijing." 
"It is crucial to help students at American campuses and the American public get a better understanding of the People's Republic of China as well as Taiwan and members of the Chinese diaspora in various parts of the world," says Wasserstrom. He adds that "studying Chinese cultures always has intrinsic value, but at a time of increasing rivalry and tension between the People's Republic of China and the United States, it is particularly important." 
Ke adds that UCI has been an invaluable place to begin "demystifying Western narratives of China as well as China's own narratives of itself" through cultural study. 
"These narratives are often politically polarized, conflict with one another and tend to mystify the everyday lives of ordinary people in China," Ke says. "In my work, I want to highlight spaces of shared humanity and produce a way of understanding contemporary China that takes multiplicity and generosity as its starting point."
Asian Studies
China Studies
East Asian Studies
History