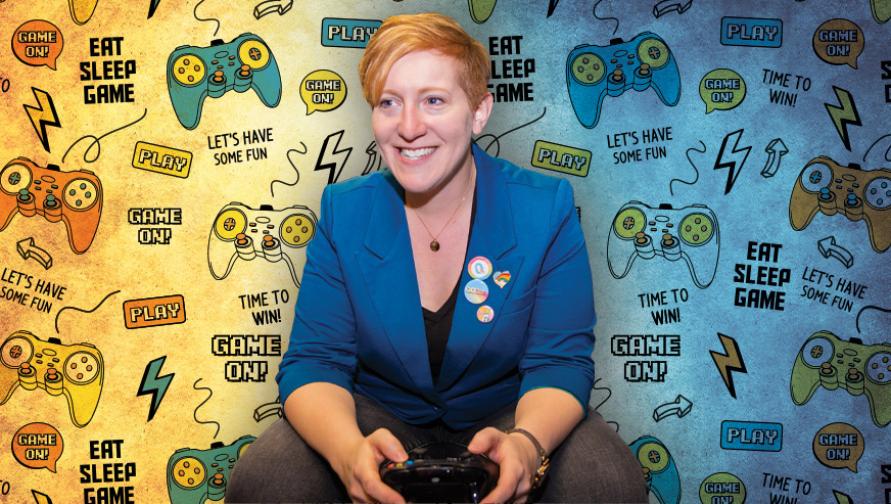 By Matt Coker
An octopus posing as a human dad, a maniacal computer shaped like a mother spider, a gender non-binary detective made out of clay—these are just a few of the eclectic video game characters that professor Bonnie "Bo" Ruberg studies. The digital media scholar at the University of California, Irvine has forged a unique field of research centered on gender, sexuality, cultural identity and cultural issues within the internet, video games and technology. For Ruberg—whose pronoun is they—these topics are both personal and pervasive.
"Students connect with the topics I teach because they are so immediately relevant to their lives," Ruberg says. "In my classes, we talk about technologies that they interact with every day. The internet and technology are things they carry around with them: smartphones, applications, video games. My goal is to get them thinking about these media objects in a close, detailed way that they may not have thought about before. Art, aesthetics, cultural identity—there is a ton to explore there. This kind of work opens up their thinking to the whole world that is around them."
Whether working live or in front of a computer camera, Ruberg is thrilled about their recent cross-campus move from the UCI Donald Bren School of Information and Computer Sciences to the School of Humanities where they are an assistant professor in the Department of Film and Media Studies and Program in Visual Studies.
"I'm really excited to be here because I have a background in humanities," they say. "I got my Ph.D. in comparative literature from UC Berkeley. I am very much a humanist by training. I work on digital media and video games; that research field is very interdisciplinary. It cuts across a lot of STEM fields as well as the humanities and social sciences."
Already, Ruberg has been excitedly planning future courses. This spring, they are teaching an intro to digital media class for a whopping 350 students. For this fall, they are planning a class on queer theory and media that will deal with digital media and gender and sexuality.
"I am really excited to be back in the humanities because now I can approach my research with critical, analytic lenses and make meaning out of the world in ways that resonate with me as a marginalized person," Ruberg says. "The School of Humanities is a really amazing place. My colleagues in the Department of Film and Media Studies and graduate students in the Visual Studies Ph.D. Program are wonderful."
The starting point for Ruberg's world was Philadelphia, where they grew up before landing at Bard College in New York for their undergraduate work in creative writing. "I always knew that I wanted to write for a living, in one way or another," they say. "I began my professional life as a journalist. While I was in college, I needed to make money, so I started doing journalism covering video games and technology as they relate to gender and sexuality. That was 15 years ago now, and the world of people talking about those topics was much smaller then. There really was a need for that kind of writing." After they graduated from Bard, Ruberg became a full-time journalist.
In 2009, Ruberg moved on to graduate school at UC Berkeley's Department of Comparative Literature. While their studies originally involved "traditional" literature—like works of French surrealism—Ruberg eventually circled back to focus on video games and technology, using the skills they had learned as a comparative literature student to look at digital media in new ways. While at Berkeley, Ruberg, along with some friends and colleagues, collaborated to launch the first Queerness and Games Conference in 2013. The ongoing, annual event brings together academics and game developers, fostering community conversations across fields and making space for queer people working in and around games. "It was pretty life changing for me," Ruberg says. "At the time, I felt like that one 'weird grad student' who studied LGBT topics and video games. I thought 30 people would show up to that first conference. Instead, we had more than 200 people. Over the years, it's become clear that the conference is hugely important to a lot of people."
Ruberg went on to do postdoctoral work for two years in the Interactive Media & Games Division at USC's School of Cinematic Arts. Then came two and a half years as an assistant professor in the Department of Informatics within the UCI Donald Bren School of Information and Computer Sciences. During those years, they edited and published the collection
Queer Game Studies
(University of Minnesota Press, 2017) with Adrienne Shaw, a Temple University professor and founder of the LGBTQ Video Games Archive. "We're building this new sub-field of queer game studies that speaks to a growing community," Ruberg says. "There are dozens of scholars and people who make and study queer games. It is really important to me to recognize and support that community."
Last spring, their first single-authored book
Video Games Have Always Been Queer
(NYU Press, 2019) came out. "It looks at video games through queer theory, encouraging scholars and students to look beyond LGBT representation and using queer theory to see how the medium of video games can be non-normative in relation to sexuality and gender," Ruberg says.
Ruberg's newest book,
The Queer Games Avant-Garde: How LGBTQ Game-Makers are Reimagining the Medium of Video Games
(Duke University Press, April 2020), is a collection of interviews with queer and transgender indie game-makers.
"It is not a traditional academic book. Instead, it tries to center the voices of the amazing people behind this growing network of queer indie games: hundreds of queer and trans people making experimental video games," they explain. "Each chapter describes a game maker's work, their politics and their process. The work they make is often scrappy and strange. It's often about queer and trans experiences. The idea is to move beyond typical narratives about video games and diversity."
Asked about their favorite game, Ruberg says, "I have a few different ones.
Octodad
is a game about playing as an octopus trying to pass as a human dad. He lives in suburbia and has a wife and two kids who are all human. He is a really floppy yellow octopus who stands upright and wears a suit. He's one of my very favorite video game characters." The challenge for players of
Octodad
is to move Octodad's eight limbs so he can perform such mundane "dad" tasks as flipping burgers on the grill or making coffee with his wife. "I love how that game looks colorful and goofy and not serious," Ruberg says, "but how it's actually deeply queer. If we think about it from a queer studies perspective,
Octodad
is really tied to gender and sexuality. Octodad is trying to perform being a heteronormative dad and husband. It's not just about being a person; it's being a certain kind of family member and romantic partner that fits these norms. It plays with trying to fit those norms in a body that is hard to control. Because the game is interactive, it puts the player in the position of embodying a queer experience."
Ruberg describes how, through their research and teaching, they have the opportunity to serve as a role model to LGBTQ students. When asked what advice they would impart to scholars-in-training who are thinking about entering their field, Ruberg said without hesitation, "I say do it…. I'm a big supporter of people getting into this work. I'm not the type of person who says, 'This is
my
research area.' I'm very community-oriented and collaborative-oriented. The most exciting thing to hear is students saying this is what they want to work on."
Continuing their advice to students interested in studying technology and video games through cultural perspectives, Ruberg says, "If there's a class that looks interesting, take it. See professors during their office hours to find out more about how you get into it. Look at resources on websites. On my website, I maintain a page where people can read an overview of queer game studies' research and view a robust bibliography of what has been written. I also maintain a resource guide for students interested in getting their Ph.D. in game studies. The hope is to save folks the trouble of digging around the internet. When it comes to work on gender and sexuality in digital media and video games, the more the merrier!"
Film and Media Studies
Visual Studies
Comparative Literature
LGBTQ
Digital Humanities