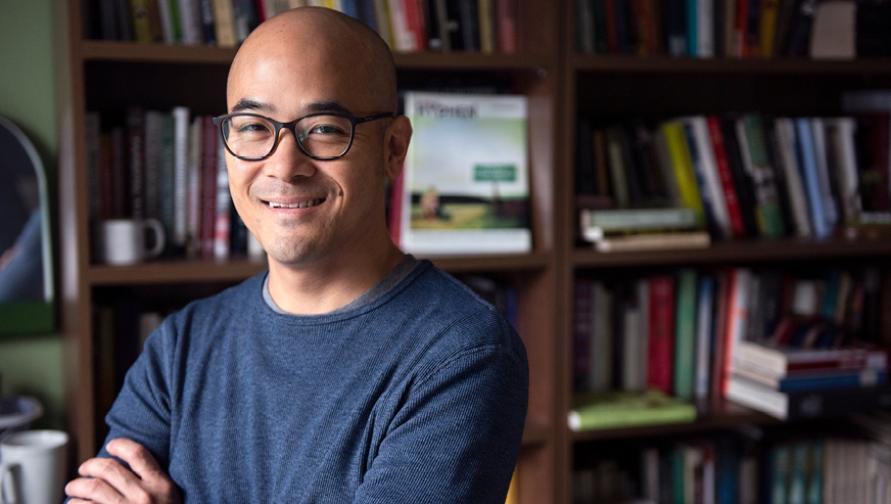 Chris Fan, assistant professor of English and Asian American studies, is fascinated with how Asia and America have connected, collided, and identified with each other throughout history. His research and writing focus on 20/21st-century Anglophone and Asian American cultural production, science fiction, and racial formation. He is currently writing his first book, tentatively titled
Principles of Selection
, about post-1965 Asian American fiction as a reflection of the U.S.'s changing selection criteria for immigration and the concentration of Asian Americans in STEM fields and occupations. Below, we ask professor Fan about his book project, Asian American representation in popular culture, and his interest in science fiction.
Tell us about your book project and what inspired the topic.
Since 1990 there's been an explosion of science fiction (SF) produced by Asian Americans. Ted Chiang (who spoke at UCI last spring and whose fiction was adapted into Denis Villeneuve's 2016 film "Arrival"), is one of the most prominent SF writers in the Anglophone world right now, and in 1990 he became the first Asian American to win a major SF award. Just off the top of my head, Karen Tei Yamashita, Ken Liu, Alice Sola Kim, Charles Yu, Ling Ma, Yoon Ha Lee, Eugene Lim, Marie Lu, Claire Light—they all began publishing after 1990. Writers known for their literary realism like Chang-rae Lee, Ruth Ozeki, and Bharati Mukherjee have published SF novels.
The book I'm working on is an attempt to understand why the 1990s were a watershed moment in Asian American literary history, and why SF exerts such a strong gravitational pull. In a nutshell, my answer begins with the 1965 Hart-Celler Immigration and Nationality Act, which overturned exclusion laws based on race and national origin, and shifted policy focus to economic and family reunification criteria. The Act's impact was profound in many ways, but the transformation I'm primarily interested in is the occupational concentration of Asian Americans into science and technology (STEM) fields. If recent Asian American fiction writers came of age in the midst of policy-driven emphases on science and technology, and if in many cases they were (or are) themselves STEM-trained, how does this change the way we read their work and think about Asian American literary history?
If you now widen the circle to include fiction that's
about
science in some way, or about struggling with (often against) a STEM-related professional identity (often that of a parent's), then you're all of a sudden talking about a huge, definitive chunk of post-1965 Asian American fiction. You're talking about Maxine Hong Kingston's landmark 1976 memoir
Woman Warrior
and its obsession with "science and mathematics." You're talking about Chang-rae Lee's 1995 novel
Native Speaker
and its depiction of literariness as an antidote to the status anxiety of a post-1965 South Korean industrial engineer with limited English proficiency. You're talking about Weike Wang's 2017 novel
Chemistry
, which is a glorious book about dropping out of a chemistry Ph.D. program. And you're definitely talking about robots, spaceships, time travel, and virtual pets.
It's been nearly two decades since you co-founded Hyphen Magazine. Where do you think popular culture is in representation of Asian American identities now and where would you like to see it go?
Hyphen
has been in publication since 2003 and in the last few years transitioned away from print publication to online-only. Back when I first got involved, in 2002, it was with a group of journalists, activists, and artists in the San Francisco Bay Area, many of whom were associated with
aMagazine
, which, until it shuttered in 2001, was the longest-running national Asian American-interest magazine. Many of us were also associated with
Mother Jones
magazine and other investigative reporting organizations. You could pick up
aMag
at Barnes & Noble and Borders. It was there on the shelves! That was really important to us at the time—not so much to replace
aMag's
mainstream voice, but to amplify alternative voices in a glossy, well-designed periodical with top-notch reporting and cultural commentary.
I was sad when the print pub was laid to rest, but also hopeful that the pivot to online-only would make
Hyphen
more visible, not to mention more sustainable as an organization. These days,
Hyphen
has been focusing much more on culture. Editor-in-chief Karissa Chen was the books and literary editor for a long time and did amazing things with that section, really bringing up
Hyphen's
profile in the Asian American literary world. As EIC she's continuing to do amazing things. One of the projects I'm most excited about is a partnership with the Asian Prison Support Committee to pair writing mentors with incarcerated Asian Pacific Islanders. The completed pieces will be published in an anthology
(click here to find out more)
.
In terms of representation in pop culture,
Hyphen
has more often played a counter-cultural rather than mainstream role and has sought to focus on underreported stories and perspectives.
Drag queens
,
reproductive health risks for Asian and Pacific Islander American women
,
cancer rates among nail salon workers
—these are signature
Hyphen
stories. Still,
Hyphen
has always cared about mainstream representation, even if its favored strategy has been to invert and undermine the latter's norms. My personal take on where we are in Asian American pop cultural representation is that we're in a much better place than when
Hyphen
launched more than fifteen years ago. Banner stories have been shows like ABC's "Fresh Off the Boat" and the film "Crazy Rich Asians." However, it would be a mistake to think that success stories like these are straightforward responses to a market demand for Asian American faces. "Fresh Off the Boat" owes its existence to activist executives like Samie Falvey, who has made diversity in programming a top priority. "Crazy Rich Asians" is a production by Asian Americans about (mostly) Asian Asians, and whose backers were less interested in Asian American representation than in the Asian, specifically the Chinese, box office. I'm happy to see more Asian faces and want more of them because I think it's important for the community in all its diversity to be reflected at all levels of culture and through all channels. I'm glad that Constance Wu and John Cho are being cast in leading roles, that Ian Alexander is holding it down for trans and mixed-race Asian Americans, and that folks like Nina Yang Bongiovi are making things happen behind the camera.
You will be teaching a course on science fiction this spring and you've been a part of panels on science fiction and film adaptations at UCI. What is it about science fiction that draws you in?
I grew up in Houston, which is a big engineering town. My horizon of possibility was comprised of the oil industry, the medical center, and, above all, NASA. Perhaps relatedly, I spent a lot of my childhood playing Dungeons & Dragons, designing role-playing games, learning programming languages, and reading comic books. I was/am a total nerd! What attracts me to science fiction now is what has always attracted me to it: its ability to produce compelling accounts of structures that are hidden to us but that nonetheless govern our reality. That's cool! I now think of science fiction as a contemporary genre of realism for that reason; because it has the capacity to defamiliarize aspects of our reality and thus make reality appear more real.
Photo credit: Steve Zylius / UCI