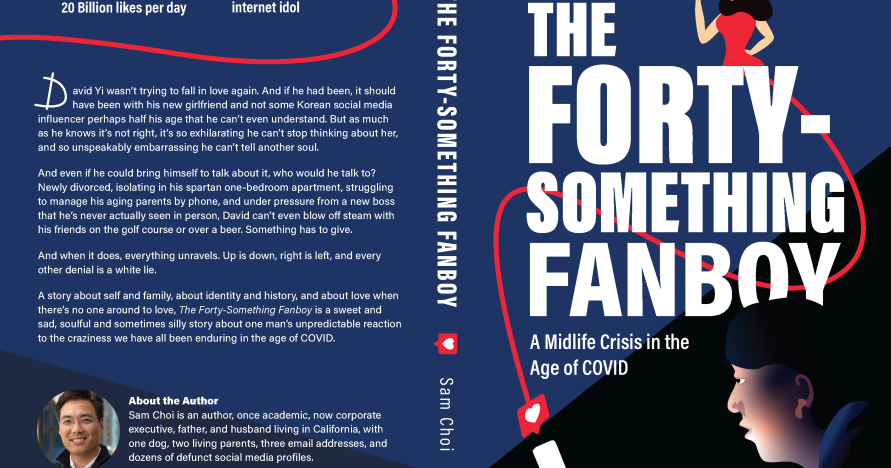 "The Forty-Something Fanboy"
UCI Author Sam Choi '91
Wednesday · April 27 · 5:00 PM (Pacific Time)
UCI Humanities Gateway 1010

In-Person Registration:
https://forms.gle/61k3kPB2YXkhws1Y8
The first 25 people in-person attendance will receive a free copy of the book.

Webinar Registration:
https://bit.ly/SamChoi
Join us in-person or via Webinar to meet with Sam Choi '91, who self-published his first novel in 2021.  After a brief sojourn in academia, where he specialized in the study of new media, Sam entered the corporate world and is now Vice President of Digital Design at CVS Health. Learn about Sam's book and his journey in this conversation with Professor Judy Wu.

About The FortySomething Fanboy
David Yi, is a middle-aged Korean American man who is recently divorced and struggling with social and emotional isolation exacerbated by the conditions of COVID-19. The story opens with David's realization that he has fallen in love with a Korean social media influencer, which he finds both incredibly exhilarating and unspeakably embarrassing. David is an intelligent and articulate professional, but he is also a stoic and somewhat repressed. David's Korean-ness – or, rather, his lack of it – is a significant aspect of his relationships with his friends and parents. As he struggles with professional challenges because of the economic crisis and personal challenges with his ex-wife, daughter, friends, and parents, through sometimes painful and sometimes comic interactions, he begins to learn more about himself and his heritage, and then he makes a rash decision that suddenly changes everything for him.

About the author
Sam Choi grew up in Orange County and attended UCI, majoring in English and minoring in French and Philosophy. He had the privilege of working with Professors Julia Lupton and Michelle Latiolais on his senior honors thesis, which he delivered as an ever so tiny fragment of an epic poem about Spartacus. Unlike poor Spartacus, Sam survived this ordeal and took his Ph.D. in English at the University of Pennsylvania and worked as an assistant professor of English at The Ohio State University where he met Professor Judy Wu as the only two Asian American professors hired that year. Despite his affliction with Buckeye fandom, Professor Choi somehow escaped academia to become Sam once again and prodigally returned to Irvine, where he currently shelters in one of the beautiful albeit ubiquitous cookie-cutter houses in our fair city with his wife and high school-aged son, who has declared that his dream school is UCI so he can continue to hang out at the Spectrum on weekends with his friends and never have to shovel snow.
Co-sponsored by UCI Humanities Center, UCI Center for Critical Korean Studies, and UCI Illuminations.