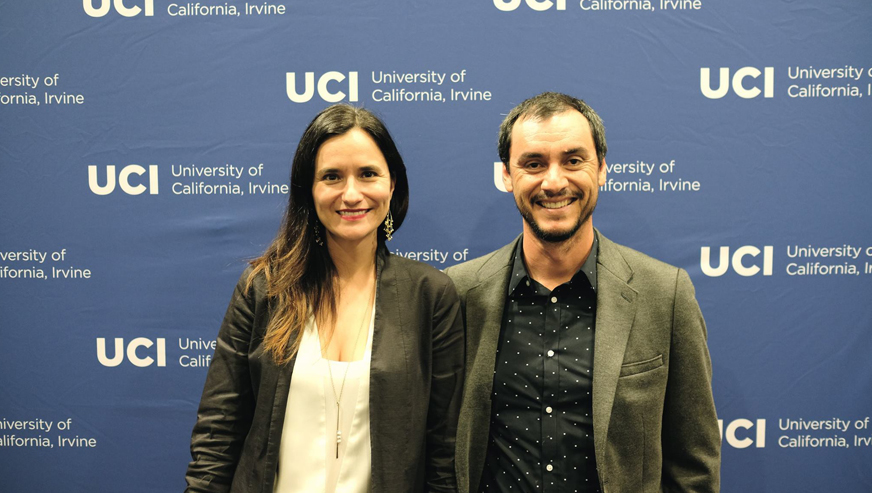 Celebrating Latinx excellence
UCI honors several humanities scholars
On April 4, several UCI School of Humanities scholars earned awards at UCI's second-annual Latino Excellence and Achievement Dinner ("LEAD"), founded by Veronica Newhart, a Ph.D. student in the School of Education, and hosted by the UCI Office of Inclusive Excellence. Below, we list the UCI Humanities' key speakers and awardees.

School of Humanities speakers
The honorable Salvador Sarmiento '73
, nonpartisan Judge, Superior Court of Orange County, keynoted the event. After earning his bachelor's degree in history from UCI, Sarmiento went on to earn a juris doctorate from UCLA. He is a past President of the Hispanic Bar Association of Orange County and has also worked as a state public defender.
As an undergraduate at UCI, he and other Chicano students founded Escuelita--the first truly bilingual bicultural school in Santa Ana. While at UCLA, he assisted in the formation of the Centro Legal in Santa Monica to assist low-income Latinos.
After law school, he continued to serve the community as a board member and later chairperson of Relampago del Cielo, and served as a board member of the California Rural Legal Assistance and the Public Law Center.
Internationally, he was invited by Mexican President Zedillo to participate on a seminar on immigration and was also invited by the State of Puebla to speak on the Hague Agreement. Recently, he was recognized by the Hispanic Bar Association and given the Guardian of Justice Award.
Presently, he is a Superior Court Judge in Orange County and sits in the Lamoreaux Justice Center. Salvador Sarmiento has dedicated his life to the service of others.
At the event, he discussed everyone's opportunity to make a difference. "What we do today will have a huge impact on tomorrow. Your formal education has given you an opportunity to view your community in a worldly perspective. Your work, your 'grano de arena' (grain of sand), will be your contribution to our community tomorrow."
Andrea Gutierrez
'15 (B.A.s history and global cultures) is the director of UCI's FRESH Basic Needs Hub, which houses the campus food pantry and holistic resources and programs to address students' needs. She says, "I am an immigrant, first-generation, non-traditional college graduate and my journey to higher education shaped my love and passion for increasing access and removing barriers to higher education for underrepresented and underserved communities."
School of Humanities awardee
Leopoldo Peña
is a Ph.D. candidate in the Department of Spanish and Portuguese. His advisor, Viviane Mahieux, says "Leopoldo is one of the brightest graduate students I have taught since I arrived at UCI in 2011. I have high confidence that Leopoldo's project has the makings of a landmark book on post-revolutionary Mexican visual thought and practices, as well as the international intellectual networks that sustained them." While pursuing his Ph.D. as a productive scholar with three peer-reviewed publications, "he is an outstanding photographer who remains very much involved with the Latino and Chicano artistic community in Southern California, having exhibited his own work in very high-profile galleries." Click
here
to see Peña's photography.
UCI Campus-wide awardee
Distinguished Alumna Magdalena Villaba

('96 B.A. Spanish, '99 M.A. Spanish) is an invaluable member of the UCI Alumni Association's Scholarship Committee. She is influential in enhancing the awards program and is pivotal in selecting outstanding student scholars who cumulatively receive more than $100,000 a year in scholarships. When LEAD was first created, her willingness to give back was apparent in her immediate response of "yes" when asked to help contribute to this gala. It is fitting that she is receiving the Distinguished Alumna award.

Pictured: Graduate advisor Viviane Mahieux and awardee Leopoldo Peña. Credit: Luis Aviles

============================================