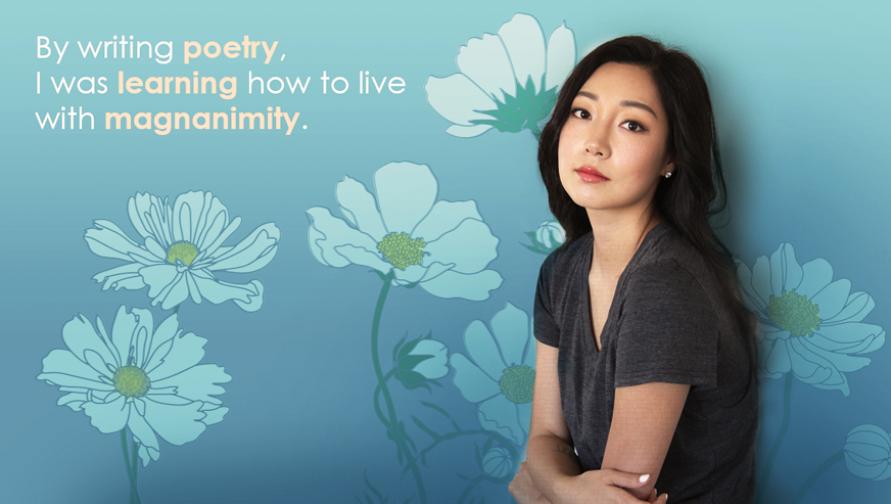 By Charity Lindsey

In January, alumna E. J. Koh (B.A. English '10) embarked on a national book tour for her award-winning memoir, The Magical Language of Others (Tin House Books, 2020). The memoir, which recently earned Koh the Virginia Faulkner Award for Excellence in Writing, explores Korean history, intergenerational trauma, and the author's reckoning with the craft of poetry.

Koh's writing career began as an undergraduate at UCI, where she transformed from a political science major, performing in competitive hip-hop dance competitions for UCI's own dance crews, to a passionate English major whose dream was to become a poet.

Her introduction to poetry was fortuitous: a school counselor enrolled her in the "Intro to Poetry" class, now taught by Inez Tan, author of international bestseller This is Where I Won't Be Alone, to replace a breadth requirement for mathematics that Koh says she "really couldn't do." In Koh's memoir, her counselor asks the question, "How do you replace the language of God?" Koh answers, "The language of man."

In the first week of English lecturer Greg McClure's class, Koh wrote 40 poems.

"Up until that point I was focused on being a hip-hop dancer," Koh explains. "I wasn't easy to have as a student, but Greg helped reach me. He showed me that I can have a voice in poetry."

Having a voice carries weight for Koh perhaps now more than ever, amid the COVID-19 pandemic that, in addition to upheaving normal life, has spawned a resurgence of anti-Asian racism and xenophobia in America that she calls "heartbreaking."

"Cathy Park Hong says in her New York Times essay, 'To be Asian in America during the time of coronavirus is to feel very alone,'" Koh confides. "Now is the time to share words with those we might not be able to hold close. Words, as I have come to love them, travel the distance we cannot."

After her first poetry class, Koh was introduced to Susan Davis, who directed UCI's Emphasis in Creative Writing, which will be offered as a minor for the first time in the fall, and Collette Atkinson, then-associate director of the International Center for Writing and Translation, where Koh interned during her undergraduate studies after receiving a fellowship to work there. Among her mentors, there was also James T. Chiampi, professor of Italian, and Ngũgĩ wa Thiong'o, Distinguished Professor of English and comparative literature. But it was Davis who was the key adviser to the newfound poet.

"My professors took me in. They were mentors to me," Koh says. "I was deeply depressed at the time and didn't have a language to say how I felt or what I was experiencing. It wasn't until I came to poetry that I realized there was something disturbing about how I was going about things."

She says poetry taught her "how to care," an ongoing lesson that affected her life.

"To write a poem, you have to pay attention to something — you have to care about it," Koh explains. "By writing poetry, I was learning how to live with magnanimity."

Davis helped Koh stack her quarters at UCI in the summer to switch her major to English with a creative writing emphasis in poetry. From there, she plunged into writing poems.

"I just remember sitting in Susan's office and thinking, 'This is something I can live for,'" Koh shares, "This is something I can dedicate my life to."

Koh was still unsure of herself after graduation. She recalls hardly being able to stand at a podium to read one of her poems. She realizes now, after two book tours during which she spoke to a new crowd in a different state every night, that it "never got any easier," but was simply a matter of "trying again and again and again."

That same dedication led Koh to pursue an M.F.A. in poetry at Columbia University in New York, which she had first hoped to earn from UCI. Though she was "devastated" when she wasn't accepted into UCI's program, she took comfort in Davis advising her that she needed to experience something new to grow her poetry. Koh packed all her belongings, took out a $100k school loan, and moved to a tiny apartment in New York City to attend her program.

Koh earned a joint degree in poetry and literary translation (Korean and the Japanese) while interning for a literary agency in Union Square and working on novel writing alongside taking fiction tutoring sessions each week.

"I threw myself into this intense, terrifying experience," Koh says. "UCI taught me how to be tough. I flourished because I felt prepared by the experiences I've had."

It wasn't the first uprooting of her life. Koh was only 15 when her parents moved back to South Korea, transferring her from their family home in San Jose to live with her older brother, who was 19 at the time, in Davis. Nine years' worth of letters that her mother wrote to her while they were apart surfaced again in adulthood and fueled the writing of her recently published memoir.

Through translating her mother's Korean words to English, she connected languages, cultures and histories while telling her personal family story.

Before her memoir, Koh published many poems and translations that have appeared in Boston Review, PEN America, Slate, Los Angeles Review of Books, World Literature Today and more.

Her first collection of poems, A Lesser Love (Pleiades Press, 2017), featured the first poems she wrote as an undergraduate at UCI. Charged with the pains of immigration and historical violence, the collection won the Pleiades Editors Prize for Poetry. The second edition print of the book of poetry was just announced on May 14.

"I don't think I would have the aesthetic or interworking of what I feel is something so enjoyable and delightful about poetry if I did not start at UCI," Koh reflects. "Those first inklings stayed with me — the ethics of caring and the idea of magnanimity — they developed and formed and rooted in me over the years."

So far, Koh, 31, has received fellowships from the American Literary Translators Association, Jack Straw Writers Program, Kundiman, MacDowell Colony, Napa Valley Writers' Conference and Vermont Studio Center.

Today, she is busy working toward completing her Ph.D. in English language and literature at the University of Washington and writing love letters to strangers — by hand.

The project of writing 1,000 love letters is one she started years back, during a season in which she gave up writing for a period of time. On her website, she has a section dedicated to "love letters," through which those interested can send her a bit about themselves along with their mailing address.

"I sit down to be with somebody's words, and write back so mine can be with them," Koh says, noting that she'd just written her 125th letter on May 12.

Koh admits that it took her a considerable amount of time to find joy in a piece entitled "Writing Advice for My Younger Self" published in Catapult magazine in March. She now sends that advice to fellow young creatives.

The idea of practicing joy seems particularly critical in times such as these, when health crises and isolationism are the cause of despair felt worldwide.

"I learned to know my life as valuable," she writes. "I practiced joy and ease the way I practiced my writing. This freed me to imagination, sincerity and compassion."

Follow Koh on Twitter, Instagram, and Facebook.