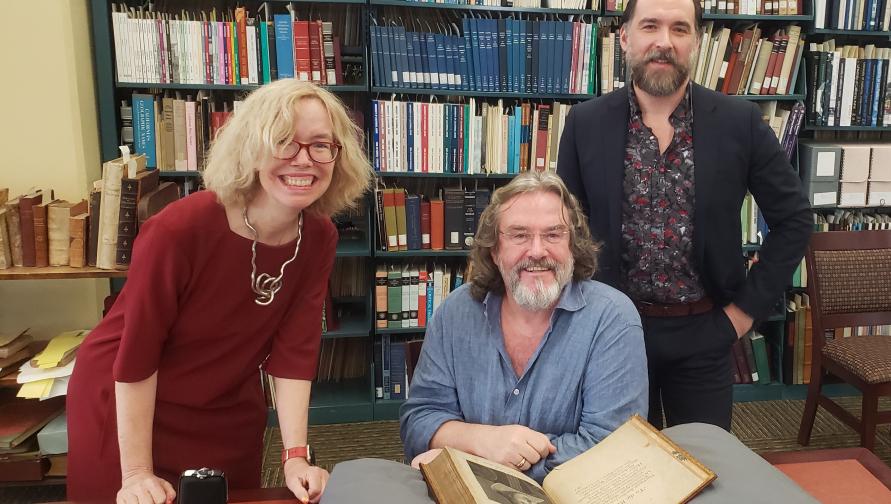 On November 10th, 2022, Gregory Doran, Artistic Director Emeritus of the Royal Shakespeare Company, accompanied by his twin sister Ruth, traveled to Irvine to see UCI's copy of Shakespeare's First Folio. Doran is visiting all the extant copies of the First Folio, which turns 400 in 2023. 
The First Folio is the first published collection of Shakespeare's plays. 750 copies were printed in 1623, but only 235 are known to have survived. It's thanks to the First Folio that some of Shakespeare's best-known plays such as Macbeth, The Tempest, and Twelfth Night have lived on to be performed today. 
Each copy of the First Folio is unique due to its history, printing errors, ownership, and the way the book itself has aged with time. UCI's copy is no exception, from the inconsistencies in the pagination, to marks where the book has been mended, and even the wine smear on page 272. Well, suspected wine smear, that is! 
UCI Special Collections and Archives' Outreach and Public Services Librarian Derek Quezada walked us through the history of UCI's First Folio, which was donated as a gift by UCI alumus Patrick Hanratty in 1986. Quezada also pointed out various quirks in the book, including the greasy fingerprints in various margins throughout the book. Doran suspects that one of the former owners was eating and drinking while reading Shakespeare's works. 
"I love the fact that the book was enjoyed for its content, not just its condition," said Doran.
With reverent hands, Doran hunted through the First Folio for idiosyncrasies such as the outline of a rusted pair of scissors hidden away between the pages of Titus Andronicus. Doran also shared some of his experiences with other copies, including one with cat prints across one of its pages. He also pointed out the inconsistent pilcrows, a typographical character that marks the start of a paragraph, used by the typesetter in the pagination of UCI's First Folio. "Ah, there you have it, three pilcrows…sounds like the name of a Scottish ballad," quipped Doran.
Toward the end of the viewing, Quezada brought out Helena Modjeska's handmade fairy tale book, "Titi, Nunu I Klembolo." Modjeska was a Polish actress, artist, and storyteller who had created the book as a gift for her grandsons. Modjeska Canyon is named after Modjeska, who was famed for her performances of Shakespeare. There couldn't have been a more fitting way to end this encounter than to share another book filled with love and care. 
Article by Aisling Alvarez, New Swan's communications intern. Aisling is majoring in English at UC Irvine.
New Swan Shakespeare Center