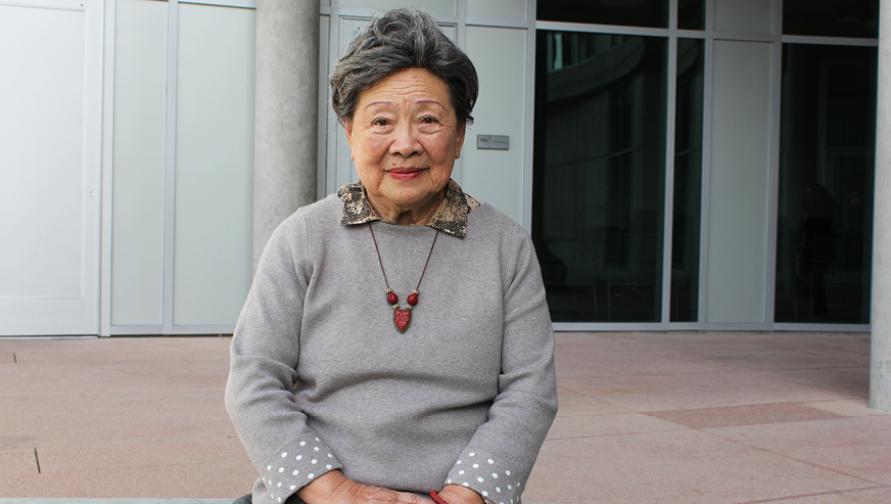 By Lilibeth Garcia
Lining the walls of Teresa Chi-Ching Sun's home in Palos Verdes are framed works of calligraphy written and carved by her husband. For Sun, calligraphy is a representation of cultural and historical appreciation through a labor of love. Growing up in China and witnessing that many humanistic and artistic disciplines were tightly controlled or repressed after the 1950s, Sun has made it her life mission to preserve and celebrate them. At 83, she brims with a rare optimism.
Sun dedicated 60 years of her life to teaching Chinese studies and language across Southern California, including several within the University of California, Irvine Department of East Asian Studies' Chinese language program. Now retired, she continues her legacy as an advocate for Chinese studies at UCI. In 2018, she contributed $5,000 and pledged an additional $20,000 gift in their support.
"UCI is surrounded by a Chinese community well educated and versed in Chinese cultural traditions," says Sun. "The Department of East Asian Studies can be developed into a leading center of research with the effort and interest of the Chinese community."   
UCI's Department of East Asian Studies offers undergraduate students the ability to major in Chinese studies (with two emphases: Chinese language and literature, and Chinese culture and society). It also offers Chinese language courses (Mandarin) to all majors on campus. Sun's gifts have been earmarked specifically to support course development in the Chinese language program, which serves nearly 150 students this quarter alone.
"We are so grateful for Teresa's generosity to our Chinese language program. Her gifts will be enormously beneficial to our students on two fronts: in helping us create and implement new courses to fulfill new demands, and in stabilizing existing courses," says Hu Ying, professor and chair in the Department of East Asian Studies.
Sun's husband, Terry Sun, was also dedicated to the program. As a calligrapher, he volunteered as the chief judge for the program's annual calligraphy contest, from its inception in 2002 until 2016. His calligraphy will be showcased on campus this April as part of the 30-year anniversary celebration of UCI's East Asian Archive.
Sun's love and support for the humanities generated not from an abundance of humanities in China, but from the systemic suppression of them. She was born into a China that was caught in turbulent, consecutive wars, first with the invasion of Japan during WWII, and then with the Chinese Civil War – a time when she felt China "lost its humanity." The Cultural Revolution of the '60s and '70s led to the ban of many dimensions of culture, such as foreign literature and art, religious works and symbols, and even artifacts of ancient Chinese traditions.
Sun came to the United States at age 24 with a curious spirit and a goal to learn as much about the Western tradition as she could to enrich her teaching of Chinese.
She earned her bachelor's degree in Chinese studies from National Taiwan Normal University before earning her master's degree in education at UCLA. In 1964, she began her teaching career as an assistant teacher of language at USC and six years later, she became a Chinese language professor at California State University, Los Angeles.
"My students grew from six to 106. I did a lot of things at that time, which none of the other Chinese programs did. I was promoting culture, and culture includes so many things. I invited artists to demonstrate their work; I invited the local opera group to perform on campus; I organized an acupuncture demonstration," Sun says. "Channel 7 came and recorded the event, and ever since then, acupuncture has become very popular. It's been more and more accepted by the American general public."
Sun's life has revolved around the pursuit of knowledge and the sharing of her wisdom. She returned to school to earn her doctorate from Seton Hall University – at age 50 – while she continued to teach at Whittier College. After teaching at California State University, Long Beach, she turned down an offer for a tenure position due to her nearing retirement and finally came to UCI, where she lectured part-time. The students left an impression on her.
"The students are at another level: they study very hard, and also comprehend life issues with maturity," Sun says. During and after her teaching, she took care of her husband, who was dealing with Alzheimer's, for almost ten years until he passed away in 2018.
Sun's experiences as a teacher only further confirmed for her the value of a humanities education. Humanities disciplines, from global cultural and historical studies to philosophy and writing, teach the foundations for how to coexist in a world made up of many different people, ideas and cultures. They define what makes distinguishes us from robots, she explains. 
"To provide a curriculum with both technical and liberal arts is vital to nourish a balanced personality," Sun says. "If one wants to live in today's world progressively, one has to have some basic exposure to major civilizations. A lot of people undermine this, and that's wrong."
Her life experience, growing up and living in cities across China and Taiwan, plus studying and teaching in the United States most of her adult life, sharpened her awareness of the difference between Chinese and American values. Seeking harmony in life and profession between these two traditions has constantly molded her intellectual interests. 
Although Sun no longer teaches, she continues to share her scholarship and love for humanistic disciplines through her writing. She spent the past several years authoring two books, both of which were recently published. A Study of Literary Trends in China Since the 1980s: The Revival of Classical and Modern Literature pertains to the resurrection of the College Entrance Examination and its role in revitalizing the pre-Communist Chinese literary tradition through its literary selections. Chinese Drama and Society examines the social environments that merged western and eastern theater in the early 20th century. She is currently writing two more texts.
Not many people can say they've accomplished their life missions, but Sun can.
"I'm very content. I have done what I feel I should, even while I was busy and didn't feel how time was passing so fast," Sun says. "But now when I think back, I realize I have done most of the things I wanted to do."
UCI Humanities is raising funds to support Chinese cultural research, teaching and cultural activities such as film, history, food studies and language studies. To learn more, contact SOHdevelopment@uci.edu or call 949-824-1605.

Additional reporting by Annabel Adams and Audrey Fong

Photo credit: Audrey Fong/UCI
East Asian Studies
China Studies
Gifts & Grants