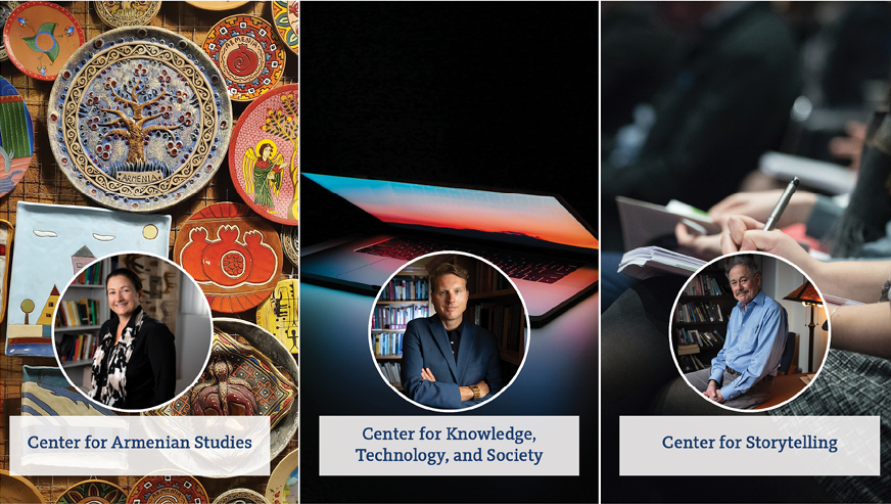 The School of Humanities at UCI has announced the formal creation of three new centers: The Center for Armenian Studies; the Center for Knowledge, Technology and Society; and the Center for Storytelling. Administered by the UCI Humanities Center, the new centers will further existing research strengths by facilitating external funding, launch public programming tackling urgent questions of today, and serve as a bridge for the school with other disciplines on campus.

"The three new centers will serve as a nexus for interdisciplinary research and programming around Armenian studies, philosophy and technology, and storytelling," said Tyrus Miller, dean of the UCI School of Humanities. "All three have particular resonance and value at this very moment in time as we grapple with global politics, technological advances and the role of competing narratives in politics and public affairs."

Below, learn more about each of the centers and read a Q&A with their directors.
Led by Houri Berberian, Meghrouni Family Presidential Chair in Armenian Studies, the new Center for Armenian Studies supports campus-wide instruction, research and programming centered on Armenians and Armenia within a regional and world context, with a unique focus on women and gender. With center status, Berberian seeks to make UCI the international destination for both the study and celebration of this unique intersection of ideas.

Read a Q&A with Berberian here.
How can a philosopher's toolbox help fight extremism? What is truth and does the Internet gets us further away or closer to it? Is technology making us smarter or disguising ways in which we are getting dumber? These are just a few of the questions researchers in UCI's new Center for Knowledge, Technology and Society aim to tackle. Directed by Duncan Pritchard, Distinguished Professor of Philosophy, and administered by the UCI Humanities Center, the new center brings philosophy together with a range of disciplines, including education, medicine, law, nursing, and cognitive science, to tackle urgent issues of today

Read a Q&A with Pritchard here.
Books, movies, songs, podcasts – they're all vehicles for storytelling. "Storytelling is at the heart of what it means to be human," says Barry Siegel, director of UCI's Literary Journalism Program. And now, a new center under his direction seeks to refine and harness this indispensable skill for UCI students and the broader community. Launched this summer, the Center for Storytelling currently serves as an umbrella for storytelling events and workshops on campus. Eventually, it will also become a physical hub for people wishing to use storytelling tools—from computers to podcast and recording equipment—and those seeking advice from writing mentors. It is the first of its kind in the UC system.

Read a Q&A with Siegel here.
Armenian Studies
Center for Armenian Studies
Center for Knowledge, Technology and Society
Center for Storytelling
Literary Journalism
Philosophy