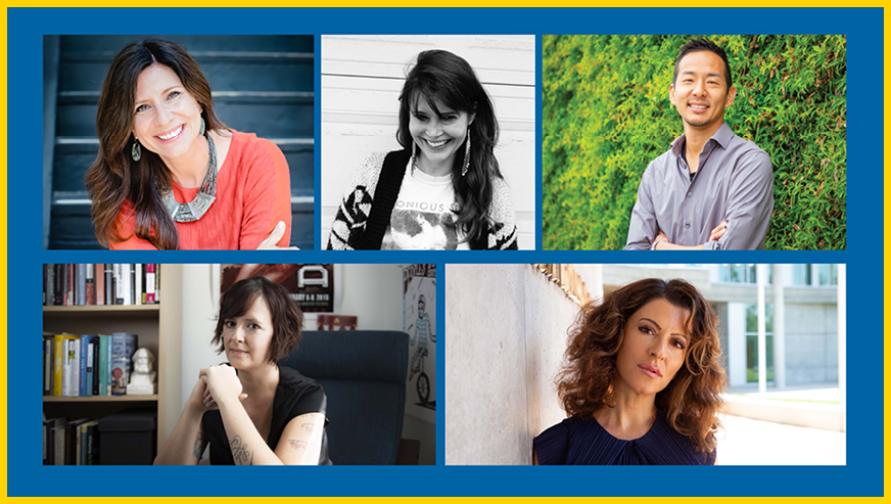 The UCI School of Humanities has bestowed five scholars with Teaching Excellence Awards. Nominated by faculty and students, the winners are honored for the diverse ways they advance the education of UCI students.
Larisa Castillo, associate professor of teaching and director of pedagogical development, won the Pedagogical Innovation and Development award. As director of pedagogical development, she oversees pedagogical training for graduate students in the School of Humanities and directs the Humanities Out There program. Her nominees highlighted her commitment to mentorship, investment in contemplative pedagogies that prioritize holistic student well-being, and development of anti-racism workshops and pedagogies.
Rachael Collins, lecturer in the English Department's Composition Program and course director of Writing 39C, won the Unit 18 Faculty Teaching Excellence Award. Her faculty nominators highlighted her "substantive, engaging, and student-centered" courses. Students remarked that they grew as writers and people under her tutelage.
Zina Giannopoulou, associate professor of classics, won the Senate Faculty Teaching Excellence Award. Nominators lauded her vision, passion and dedication. In the past few years, she has taught some of the most successful courses in the School of Humanities – many of them large lectures that are quickly waitlisted due to student demand - while also devising new courses that illuminate fresh angles of understanding ancient literature and its reception in contemporary film and fiction.
Jerry Won Lee, associate professor of English and director of the Global Languages and Communication Program, earned the SOH Climate Council's Award for Diversity, Inclusion and Equity. Lee has been the main faculty assistant in building the UCI School of Humanities Climate Council. His expertise at using campus institutional data has helped prioritize the energy and creativity of the Climate Council.
Annie McClanahan, associate professor of English, received the SOH Mentoring Excellence award. Nominators praised McClanahan's tireless mentorship of graduate students in her roles as director of graduate studies in the Department of English and as a founder and facilitator of the Black Studies Cohort. Her research is timely, responding to issues of debt, labor, gig work and essential work as they pertain to literature and as they create new genres of textual production.
"I'm incredibly proud of these scholars who have been recognized by their peers and students for their exceptional instruction, mentorship and pedagogical innovation," said UCI School of Humanities Dean Tyrus Miller. "Their outstanding commitment is inspiring."
Classics
Composition
English