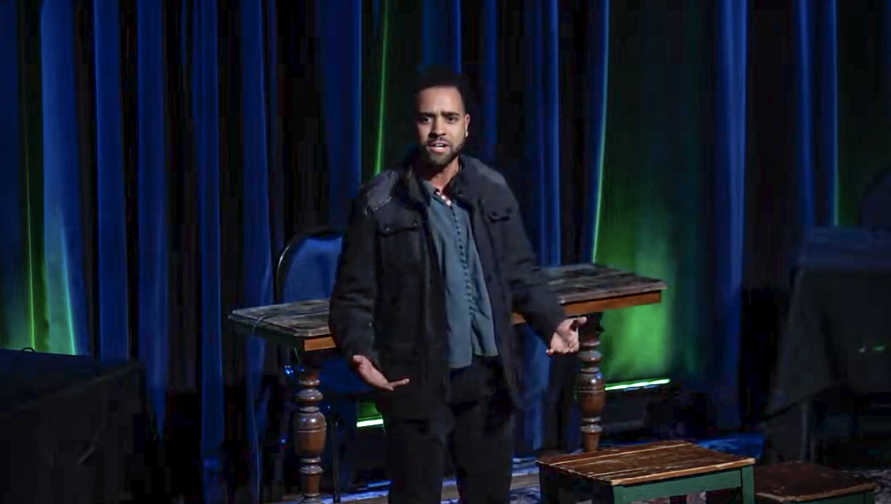 On April 30th, 2023 New Swan Shakespeare Center held its fifth annual Shakespeare Trial, live at the Freight and Salvage Theater in Berkeley, California. In Macbeth Scottish general Macbeth encounters the Weird Sisters who give him strange tidings about his future, utilizing ritualistic activities involving a cauldron and many bespoke ingredients, including human body parts. Set as a modern day trial, the Weird Sisters were prosecuted for their activities in an immersive environment with the audience as the jury.
The event featured lawyers, Erwin Chemerinsky, UCI Law's founding dean, Bernadette Meyler, UCI PhD '06 and Associate Dean and Professor of Law at Stanford, as well as Andrew Guilford as the judge. New Swan actors Hope Andrejack, Megan Evans, and Abel Garcia played the Weird Sisters and Evan Lugo appeared as Macbeth.
The prosecutor, Erwin Chemerinsky, argued the Weird Sisters were guilty on two charges violating the California Penal Code. The Weird Sisters were accused of concocting an adulterated beverage with malicious intent and they were also charged with using unclaimed body parts without consent in their practice. Bernadette Meyler defended them on grounds of religious freedom, with the goal of "Keeping California weird." 
New Swan actors performed scenes from Macbeth, which the lawyers quoted as part of their defense, creating a fun atmosphere that blended Shakespearean language with legal jargon.
The audience ultimately found the Weird Sisters guilty of the second charge but acquitted them of the first one. "Ladies and gentlemen, these Weird Sisters have committed serious crimes," Chemerinksy declared. "This is not a witch hunt. It's an open and closed cauldron case."
~ Aisling Alvarez, Shakespeare Center Intern
New Swan Shakespeare Center