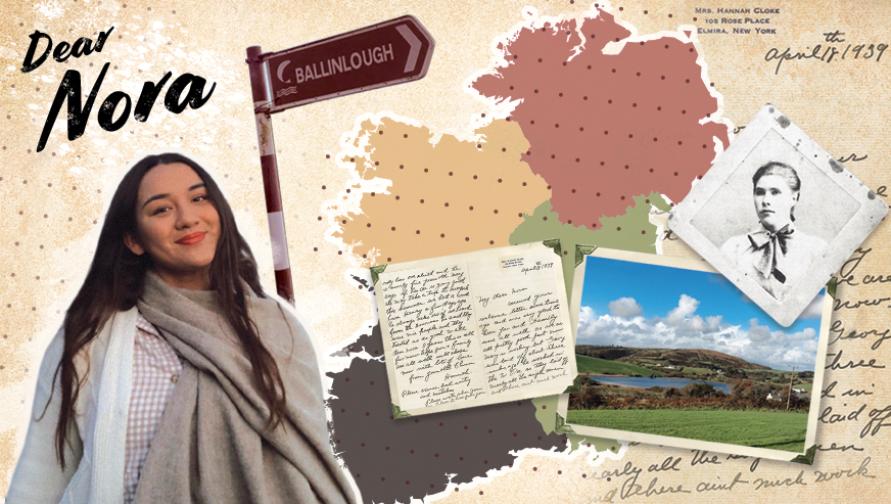 By Charity Lindsey
It was halfway through the Spring 2019 quarter when Delia Cruz Kelly, a literary journalism major at the University of California, Irvine, received a package in the mail that would transform not only her writing project, but also her life.
The "goldmine of material" arrived in the form of more than 300 transcribed letters that were written to an Irish immigrant in the late 1800s.
"When I opened the box, I gasped — it was so amazing," Cruz Kelly recalls.
It was a bounty far beyond what she expected to come by when she decided to write about Irish women in domestic service for UCI Literary Journalism Program Director Barry Siegel's "Narrative Writing" workshop.
Being half Irish herself, Cruz Kelly says there are very few historical books on the topic of Irish women immigrants, which accounts for both how she learned about the collection of letters and why they are so remarkable.
The Irish Bridget
, a book by Margaret Lynch-Brennan, was her main source for research, and within it she noticed that many anecdotes were cited from the "The McCarthy Collection" of letters.
After lots of "jumping through hoops and Googling," Cruz Kelly got in touch with the owner of the collection, Dr. Patricia Trainor O'Malley.
O'Malley is the great granddaughter of Nora McCarthy, the late Irish immigrant to whom the letters are addressed. When Cruz Kelly told O'Malley that she wanted to include the letters in her class project, O'Malley responded by sending her the box of transcriptions along with a few of the original letters.
A street sign in Ballinlough, Delia Cruz Kelly at the school McCarthy attended with the current resident, and a collection of letters Cruz Kelly received from O'Malley. Photo: Delia Cruz Kelly
"I couldn't stop thanking her," Cruz Kelly says. "She didn't give me any warning of what she was sending. When it arrived, it was shocking."
From there, she launched into a whirlwind of sleepless nights, poring over the letters.
"When I received that material is when the digging really began," she says. "Once I had this box, that's when the characters started to happen."
The characters of Cruz Kelly's story, entitled "Dear Nora," were McCarthy and her dear friend and fellow Irish immigrant Hannah Collins, from whom a majority of the letters were received.
With the attentive guidance of Siegel, Cruz Kelly shaped the piece into a sort of archival narrative — a "mosaic" story.
"I talked with Barry throughout the entire process," she explains. "We decided together to make it a mosaic since there was no definitive beginning and end."
To give the story "movement," they decided to break it up into four sections by the seasons of the year.
"A big thing we talked about was having structure," Cruz Kelly says. "Having a point of arrival and entry points are really important — they bookend the piece."
By carefully pulling out biographical information and elements of character development from the hundreds of letters, she was able to write "Dear Nora" as an engaging glimpse into the lives of Irish women in domestic service.
"It wasn't listed out easily. It was muddled in very lofty, lovely written letters," Cruz Kelly recalls. "It was really like stepping into the past."
However, the true "stepping into the past" came about half a year after she finished "Dear Nora."
In the Fall 2019 quarter, Cruz Kelly was studying abroad in Madrid through UCI's Education Abroad Program at the UC Center, Madrid. During a week-long break, she travelled to Ireland to meet her mom — her Irish half — who flew out all the way from Los Angeles. Together, the two visited historical sites of both their own family and those of McCarthy and Collins including making a stop in the village of Ballinlough, the hometown of both of the women in "Dear Nora."
"It was surreal that the place actually existed and to step physically into the world that I had only imagined," Cruz Kelly reveals. "It was the highlight of my study abroad experience, and possibly the highlight of anything that I've done so far."
It should come as no surprise by now that Cruz Kelly is a history minor, an academic pursuit she added after her first year at UCI. Her 2018 research paper about Thomas Satterwhite Noble's famous "Margaret Garner" painting won both a UROP Award (UCI Undergraduate Research Opportunities Program) and Humanities Core award and led to her presenting at UCI's 5th annual Undergraduate History Conference.
"It's really interesting how each course finetunes your interests," Cruz Kelly says. "I enjoyed doing that sort of historical work and it really did sharpen my interest in history."
What may come as a surprise, however, is that Cruz Kelly, now a senior, originally applied to UCI as a math major. Although her intention was to follow in the footsteps of her father, who is an economics professor, she switched her major over the summer before her freshman year.
"I changed my major to literary journalism not even knowing what it was, but I liked to write more than I liked to do math," she says. "Now looking back, if I had known what the LitJ program was, I would have been much quicker to choose it because it's so unique."
"I admire Delia greatly and feel so thankful that she chose to major in literary journalism," says Siegel. "In the LitJ Program, we encourage our students to think of their pieces as nonfiction short stories that involve all the aims and techniques of the finest fiction. Delia thinks that way naturally. She has an exceptionally fine sense of how words and sentences should work on the page. She knows what to leave out, what to leave unsaid. She also has a keen sense about the rhythm of sentences, and the music that underlies prose. She clearly has the instincts of a narrative writer."
Though she knew early on that she wasn't "a hard news reporter," Cruz Kelly has found ways to take an "atypical journalistic approach" to her classes, including in Lecturer of Literary Journalism Amy DePaul's beginning and advanced reporting classes.
"I admire DePaul for her reportorial talent — she and I are very different in that way," Cruz Kelly explains. "Her classes are very technical — the nitty gritty stuff."
When assigned to write about money in one of DePaul's classes, the majority of her classmates did technical projects involving numbers and data. But Cruz Kelly tackled the project from a totally different angle and wrote a profile on an "extreme couponer."
"I'm usually trying to think of ways to do non-hard newsy stuff because the conventions of news writing don't typically leave much room for creativity. Language and narrative voice are really important to my writing and I think those are best served by breaking conventions and finding a unique way to approach a piece," she explains. "But, that's the cool thing about the literary journalism workshops too. People are often writing on completely different things."
She says one of the things she loves most about the LitJ program is the "intimate" advanced writing workshops, which allow students to receive more personalized feedback from both the instructors and their peers. For Cruz Kelly, that means a special rapport with Siegel, who helped guide her through "Dear Nora."
"With Barry, I have talked his ear off — I didn't even have him as a professor last quarter and we met every Wednesday to talk about life in general, which has been a rich source for me," Cruz Kelly shares. "The faculty are all amazing to learn from with such vast experiences in their own fields."
Cruz Kelly, who serves as the Arts & Entertainment Editor for the campus paper,
New University
, will be graduating a year early this coming June, having completed her bachelor's in three years at UCI. Her plans include applying to graduate school in New York.
"I think right now, and because of the last workshop I took, memoir writing is a big thing for me," she says. "It's pretty clear I'm not trying to be a political reporter. I'm going for more of a longform book type of writing — that's the dream."
For now, her focus will be on the next literary journalism workshop on her schedule, "Immigrant Narratives" taught by Héctor Tobar, associate professor of literary journalism and Chicano/Latino studies. This time, she'll tell the story of her other cultural half — her El Salvadorian father.
"The thing I love about the literary journalism program is that the focus is on ordinary peoples' stories," Cruz Kelly says. "I wrote about two Irish Bridgets of the thousands or however many came. They are no less special than celebrities and their stories deserve to be told just as much. That's something I take from the LitJ program."
With additional reporting by Annabel Adams and Audrey Fong
Related stories: