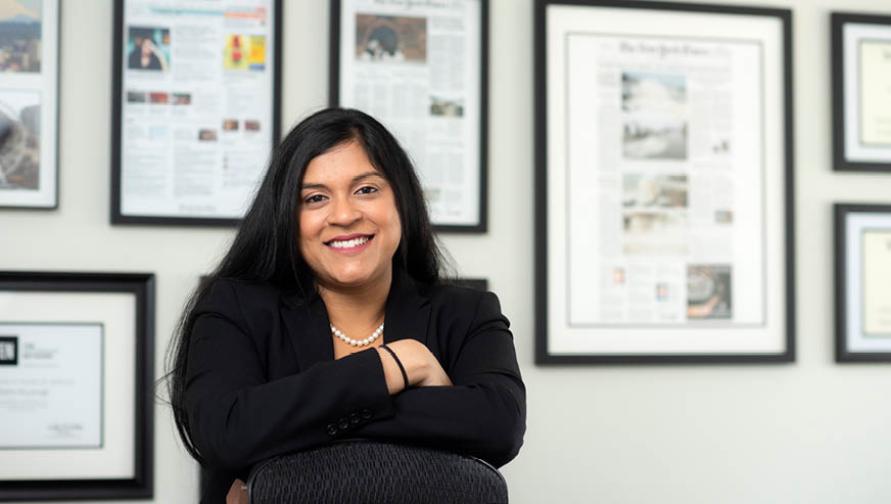 As senior social strategy and user-generated content editor for
The New York Times
, UCI alumna Sona Patel (literary journalism and Spanish '06) manages social media for one of the top newspapers in the world. Her latest project took her efforts—and the reach of
The New York Times
—to new heights.
Netflix's new documentary series
"Diagnosis"
is a spin-off of
The New York Times Magazine
's
"Diagnosis" column
, written by Dr. Lisa Sanders, a physician at Yale School of Medicine. The series focuses on seven people who suffer from mysterious ailments that doctors have been unable to diagnose. To seek answers from professionals around the world, and to connect the patients with others who suffer from the same ailment, the series relied on crowdsourcing from readers of
The New York Times
. Patel was responsible for leading the development of this crowdsourcing platform (in fact, Patel has a cameo in the first episode of the series). From doctors and medical students to retirees and everyday people, thousands of people around the world submitted video submissions weighing in with their own experiences and thoughts on a potential diagnosis for the patients featured in the series.
Here, Patel discusses her involvement in the show and her latest project with
The New York Time
s.
Tell us about your involvement with Netflix's "Diagnosis."
Netflix's "Diagnosis" is based on Dr. Lisa Sanders' column in
The New York Times Magazine
where she highlights people with mysterious medical conditions and crowdsources information from readers. Because I work on crowdsourcing projects in the newsroom, Netflix's project was an extension of my daily work. The magazine approached my team and asked for help setting up the language for the call-out and the submission forms so that when we wrote about the series and the patients highlighted, we would have a good way of soliciting and collecting responses from readers across the world.
I worked very closely with our interactive team and our designer to create an online form, which is very similar to a Google form, which was embedded directly onto our site and directly on the column that Dr. Sanders was writing about the patients. From there on out, once the columns were published on each of the patient's cases, I was responsible for making sure we distributed the form as widely as possible—across our site, NYTimes.com, and our social media profiles, as well as reaching out to third party groups and forums that may be interested in reading and responding to these patient cases. 
How do you feel about the number of submissions the NYT received and the overall social-media response to the show?
We were very happy with the level of response we received; in fact, we were overwhelmed – in a positive way. It was just really great to see the power of
The New York Times
' megaphone and the number of people it can reach around the world. It was also inspiring to see the power of social media—the power of people sharing the same experiences no matter how rare they are. There are people who cannot get answers about their ailments; it was really nice to be able to offer them a virtual helping hand by connecting them to strangers—usually in other countries—who either suffer from the same ailment or who have advice on what the diagnosis may be.
Does this project inspire or affect how you will be approaching future crowdsourcing projects, or social media projects for The New York Times?
Yes, absolutely. I think the main thing that I learned, which is something
The New York Times
is constantly striving to accomplish, is empathy. A project like "Diagnosis" is a reminder that people are sharing very intimate, personal details about themselves and their conditions. The fact that they are even taking the time to do that drives home our responsibility as journalists and participants to be responsive and empathetic to a person's situation. It's not just some anonymous person filling out a form for fun or commenting and saying whatever they want—these are people who are trying to get answers.
And, as we learned after the series aired, Dr. Sanders received hundreds and hundreds of emails from people asking her to take on their cases. Again, it's so nice to see that reaction but another reminder that we are in a pretty powerful position as a media platform. We saw how much need there is for this type of connection and how willing people were to participate for their own benefit and for the benefit of others.
What is on the horizon in terms of new projects you're developing with the NYT?
One project that's coming up in the next couple of weeks is a new approach to crowdsourcing. Instead of crowdsourcing readers' answers to specific questions that we have, we are turning it over to the readers to ask us the questions. Launching in our California Today newsletter, we will seek readers' input on what they want
The New York Times
to report on. The reason we're doing this is because we want the reader to be part of our reporting from the beginning. So, instead of us writing a story and then asking people to weigh in with their thoughts or experiences, we're asking people to tell us the subjects they want to know about beforehand and we will deploy the reporting resources to find the answers and to tell the story.
Our hope is to invite readers to be an even bigger part of our reporting. We want readers to see themselves reflected in our reporting. They play such an important role in our storytelling, as "Diagnosis" showed us. We want our readers to know we are listening to them.
--
The NYT launched its first crowdsourcing question on Sept. 17 on income inequality in California here.

Interview conducted September 4, 2019 and edited for brevity.Photo credit: Steve Zylius / UCI