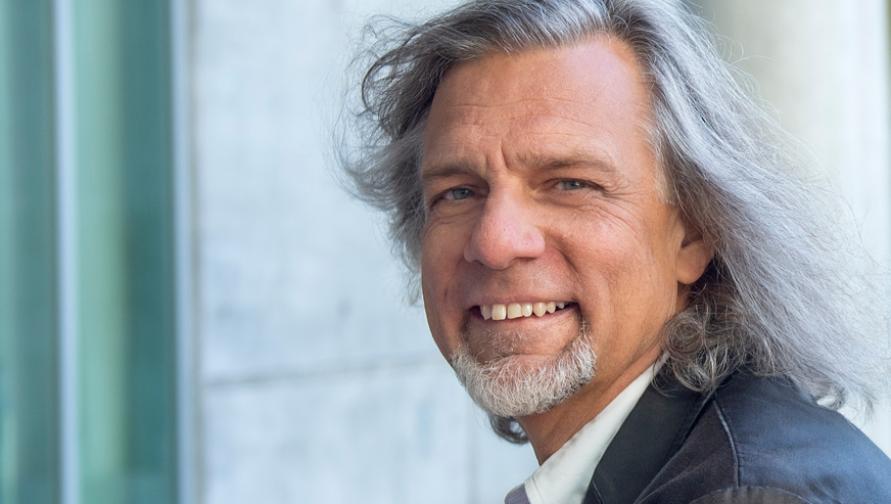 By Daniel Rivera
Our surroundings are a sight most Southern Californians miss daily. We commute to work on elevated roadways, cocooned by droned podcast voices. With screens navigating us around traffic like children led by a disoriented piper, we Southern Californians may gloss over the places, people and memories that shape us while we shift our eyes from clear windshield to bright screen and back.
For Andrew Tonkovich, a lecturer in the Department of English at UC Irvine, it took strolls through his Modjeska Canyon neighborhood with his young son to regain his vision for what he (and many of us) normally miss.
"When I was a young parent, I walked my kid around [the neighborhood]," he says. "And when you have a child, you get a street view of the world that you don't have when you're childless. So, wandering around, either pushing or having the kid on your back or when they start to walk, you start to notice things."
Tonkovich's latest book,
Keeping Tahoe Blue and Other Provocations (What Books Press, 2020)
, reads as though he gained fresh perspective from the revelation of his surroundings, as if suburban life's blinders were removed and replaced with clarity and a sudden urge to leave the cell at home and take a walk.
Written over a two-decade span, these nine stories—which range from awkward calls between neighbors to a secretly-incarcerated demigod to a Heaven's Gate-like cult for a literal hole in the earth—appear to have been effortlessly created by a self-proclaimed "goofball who came of age at the end of Carter and the ascendancy of Reagan." Choosing a unifying theme for the array of story plots, however, according to Tonkovich, needed some professional guidance.
"My very helpful editor at What Books Press, Katherine Haake, is a terrific writer I admire quite a lot," he shares. "She's the one who actually suggested that we delineate into the 'Travelers' and 'Messengers' parts, because what the hell does that mean, 'Keeping Tahoe Blue'? What kind of stories are these?"
Reflections on life, death, faith and addiction abound in this 150-page collection of short stories and titular novella. For Tonkovich, his sixty years residing in the Orange and Los Angeles County suburbs provided many of the locations for his "very autobiographical stories."
"It's an odd collection. I think of it as a sampler," Tonkovich explains via phone from his Modjeska Canyon home. "There are these shorter stories that are obviously these kind of political allegories, fantastical, and there are a couple of very autobiographical, very realistic stories, because this is where I'm from. I grew up in the Rio Hondo Valley, south and east of L.A."
These days, canyon life in Orange County suits Tonkovich and his family just fine. But when he first arrived at UC Irvine as an M.F.A. candidate in the 1990s from L.A.'s Westside, the culture shock of life behind the Orange Curtain both surprised and inspired him.
"Honestly, my wife and I struggled with Orange County for all the reasons that people do," Tonkovich recalls. "But you have to take responsibility for where you live, and the irony of that all, is that we slowly kind of became boosters for part of Orange County."
This resolve to be more engaged with his new community led Tonkovich down two similar and ultimately convergent paths toward reconciliation with his new surroundings.
Tonkovich's early years as an activist and community organizer helped him find kindred spirits on campus. "I was a terrible student," he recalls, chuckling at his candid self-assessment. "When I was at UCI as an M.F.A. student, instead of writing a whole lot, I was trying to figure out where I was. So, I got involved with the local Green Party."
That participation led to a deeper involvement with labor relations as Tonkovich transitioned from student to teacher. He eventually joined the university's union, intending to work toward more equitable salary and healthcare benefits for he and his fellow lecturers and librarians.
Correspondingly, Tonkovich's embrace of his new normal provided some artistic inspiration.
"What happens when you're like me; a pretty un-shy left socialist community activist who comes out of grassroots organizing, and for completely other reasons you find yourself in this place? Well, okay, instead of complaining about it, let's see if we can make it funny or weird or perverse or absurd or whatever."
The symbiotic relationship between Tonkovich's community activism and his writing has worked to his benefit: Over the span of two decades Tonkovich has written for
OC Weekly
magazine, hosts a weekly literary radio show, edits the
Santa Monica Review
literary journal and compiled and co-edited
Orange County's first literary field guide
with his wife, Irvine Valley College English professor Lisa Alvarez.
All this, while becoming president of his local union and being one of UCI's longest-serving lecturers, should make up for his younger self's questionable study habits.
It's difficult to pinpoint a quintessential OC native among the myriad of characters in Keeping Tahoe Blue because there isn't one. Instead, Tonkovich takes great care in showing the human beings behind the idiosyncratic. They are depicted in the loneliness of self-isolation that motivates the posting of a bigoted candidate's lawn sign, the
joie de vie
in a heartless prisoner with purpose, or the semi-courageous act of preventing a natural disaster inspiring sobriety in a misanthropic professor.
Tonkovich believes Orange County has a rich history of rebellion and counterculture that has become more prevalent as once-repressed voices and perspectives come to light and become ingrained in the region's social fabric. He cites a recent Black Lives Matter protest he and his family attended during the summer as an example of this change. One summer evening, his son spurred his parents out of COVID-induced sequestration to stand in solidarity with other activists in downtown Orange's famous Plaza landmark. There, the family encountered members of a local socialist party participating in the protests, replete with ski masks, dark clothing and other regalia; an uncommon sight in an area once proclaimed by Ronald Reagan himself to be the final resting place for "all good Republicans."
"Orange County is a project of the imagination—politics are a project of the imagination, to steal an idea from Paris 1968 and the student uprisings there," he asserts. "The dynamics of a bunch of black-clad kids in balaclavas and their red-and-black slogans would've been much different five years ago, 10 years ago. Not just to sell copies of my book, but Orange County has changed."
If we take the time to exit our vehicles, take off our headphones, observe, contribute and participate, perhaps we won't miss it.
Officially out November 1st, Keeping Tahoe Blue is available on Indiebound, Bookshop.org and Amazon.