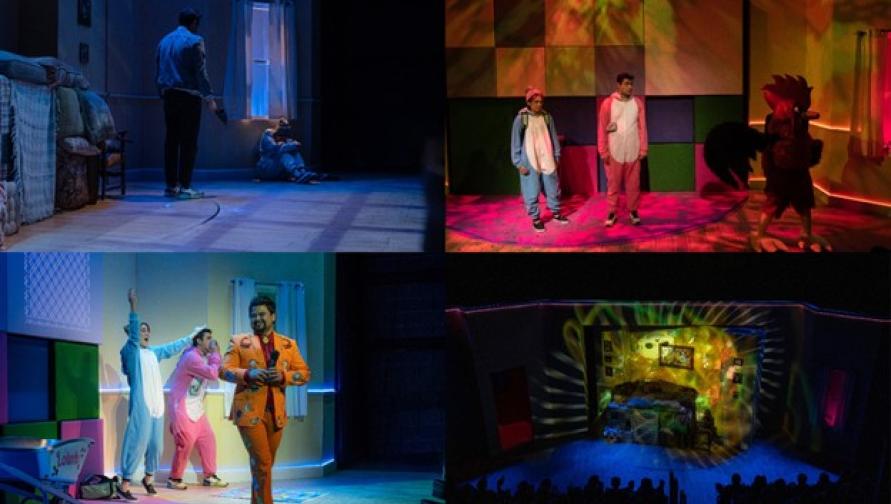 This spring, Jesús López, Director of Outreach for the New Swan Shakespeare Center, worked with Theater SilCo in Silverthorne, Colorado as a lighting designer for their production "¡Lotería: Game On!" inspired by the traditional Mexican card game Lotería, useful in teaching kids how to analyze and study language. When family game night takes a turn for the worse, two siblings embark on a journey to rescue their father from the game they were supposed to play. Out of a cast of six, four are UCI alumni: Ray Zarate, Hugo Conde, Alexis DeJoy & Graco Hernandez. The production was part of SilCo's VIVO program, a dual language program in English and Spanish for elementary students designed to support the Latinx community in Silverthorne. 
At a turning point in the play, the siblings' pillow fort turns into a portal filled with abstract shapes and whorls of light that draws them into the world of the game. "As a lighting designer you always want to work in productions that artistically challenge you," said López. "The amazing thing about '¡Lotería: Game On!' is that there's the real world at the beginning and end of the show, but in the middle of the show there's a world we could create however we wanted."
Inspired by the vibrant colors and textures of Mexico, López and scenic designer Brandon PT Davis experimented with LED lights and textures to transform the theater space into a magical world. López also designed a light show sequence that played as kids exited the theater to make them feel as if they too were stepping from one world into another. 
López focused their energy into creating a deep sense of community through their work as a lighting designer. They sought to evoke responses from the audience, especially the children. "The wonderful thing about theater is the audience defines the end product," López expressed. "Without the emotions and reactions of the audience a production will always be incomplete." 
While collaborating with SilCo director and UCI alum Sara Rodríguez, López considered how to incorporate elements into the show to make the theater an inclusive and welcoming space. "The game is actually in Spanish but the projections are translated into English so the kids who don't speak Spanish don't feel left out," said López. "I love community and giving even just a little bit to these kids to have a beautiful experience and feel represented is very important to me."
-- Aisling Alvarez, New Swan intern
New Swan Shakespeare Center