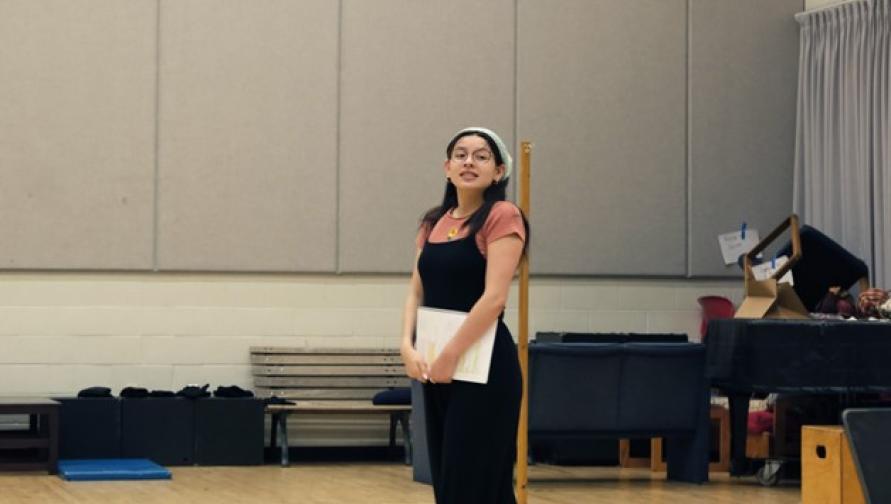 INTRODUCING HEATHER
After graduating from UCI in 2020 with a BA in drama and honors in acting, Heather Lee Echeverria went on to pursue her MFA in acting at UCI. Her journey began in the second grade after witnessing a clown show performed by middle schoolers. Over the years, Heather got involved in various theater productions and decided to follow her passion in college. This year, Heather is playing Celia in As You Like It and Portia and Pindarus in Julius Caesar in New Swan Shakespeare Festival's eleventh season.

Heather's love for UCI and the community runs deep, but the thought of pursuing an MFA only occurred in her senior year of undergrad when the opportunity arose for her to audition for UCI's MFA program in acting. The energy in the room was contagious when she witnessed all the students excited to continue their work.

Grad school became the perfect place for Heather to hone her craft. She's grown enamored with language, both who a character is and what is said about them. She's also learned about "letting it all live in your body" and the vital connections between breath and movement. 
Her theater career has been shaped by her peers and scene partners thanks to the community provided through her education. "Ultimately it's about the people you're working with," said Heather.
IDENTITY MATTERS   
As Heather fell deeper in love with theater, she sought to incorporate her experiences as a Latine person into her work. "In high school we never really talked about the intersection of identity, so in undergrad I wanted to get involved with a group of people where I could find that intersectionality," said Heather. In 2016 she joined Brown Bag Theater Company, a student-run nonprofit ensemble at UCI that produces engaging work meant to reflect and empower the Latine community. Her involvement opened her eyes to the different roles in the theater world as she was able to produce, direct, work as a graduate mentor, and take part in community-engaged work.

Heather has found various challenges finding harmony between her identity and her craft. "I love incorporating my identity and my culture and telling those stories to make theater accessible for everyone, but I am also an actor and artist who can do other things," said Heather. Playing Juliet in the fall 2022 UCI production of Romeo and Juliet allowed her to incorporate her identity while also not being centered around it.

As an artist, Heather hopes to bring more representation into the industry in order to change the baseline audience perspective. "I want to make sure to be a part of mainstream storytelling because we deserve to be in those spaces. It's also important for people to see their stories told as it facilitates vital conversations," Heather shared.
THE NEW SWAN EXPERIENCE
Heather's time at UCI has come full circle. She reminisces about her undergrad years when she'd go to see New Swan productions as she steps into her roles in As You Like It and Julius Caesar this summer. Heather had been afraid to audition for New Swan in her early years at UCI, but her experiences taught her how to overcome her fears. 

"The really cool thing about being in the same room as so many alumni of the program is that many classes are represented --'22, '23, '24, etc. There's so much joy and excitement, and it's amazing being able to perform in the beautiful outdoor theater that we all know and love," said Heather. 

Heather's parting words? "Well, first of all, come see New Swan! Second of all, if any students happen to see this, use your time at school selfishly to do exactly what you want to do." 

--Aisling Alvarez, New Swan intern
New Swan Shakespeare Center