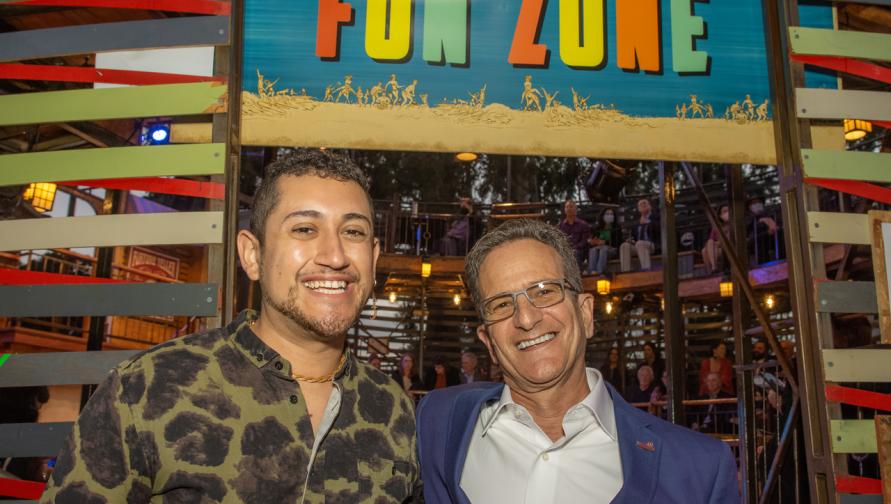 INTRODUCING JESÚS
After graduating with a Master of Fine Arts in stage management in 2021, Jesús López Vargas (he/they) joined the New Swan Shakespeare Center as Director of Outreach. With over a decade of experience in theater from their high school performance days to directing and producing and various professional ventures, López Vargas's passion for the arts runs deep. 
Community has helped shape López Vargas's values and sense of self throughout the years. In their collaboration with New Swan, he aims to change the stigma surrounding community theater by boosting people's engagement and finding ways to allocate more resources towards the arts. 
GUIDING THE YOUNGER GENERATION
For many years López Vargas faced a variety of challenges. "As an LGBTQIA+ person it was a journey of 8 years to change the mindset of my parents to be accepting of having a queer son and it's hard to do that with adults when you don't have the personal relationship." He seeks to pass on the wisdom he's gathered through his years of experience. "Let me be that person that you ask questions to, let me be that person that shows you the door into this whole universe that you didn't know existed because of how you grew up." 
Recently López Vargas, joined by New Swan actors Hope Andrejack and Evan Lugo, visited Garden Grove High School to teach students about empathy-based rituals which will help them navigate conflicts and better understand one another. Andrejack and Lugo performed scenes from Shakespeare's Twelfth Night and Macbeth and guided students through their own performances. López Vargas taught students how to find common ground between Shakespeare's beautiful yet sometimes inaccessible language and the actual stories people tell in their daily lives.
Host teacher Lori Caroza-Starnes was delighted to have UCI actors visit her class. "The kids loved everything!" she said. "It made Shakespeare come alive for them and the overriding motif of empathy, both in theater and in life, really felt natural and important.  We all laughed a lot and I saw students who are often quiet, really responding to the performances."
With a background in writing, producing, and directing, López Vargas has accumulated a wide variety of skill sets in their career. Devised theater, a medium where there's no set script, grants López Vargas a creative space for mentorship and collaboration. He seeks to nurture the younger generation of artists by teaching people communication, empathy, and how to have a positive impact on others. 
"One of the things I want to create through theater is a space for youth to find a place to challenge themselves in a healthy way." López Vargas implemented intimacy training into his directing style as a way to teach youth how to talk about their feelings and needs with their scene partners, emphasizing that, like in real life, consent can be revoked at any point.
THE NEW SWAN EXPERIENCE 
The open-air, Elizabethan style theater that's rebuilt each summer for the New Swan Shakespeare Festival provides an enhanced experience for both audiences and performers. The ability to look up at the sky, hear airplanes flying, and feel the weather creates a freeing environment for actors to work in and for audience members to come home to. "There's a lot of joy in that community and it feels good to know that people are literally waiting for the summer to come see these shows," said López Vargas. 
Working alongside co-directors of the New Swan Shakespeare Center, Julia Lupton, Distinguished Professor of English, and Eli Simon, Chancellor's Professor of drama, López Vargas takes comfort in the fact that their vision and values align. "Eli and Julia are both amazing to work with, and I've worked with them in the past. I trust them and they care about the community." 
As Director of Outreach, López Vargas hopes to expand the New Swan's audience to more students. "It is community that gives me purpose," said López Vargas. "Art is created by the community." 
Article by Aisling Alvarez, New Swan's communications intern. Aisling is majoring in English at UC Irvine.