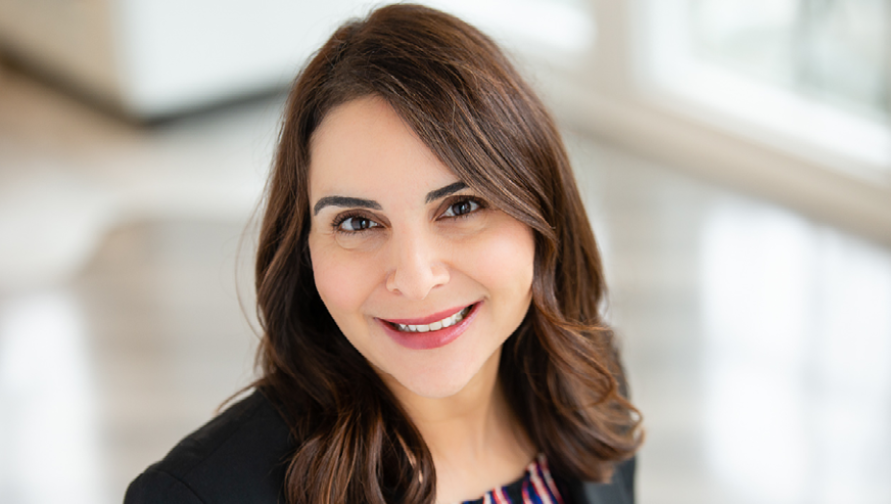 By Valerie Elwell

You're waiting for the meeting to start. Everyone has their eyes glued to their smartphones or laptops. Then, in walks the person who wants to have a conversation, who gets people interacting and has a genuine interest in what they have to say. In this story, that person is Mona Baset ('93 English), an alumna of the University of California, Irvine.

It seems like such a simple thing, but that ability to connect and build relationships and to quickly adapt to new situations is the cornerstone of Baset's approach to work and life. It's helped her build a successful career in both the financial and healthcare sectors, inspired her to mentor other women to leadership positions, and sustained her volunteer work. She credits her humanities education at UCI for nurturing those capabilities.

"My education at UCI taught me to be adaptable, to ask questions, to be curious and to be open to change. Had I not been able to learn to capitalize on those skills, I may not have done so many different things. It hasn't been a straight line, but I've really enjoyed the nature of my career path," she says.

While Baset began her corporate career in marketing and communications at a Southern California healthcare company, she later ventured to the opposite end of the country to take a position with Bank of America in Charlotte, North Carolina. After nearly a decade of progressively responsible roles in communications, relationship management and digital marketing, she moved back into the healthcare arena in 2013.

Currently, Baset serves as assistant vice president of information and analytics services for Atrium Health, one of North Carolina's largest employers and one of the largest not-for-profit healthcare systems in the nation. She focuses on consumer engagement strategies and the technologies that help support those consumer experiences such as call center technology, chat bots and mobile applications.

"With innovation and technology, things change so quickly; there's just no way you can say, 'ok here's how I do my job' and that's it. You have to understand how to seek additional information, how to figure things out, who to go to, and where to research answers, or you will not survive. UCI taught me how to do that," she says.

In 2018, Forbes ranked Atrium Health as one of America's Best Employers for Women. Proud to work for a company that promotes and values women, Baset volunteers as a mentor in the company's Women's Leadership Program. 

"I love working with other women in our organization and I think the business experience for women is unique. There's a lot of things I learned along the way and I had some great mentors, so I'm happy to pay it forward," she says.

The mentor/mentee teams meet at least once a month to discuss challenges or learning opportunities. Additionally, there are scheduled activities for the entire group, learning sessions with guest speakers and perhaps, most importantly, opportunities for the mentees to have access to higher-level executives and even the CEO.

"One of the lessons I always share with my mentees is to ask for what you want. I find that many women struggle with this: negotiating your salary, asking for more responsibility, asking for a promotion and understanding that it's ok to do that. All of them have used that lesson and been successful in their requests. You really have to take control of your career," she says.

One of Baset's defining experiences at UCI was volunteering as a student ambassador for SPOP (Student Parent Orientation Program). SPOP is a two-day, one-night orientation program for new students that includes academic advising, course registration, information on important student resources and services, social activities, and opportunities for students to make friends before classes begin.

"It's where I developed my confidence as a leader, learned to give my time and energy generously and learned how to serve others. I found so much inspiration from the people I staffed with and our experiences with the students," she says.

This passion for giving has translated into fundraising for 24 Foundation for the past fifteen years. 24 Foundation focuses on offering support to people who are going through a cancer diagnosis. It helps them with their everyday, practical needs—everything from rides to chemo to providing integrative therapy programs and navigating complex healthcare systems. Baset initially became involved as a favor to a friend who knew she was a cyclist and asked her to start a cycling team at Bank of America to raise money.

"I didn't realize at the time that I would be so inspired by the stories of cancer survivorship—these stories of hope—and I'm still inspired today," she says.

Her cycling team was one of the top fundraisers for many years and after moving to Atrium Health, Baset continues her support by serving on the board of directors and leading their marketing committee.

Her generosity is now extending back toward UCI. Baset recently donated to establish the Department of English's first endowment for student support.

"As I look back at my path and journey...it would not have been the same without my education at UCI. I've definitely seen how an education like this gives you the tools to succeed in so many areas of life, both personal and professional, and supporting an endowment is just one way that I can help ensure that others have access to those same opportunities," she says.

Congratulations to Mona Baset who will be honored at the 49th Annual Lauds & Laurels event as the Distinguished Alumni honoree from the School of Humanities on May 23, 2019.